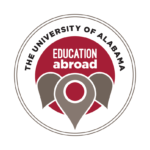 Study abroad showcase
Learn about University of Alabama study abroad options for 2021!
Thank you for visiting our 2021 Study Abroad Showcase!
The two LIVE events will happen on Monday, Feb 22nd at 3:00 and 3:30. Click below to join the Zoom events.
Couldn't make it to the live events? No worries! Each additional session link contains recording from the previous live sessions and the contact information for the presenter. Check them out and do not hesitate to contact the presenter or our office!
Alumni Student Panel
Click to join the LIVE student panel of UA students sharing their past study abroad experiences 
Monday Feb 22nd at 3:30 pm CT
Travel Safety
Click to join the LIVE discussion with UA's Associate Director for International Health, Safety, & Risk Mgmt
Monday Feb 22nd at 3:00 pm CT
What are you waiting for?