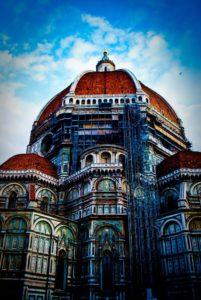 UA in Japan: Japanese Literature and Film
Students in this program will travel t
hroughout Japan in the light of the 2020/1 Summer Olympics in Tokyo. We will study traditional Japanese literature and film, with a particular focus on the literature of the Kamakura period and its impact on director Akira Kurosawa.  Along the way, we will visit the major locations connected to the literature, including the Mukojima Hyakkaen Gardens, Basho Memorial Museum, Haruki Murakami, the Kurosawa museum, and some of Tokyo's famous books stores. Likely cities of travel include Tokyo, Kyoto, Hiroshima, and Shikoku Island. 
UA in Italy: Following Shakespeare
This program invites students to spend approximately one week in each of the major Italian destinations featured in Shakespeare's plays: Venice, Rome, Florence, and Sicily, in addition to day trips to Verona, Pisa, and Ravenna. As we travel, we will study the enormous influence of Italy on British and world culture, especially as represented in literary art. Although the class will focus on Shakespeare and Renaissance literature, students more broadly will come to recognize and appreciate the interconnectedness across western literature and culture.