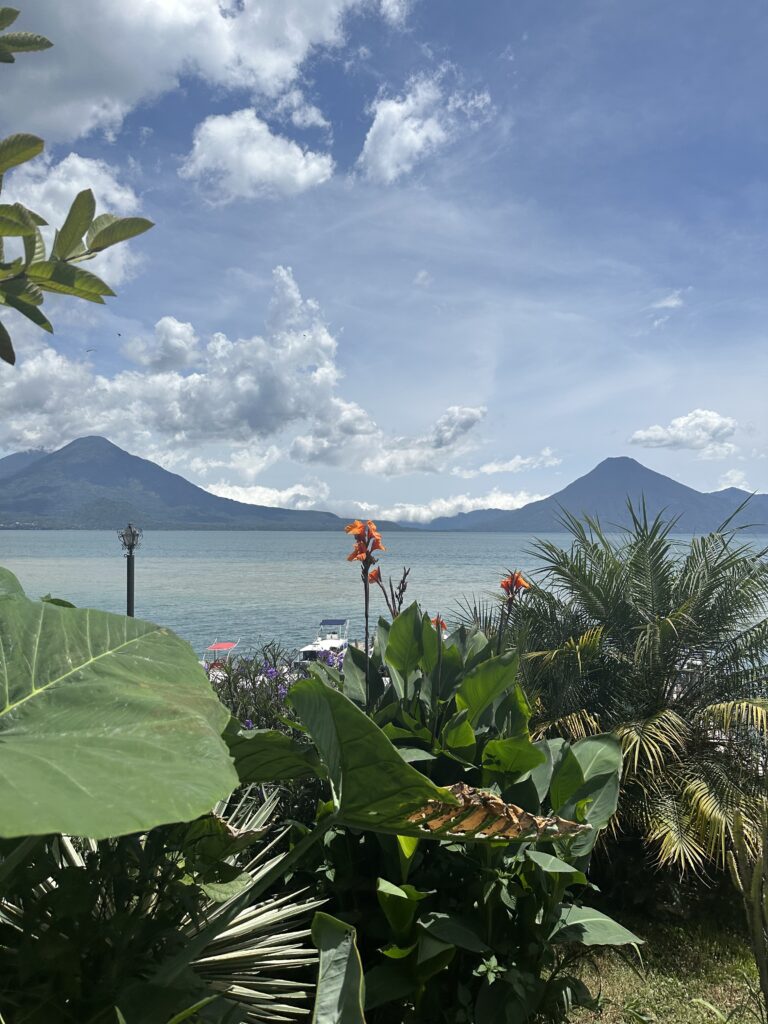 Our first overnight excursion was to Lake Atitlán, which is located in the highlands of the Sierra Madre Mountain range in southwest Guatemala. On the way through Guatemala's winding mountain roads, we stopped at a scenic overlook to get a view of the lake. It was a nice to get some fresh air because I get very car sick anytime we get into a vehicle here! After an hour or so, we arrived at Porta Hotel Del Lago, located in the small town of Panajachel. The hotel was incredible and had an amazing view, complete with a pool and hot tubs. We ate lunch at the hotel restaurant, which was a buffet full of foods inspired by many cultures. I enjoyed sitting on the balcony overlooking lake Atitlán right outside my room. Our trip may have only been one night, but it was jam packed with activities and adventures!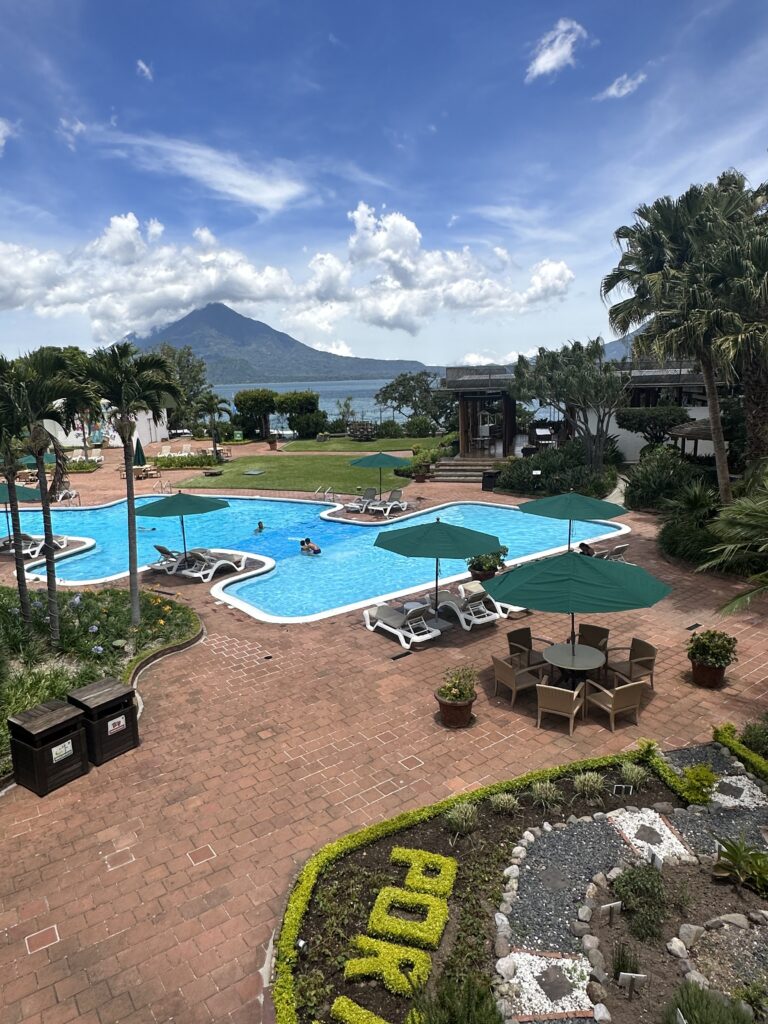 Once we ate lunch and stored our luggage, we headed to the dock to board a catamaran to take us across Lake Atitlán. It was a bit choppy, and we definitely got splashed, but it was worth it. Lake Atitlán was formed by a volcanic eruption nearly 84,000 years ago. It is the deepest lake in central America and is surrounded by active volcanoes. It is a scene out of a movie. All of the catamarans are decorated by their drivers. Ours was bright teal complete with Under Armour and Tesla logos. After a thirty-minute boat ride, we landed on the shores of San Juan La Lugana.
Our tour guide took us up the giant hill perpendicular to the dock, which was filled with markets and cafes. Colorful umbrellas and streamers hung from the middle of the streets. We reached our first destination, Casa Flor Ixcaco Weaving Cooperative. Throughout my time in Antigua, I have seen many Mayan women selling their handmade textiles at different markets. The textiles are elaborate works of art, each unique to the women's personal style, family history, and town. At Casa Flor Ixaco, a Mayan women taught us about the history of the cooperative and the process of creating textiles. The weaving cooperative was created by Teresa Ujpan Perez over 30 years ago. Perez wanted to create a place to keep the tradition of weaving alive, while also providing livable wages and humane working conditions to Mayan women. The account given by our instructor shed light on the systemic struggles Mayan women face in Guatemala. In class, we learned about Guatemala's recent civil war, which ultimately led to the death of hundreds of thousands of indigenous people. Historically, Mayan culture has been destroyed by Spainards, and continues to be systemically erased. In spite of these barriers, these women have created a sustainable and healthy business. The co-op is made up of 34 women who source natural dyes, produce their own yarn, and weave and embroider intricate textiles. The women use a backstrap loom; one end ties to a tree and the other wraps around their back. Our instructor explained that in Mayan myth the specific technique came from the goddess Ixchel, who also symbolized fertility. The loom itself was a symbol of childbirth and life from the earth, grounding women to a tree as they created a new fabric. The pieces for sale were beautiful! Each textile can take months to create, so the price tag reflects the time and carefully handcrafted materials that went into the project.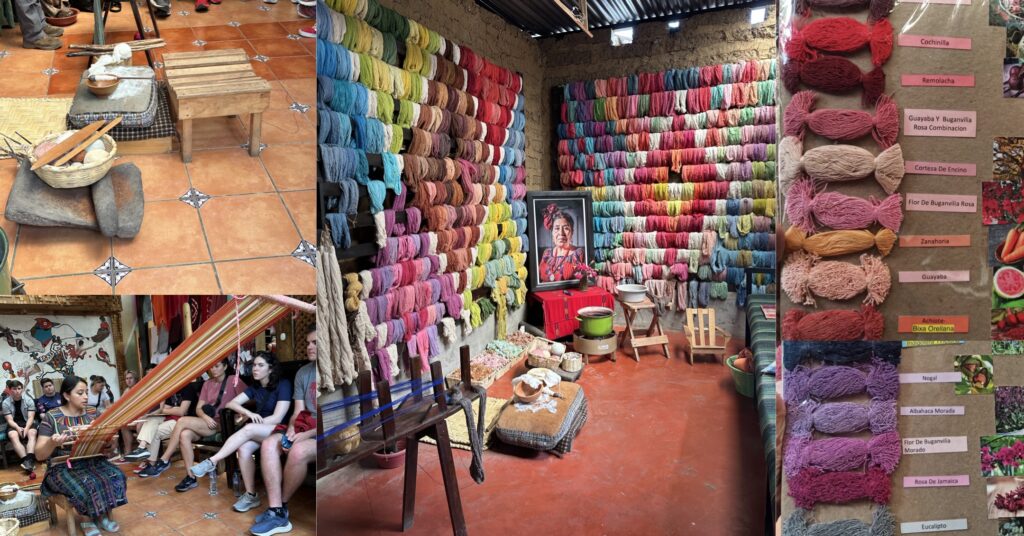 After the weaving cooperative we went down the street to the Association of Medicinal Plants of Mayab. There, a woman and her daughter taught us about every plant they grow, and what the healing nature is. They passed around each plant so we could smell it and feel the texture. Afterwards, they showed us around the shop and explained the different natural products and medicines they had available. Their garden also had beautiful flowers native to the region. The front of the building had a mural of mother earth, like many of the other walls in San Juan. Colorful paintings and tiles fill the city streets. Even the basketball courts were decorated in patterns and paintings. After we walked around the town, we spent a few minutes shopping and headed back to the dock to board at catamaran.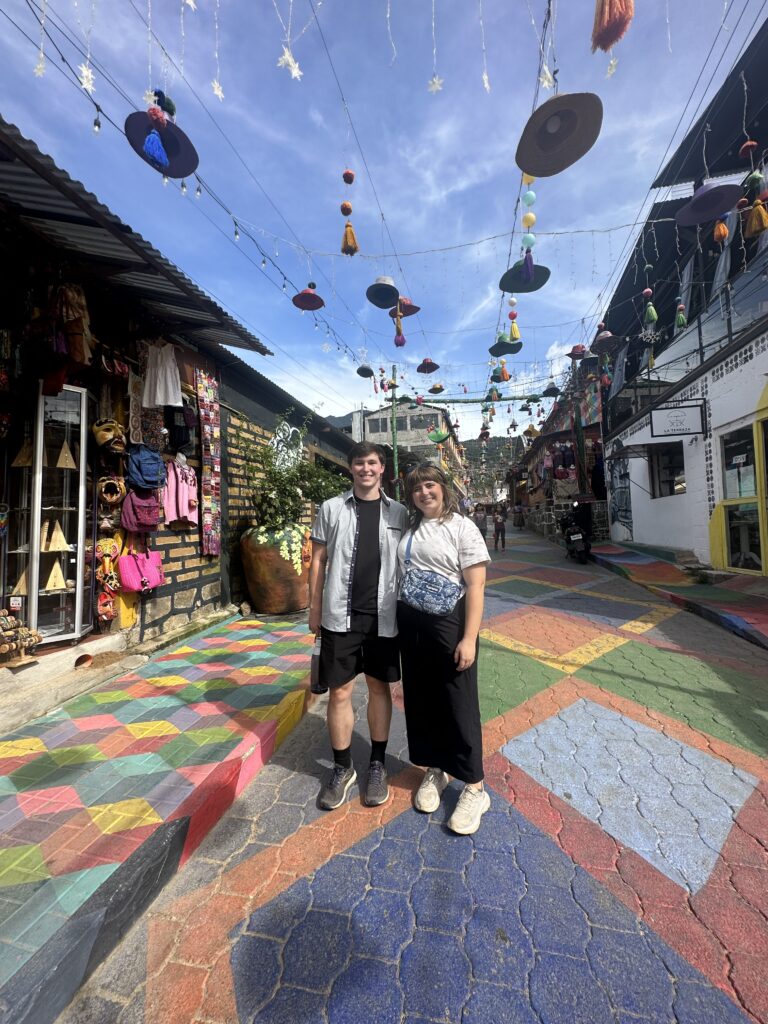 After we got back to Portal Hotel Del Lago, I went down to the pool and took a quick dip before dinner. I got all dressed up, and we headed downtown for a group meal. Some groups chose to walk, but me and a few other girls hopped in a tuk-tuk. Tuk-tuk's are the motorcycle taxi services that are around Guatemala. They can fit about three people and cost less than $5 a person for a ride. At dinner, we enjoyed cordon bleu and homemade Agua fresca. After dinner, I explored the small city with some friends and caught a tuk-tuk back to the hotel. The next morning, I caught up on sleep while some other students went on a hike to the nature preserve. After going to a local cafe to get a latte and pastry, I relaxed on our balcony till it was time to leave. We loaded up the vans and headed back to Antigua to get prepared to go back to class!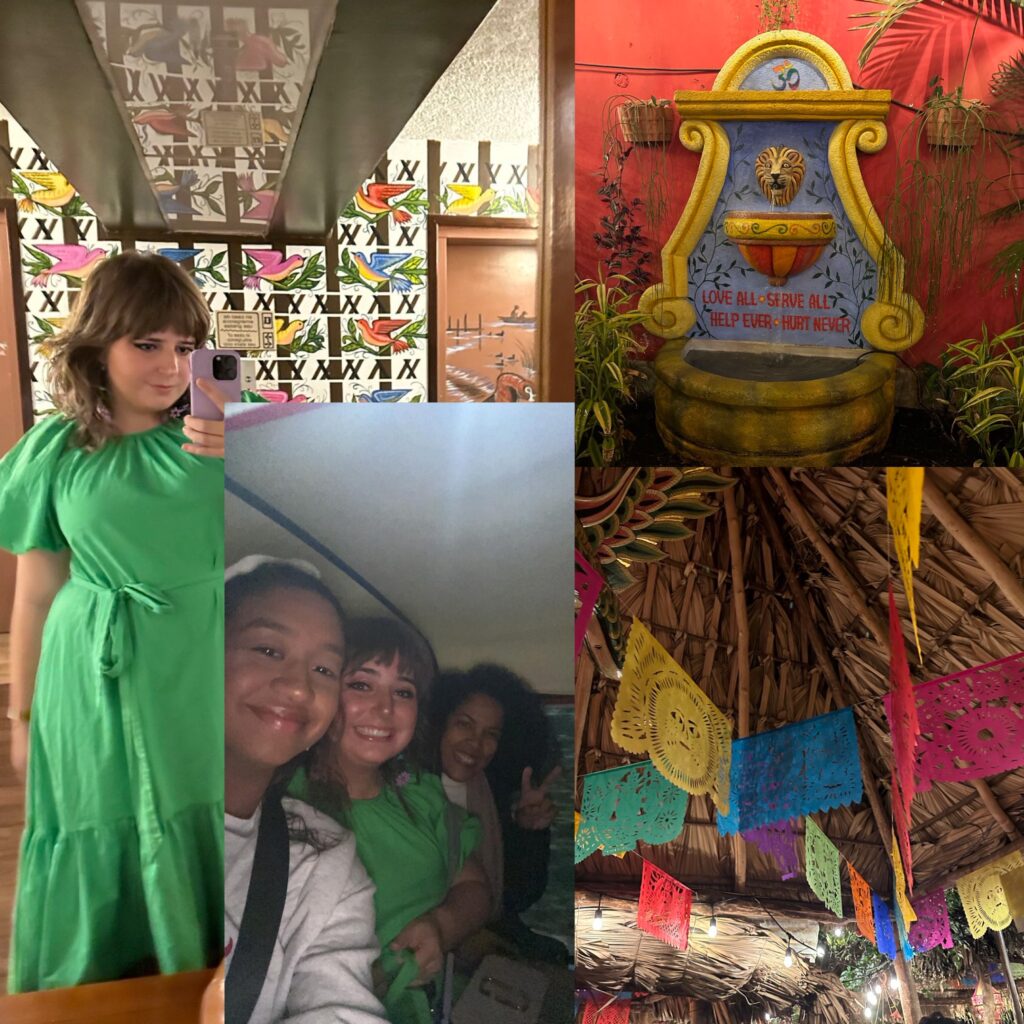 Further reading on events mentioned in post: