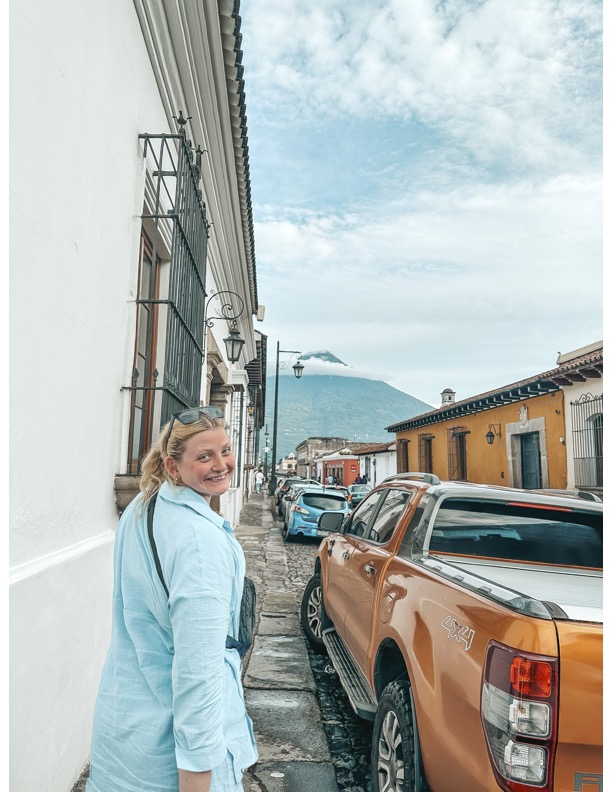 Traveling to Guatemala
Week one in Guatemala was filled with so much from class to adventure, and even to my birthday. We arrived in Guatemala City on a Friday afternoon and from there we had to take a bus from the capital to a small town called Antigua, which is located about 40 minutes outside the city, and where we will be living during our time abroad. Getting to Antigua proved to be harder than we originally thought when we got caught in weekend traffic that turned our beautiful and scenic 40-minute drive into a stop-and-go bumper to bumper three-hour traffic nightmare. We ended up eventually getting to Casa Herrera, where we will be living, studying, and eating while in Antigua.
My Birthday
Two days after arriving in Antigua it was my 20th birthday! We started the day with a walking and hiking tour of the city where we saw all of the scenic hiking views as well as got to explore the rich religious culture through seeing multiple abandoned churches that were destroyed during previous wars when the city was under Spanish colonization. We then had class for a couple of hours at Casa Herrera followed by happy hour with our professor while watching the Guatemalan futbol game at a local restaurant. After that some of my classmates and I watched the American futbol game at a local bar and met some Australians who were backpacking through Latin America. Overall, my 20th birthday was nowhere near a traditional birthday, but I would not trade anything for the experience I have had abroad!
Lago de Atitlan
At the end of the first week me, my professor, and all my other classmates traveled three hours to Lago de Atitlan, the deepest lake in Latin America. We took a catamaran to a town on the lake called San Pedro where we toured a traditional Mayan textile co-op and learned about the deep-rooted Mayan culture in Guatemala as well as the historical significance of women in the workplace in Mayan culture. We also toured a medicinal garden in San Pedro that has been passed down over six generations. By far the best experience at Lago de Atitlan was the 30 minute catamaran ride back across the lake to our hotel because the waves became so choppy that it felt like we might tip over, which gave me such an adrenaline high when we returned to our hotel for the night and found out that two of our classmates bags had been accidentally been put with another tourist group at our hotel and taken to Guatemala City (they got them back don't worry). The next morning, we headed back to Antigua and when we returned some people in our group started to get sick from traveling and the different food in Guatemala, but so far, I am staying strong and hopefully will not be the next soldier to fall!