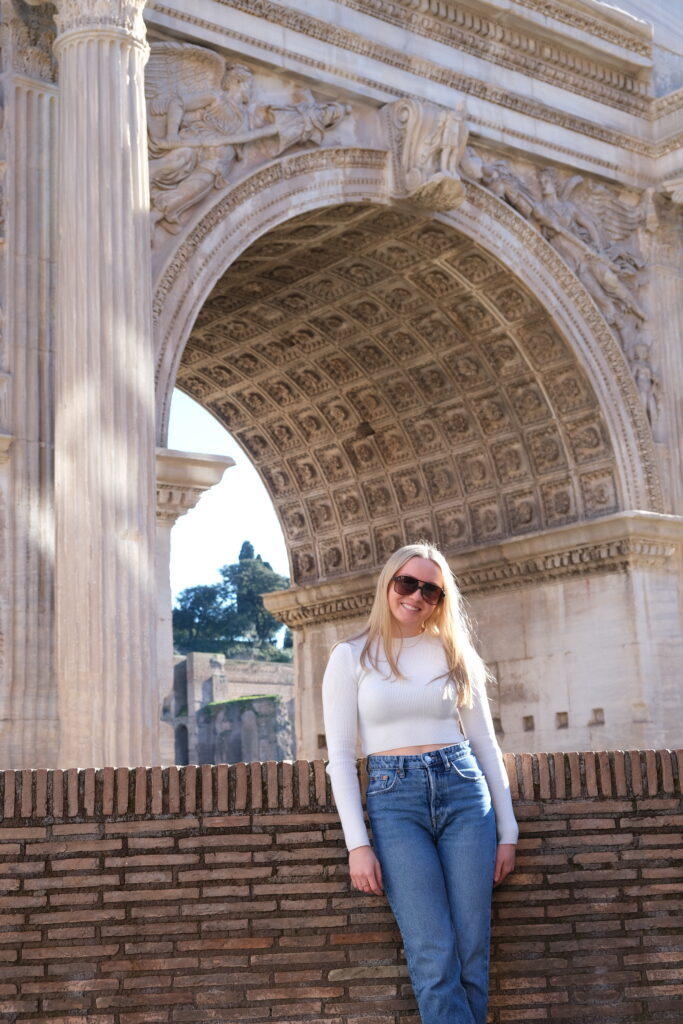 Friends became family, fancy lattes became simple cappuccinos, water became wine, transportation became planes, and bucket list dreams became reality. Transportation actually became my feet, bikes, metros, trams, busses, piggyback rides, trains, boats, funiculars, golf carts, and planes, but that's a story in itself.
It's nearly impossible to describe my experience studying abroad. From traveling every weekend, meeting the most diverse people, and taking in every moment, I just couldn't get enough. Reflecting over my four-month, fourteen country, and thirty-two city experience, I explain some of the priceless lessons I have learned.
The time of bests. The best cappuccino from Pimm's, the best burrata from Da Enzo, the best gelato from Alberto Pica. The best sights in Amalfi, the best dancing in London, the best laughter in Budapest, the best people in Greece. The list of bests could go on forever. It's the season of my life I laughed the most, smiled the most, and cried the most as it came to a close. You can't put a ceiling on bests. You can't claim it's the best memory, sunset, or experience when better continues to come along and rock your world. Bests are infinite, not finite, and thank goodness for that.
The value of a friendship. Someone who makes you laugh so hard your abs are sore. Someone who never says no to a gelato excursion after class. Someone that books an extra train ticket for you. Someone that picks you up when you have a hard exam. During our first week in Rome, we were taught the quote, "If you want to go fast, go alone. If you want to go far, go with others." As a person who was always doing things alone prior to Rome, this shifted in an instant. I was so independent because that's what I thought made me happy. Little did I know almost everything, if not truly everything, was better with friends. Even if it wasn't the fastest, most efficient way of doing things, we did what we wanted to do, and more importantly, did it together. At home I would go to the grocery store by myself and not think twice about it. But here, it became one of my most favorite things to do after my Monday class with Jess, my roommate. Simple activities are so much more enjoyable with your best friends. I let go of the need to always do things the way I viewed them as more efficient and turned them into the way that they would be more fun. I'm beyond appreciative for the deep, authentic, and meaningful connections that have come to light this semester.
The value of investing in experiences. While it might seem like a hefty expense, every penny was well worth it. You're not spending money, you're investing in priceless time spent with others, new opportunities, and valuable growth. Money is meant to be spent, so spend it on things that make you grow as a person! I asked too many times to count, when am I ever going to be this young and in Europe again? Money is a tool to help you treat every day like it's your last and get the most potential out of your life!
Traveling is a privilege. When you walk where so many powerful, peaceful, influential, and religious beings have walked before it shifts your perspective. They accomplished so much and impacted so many people to form our society today. But what didn't these people accomplish? There is so much more for us to do. There are many opportunities for me, for the world, for everyone to better this universe. Let's follow in others' footsteps, while looking towards the future with positivity. There is so much to expand upon, let's use the past to change the future.
Food fuels happiness. As a person who has struggled with food and body image, study abroad was an experiment to find balance, confidence in, and appreciation for my body. Your body does so much for you, it walks twelve miles a day to see a new city, it hikes hills to ancient ruins, it trips falling downstairs and gives everyone a good laugh, it jumps around to the beat at the club, and holds on for dear life through huge waves on a boat in Capri. You get one life, in one body, so better to accept it sooner than later. Food is fuel, it's okay to not know every single ingredient. Eat the dessert, go out and make a memory connected to a meal. It can be so liberating and freeing to give up control on something that you do every day, multiple times a day. Don't overthink, just consume, and overwhelm those tastebuds with adventure. I'm focused on making the most of every bite, every meal, every interaction that surrounds food culture. A little tip that has helped my health this semester was learning that if I feel off, I turn my body on, and if I overthink, I turn my body off. Rerouting any negativity into positivity and gratitude is good for the soul! But obviously so is homemade tiramisu!
Be present where your feet are. I love having things planned. Having things to look forward to and anticipation equates to happiness for me. Traveling every weekend afforded me so many opportunities to be excited about. This brought me so much peace. However, I learned that if I wasn't present in the moment and I was just living looking forward to next weekend in Malta, or Paris, or Spain I would miss the beautiful scene right before my eyes. While living in the future can hinder the present, living in the past can stunt growth. I took things, I've learned in my past and transformed them into a growth mindset. I put my phone down, opened my eyes, and stayed present the best I possibly could. There's a chance I only see some of these places once, so it was a right here, right now mentality. Really soak in what you see, what you feel, what you learn, and realize how you're changing for the better. Thankfully, I learned this lesson early on, because there was also the time, I didn't check my international phone plan and ran out of data. I had no choice but to be present where my feet were for ninety minutes!
Perception is everything. As perfect as people make study abroad seem or look, not everything is a fairytale movie scene. When you're dragging luggage up hundreds of steps in Positano, you think your life is anything but glamorous. However, it's all in the way you look at it. We were blessed to be there with a group of friends, we laughed about it, struggled together, and made it. We could've easily complained the whole way up and made everyone around us miserable, but we chose not to. Was it humbling? Yes. But was it something we made funny instead of complained about? Also, yes. Choosing to look at the situation as glass half full is a better was to seeing things one hundred and ten percent of the time. If the weather wasn't the most ideal, at least we were with each other. The problem isn't that it's raining, but rather the perception that we think it shouldn't be raining. Learning to shift the narrative to thinking situations aren't that deep will save you many complaints, keep morale high, and improve overall happiness.
Rome wasn't built in a day, and neither are you. It's okay to not know who you are and who you want to be. Take it one day at a time. Be authentic, learn new things, put yourself out there, fail, get up and try again. Only good can come from exploring new areas. It can show you who you want to be and who you don't want to be. Anything that leads toward an awaking or expansion is a good thing! There's also the question of satisfaction. Is it a good thing to be satisfied where you are, or should you always be striving for more?
Just do it. The "make the most out of it" mentality comes into play in all areas of study abroad. When are you going to be in this country again? When are you going to be here with these people? When are you going to be this young? Who cares? Should we…? The answer is yes. Your friend is in a play? Yes, go see it! You get offered a free cooking class? Yes, you have to be there! You're scared to ride a giant swing over Amsterdam? Just breathe and embrace the fear! There was no way I wanted to look back and ask, "What if?" I didn't want to have any what ifs, just, "I dids." We didn't waste a weekend, we didn't waste an hour, we didn't waste a minute. One tiny decision will and can change your life. So, make the best ones, run the course, and have a blast while doing it.
Trust it will all just work out. Trust Sammi to book a flight for you. Trust Jess to pick the dinner restaurant. Trust Collin to pick the club. Everything will work out how it's supposed to, and, in the time it's meant to. Can you add another minute to your life by worrying it won't be right? If it won't work out? No! So, just trust it will!
You deserve to be happy. You deserve to have the best experiences. You deserve to make your best friends. You deserve all that you work for! This semester was truly the happiest I've ever been. I'm forever grateful and beyond blessed.