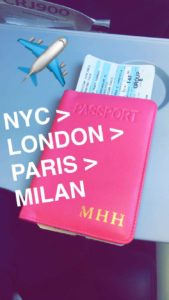 I have wanted to study abroad ever since I began college, and the time is finally here! On Sunday I leave for New York City, and a week later our group will travel to London, Paris, and we will end in Milan. Our group is full of fashion majors, so of course we are visiting four of the biggest fashion cities around the world.
I have prepared for this trip by researching some of the designer's whose studios we will be visiting. I have also religiously planned my outfits, because like I said I'm a fashion major! So far, overpacking is looking like it is going to be my biggest problem.
I have a lot of emotions running through me as I get ready for this new adventure in my life. One of the first that comes to mind is nervous. This will be my first time to ever travel outside of the United States, and I'm definitely very nervous! There are a lot of different things I'm nervous about. Will I be able to find my way around? Will I know how to order off of the menu at a restaurant? What if my luggage gets lost!? But although this new experience is scary and unknown, I could not be more excited for all of the places I will go! I can't wait to soak up the culture in each different city, and learn as much as I can. I can't wait to see what's in store for me and to continue to share my journey on here.