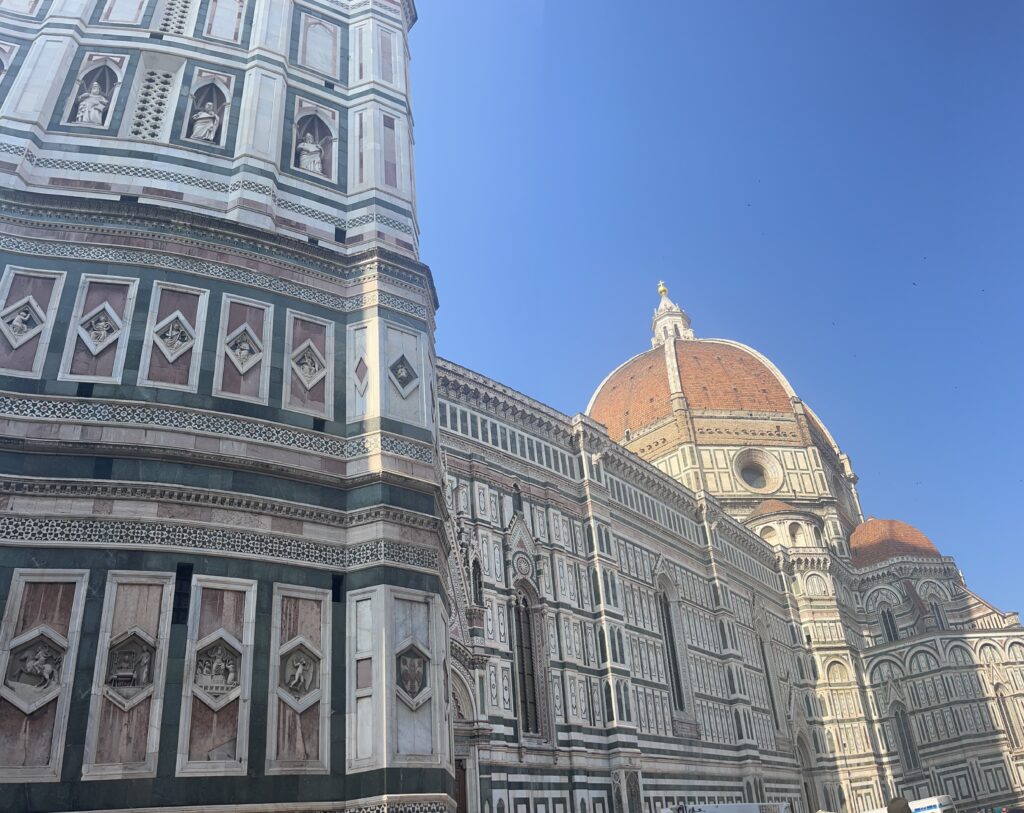 Florence is a lively city, with a rich history and vibrant environment. As a self-proclaimed "local" who has lived in Florence for a little over two months I can assure you that around every corner you can find tons of hidden gems from history to food to shopping. While I could give a 100-page list of recommendations, I have decided to spare you and instead list my top 10 must-dos/sees while visiting the wonderful city of Florence:
Disclaimer: Most of these activities were free as they were facilitated by my lovely study abroad affiliate program, API, or by my study abroad university, Lorenzo De Medici (LdM).
1. TAKE A COOKING CLASS
Florence is known for its food and culinary culture. As someone whose greatest culinary creation is microwavable mac-n-cheese, I was actually quite nervous and unprepared for cooking classes due to my lack of cooking expertise. However, I actually had a lot of fun taking cooking classes in my free time and recommend it to everyone, even if you are a beginner! My affiliate program API provided one free cooking class at Chefactory Cooking School. We made two Tuscan dishes and a dessert. This was done in a big group and we followed along step by step. While this class was great I really enjoyed taking classes through my university, LdM. These classes were free for LDM students through the activities office. The cooking staff was so friendly and very eager to get to know students studying abroad. I loved taking these classes in my free time and recommended them while studying at LdM. While I am usually the "taste tester" at home, I was able to make Spinach and Sage ravioli with a coffee panna cotta and Cacio de Pepe with Cantucci biscuits. Not only is this a great way to save money by getting a free lunch, but it was a great way to meet other students and learn about Tuscan culture.
2. PALAZZO VECCHIO
If you are a history buff you may already know about the Medici Family. Even if you don't, but instead are looking to see beautiful paintings and explore the hidden rooms of an aristocratic family, Palazzo Vecchio is a great place to visit. API took me on a free tour of the castle and not only was it rich with fascinating history, but had beautiful art. This was one of my favorite tours I went on throughout my whole two months in Italy. I knew very little about the Medici family, who founded Florence, but now I find them so interesting. Additionally, through LdM's activities office, I also took a free fresco painting class in this palace which was really fun and a great keepsake from my trip. Even if you are not creative, it is a fun way to spend the afternoon and immerse yourself in Italian culture. Plus, you can say that you got to paint like Michelangelo.
3. ITALIAN CULINARY
When in Florence it is crucial to eat the famous Florentine Steak. While it is a local dish it can be found all over the city, but fair warning the dish will be cooked and served medium rare. Also, if you have free time and are of age, visit one of the many historic wine windows around the city. If you are not sure what to order, Chianti Classico is a regionally appropriate and typically inexpensive beverage in Florence. Wine windows were used during the plague to decrease interaction for quarantining and due to this became famous post-covid.
4. FONTANA DEL PORCELLIO
Just next to the leather market, a small fountain with a boar can be found. According to Florentine legend rubbing its snout creates luck. The complete process of ensuring good luck requires you to put a coin in the pig's mouth after rubbing the nose. If the coin falls into the grates it will bring you luck, if not it won't. Who doesn't want a little extra luck?
5. SANTA MARIA NOVELLA PERFUMERY
Officina Profumo-Farmaceutica di Santa Maria Novella was created in 1221 as a herbal pharmacy but is regarded as the oldest perfumery in the world. While it was created as a herbal apothecary, after the applications of modern medicine it became well-known for its perfumes and remedies. Aqua della Regina (the "Queen's Water"), is the oldest fragrance and was designed specifically for Caterina Medici who was a queen of France. This is a must-visit for those looking for unique gifts and authentic Italian items.
6. SEE DAVID AND THE UFFIZI GALLERY
Florence is known for its art and beauty. Simply put, a trip to Florence without seeing the famous Uffizi Gallery, home to Sandro Botticelli's "Creation of Venus" or Michelangelo's Statue of "David" at the Accademia Gallery is a trip wasted. Make sure to buy tickets in advance at both the Uffizi Gallery and the Accademia Gallery as they get very crowded.
7. GIARDINO DI BOBOLI
Directly behind Palazzo Pitti, a lovely palace owned by the Medici family that is filled with modern art, you will find the beautiful Boboli Gardens. These gardens are very large and provide you with a picturesque view of the city. In the garden, you will find tons of sculptures and fountains. I spent a Sunday afternoon in both Palazzo Pitti and the gardens and my tickets to enter were completely free. Definitely worth the trip if you have a free afternoon!
8. DUOMO DI FIRENZE: CATTEDRALE DI SANTA MARIA DEL FIORE
While it is quite hard to miss due to its enormous size, take a morning to visit the famous Duomo located in the center of the city. Make sure to bring appropriate clothing if you are planning on going inside as religious buildings in Italy require shoulders and knees to be covered. If compelled, you can even hike to the top and have a panoramic view of the city.
9. SHOPPING: HANDMADE JEWELRY, LEATHER MARKET, VINTAGE ITEMS, AND LUXURY ITEMS
Make sure to pack light when visiting Florence because your bag will be filled with all kinds of goodies by the end of your trip. Florence has a variety of stores from luxury goods, to handmade items, to vintage items.
One of my favorite stops during my time in Florence was visiting Giuliano Ricchi's Jewelry shop. He has been working for over 60 years in the heart of the Florentine artisan's district and along with his wife sells handmade jewelry and household items. This local Italian family is so humble and caring towards their customers and their work has been sought out by well-known companies and brands, all over the world including Christina Dior. It was so wonderful visiting their shop and seeing them create lovely pieces.
Florence is also known for its world-famous leather. While it is a lot of fun to explore the many leather markets of street vendors, I encourage you to visit some family-owned shops when looking to purchase quality leather. Papini was my favorite leather shop and it is quite famous for making leather goods for royals like Kate Middleton and many US presidents like Ronald Regan, Bill Clinton, and George Bush. They even have leather products in the Oval Office. This is a must-stop for those looking for quality leather products that are made in Florence!
All around the city, you can find vintage shops. This can range from high-quality second-hand items to unused luxury goods. If you are a vintage lover you will find plenty of shops with tons of vintage goods. Some shops I visited in Florence are View of Art Vintage, Humana People, Melrose, and Desii Vintage. I loved looking at all the items in these shops, especially the View of Art because it felt a bit more local and the owner was very friendly, but there are many more hidden vintage shops all around the city for those interested in vintage shopping.
Lastly, there are numerous luxury stores in Florence, as Italy is the birthplace of luxury items. One stop I made that was free through the LdM activity office was the Gucci Museum which features tons of Gucci products, photo-worthy interactivity art, and illustrates the history of the Gucci brand. If you are interested in luxury goods this is a great stop to make on your trip!
10. PONTE VECCHIO
Ponte Vecchio Bridge is a historic landmark of Florence known for its local gold shops that line the bridge. If you are looking for high-quality gold jewelry this is just the spot for you! All the shops feature local craftsmen that have been crafting gold jewelry for decades. Even if you aren't looking to buy gold I still encourage you to walk the bridge and see all of the beautiful and local jewelry.