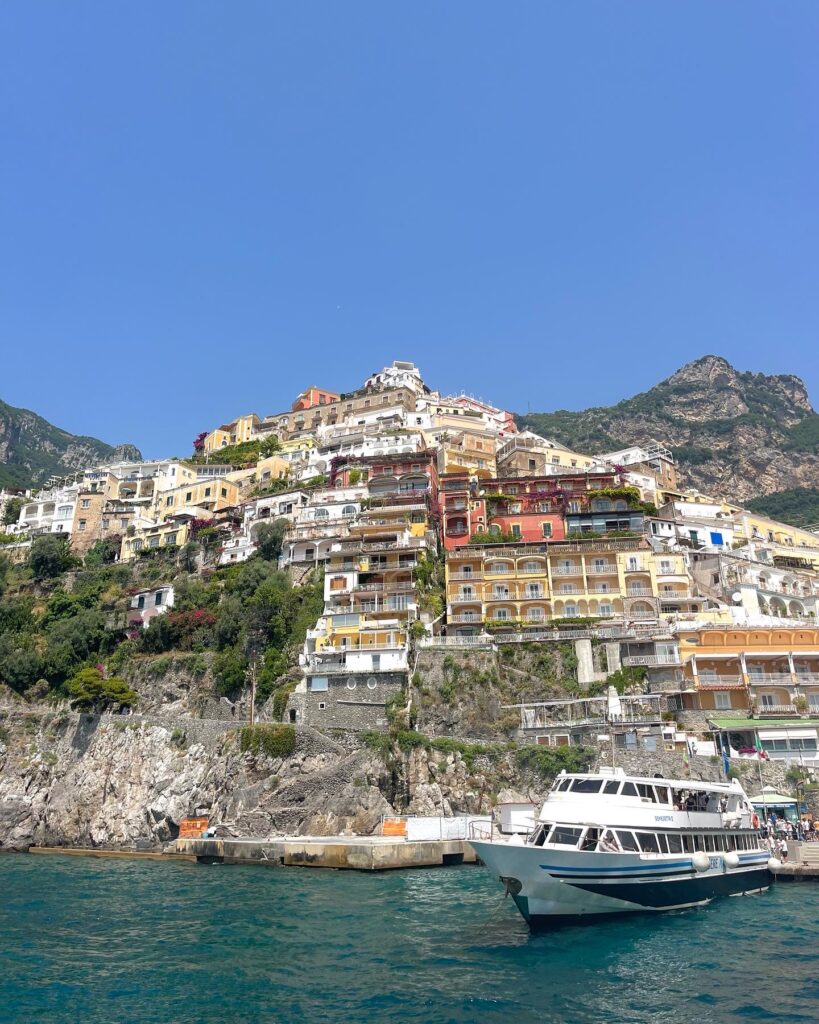 As I make my way back to the US I am very bittersweet but utterly grateful that I studied abroad in Florence because of the ease and affordability of traveling on weekends. Disclaimer, my affiliate program, API, had several excursions prepared for us on weekends where transportation, tours, and hotels were covered so I didn't do all the work myself. However, after some research, I still was able to easily travel through Europe and plan trips. With the advanced infrastructure of trains and buses in Italy traveling outside of Florence couldn't be easier. In fact, it was way cheaper and easier to travel between European countries than my 12-hour flight from the US. So, if you are studying abroad in Europe, take advantage of your location and explore other cities and countries in your free time. Listed are the weekend trips that I took while abroad and my recommendations for what to do and see while traveling.
BURANO, VENICE, VERONA – API EXCURSION
Burano, Italy
Burano was a quick day trip from our hotel in Venice and a must-see for anyone traveling to Venice. Burano is a Venetian Islands and is accessible by ferry or water taxi from Venice. It is a charming little island filled with colorful houses and local seafood. This charming little island attracts lots of visitors, but won't be nearly as crowded as Venice.
Venice, Italy
Venice was one of my favorite trips because it was so beautiful and unique. It is a must to ride a gondola, but bring cash and split the fare with a group so it is more affordable. Also, for those visiting in the summer prepare for it to be hot and extremely crowded. Venice has no cars and is a walking city with very small sidewalks and alleyways. With lots of tourists, it can feel cramped very easily. However, the crowd dies down at night so I recommend staying for dinner and exploring a bit later in the afternoon. There are a lot of local shops in Venice and a lot of history. I spent my morning on a walking tour around the city where I learned about the history of Venice and saw some popular landmarks. I wish I was able to go inside of Saint Mark's Basilica however, you need tickets in advance because the lines can be hours long in the summer. This city was breathtaking and I highly recommend it when visiting Italy, just be prepared for a large crowd and bring extra cash because certain areas are expensive.
Verona, Italy
We started our morning in Verona with a walking tour and some sightseeing. My favorite tourist trap was visiting Juliet's house from Shakespeare's famous "Romeo and Juliet". Some literature junkies might know that the play was based on local families that lived in Verona during the Middle Ages. Most importantly, taking a photo with Juliet's statue will give you "luck in love" and is a must-do in Verona. Verona also has several outdoor markets selling everything from clothing, to food, to books. We ended this trip by touring and tasting a local winery outside of Verona on our way back to Florence. This was a great relaxing finish to our excursion as we were all quite exhausted from all the exploring we did the days prior and what better way to decompress than sitting in a wine vineyard?
LAKE COMO, MILAN, CINQUE TERRE – SELF-PLANNED TRIP
Lake Como, Italy
I started this trip by taking a high-speed train to Milan and then taking a $5, 30-minute train from Milan to Como Lago Station. If you are visiting Italy I highly recommend taking a trip to Lake Como, it is so unbelievably stunning. When we arrived we boat toured around the breathtaking lake for about 4 hours. I went to the first EDM, or as Italians call it "disco tech" concert in the city of Como purely by accident. I had so much fun and the event had a young crowd of friendly locals. Lake Como is known for some of its famous celebrity vacation homes. So, let your inner fangirl go wild and be on the lookout for stars like Madonna, George Clooney, and Gianni Versace. The food is a bit more expensive so plan to bring extra money. Also, traveling around the lake by ferry can be extremely time-consuming. While Lake Como and the city of Como were both beautiful, I wish I got to see the northern parts of the lake and visit towns like Bellagio, but we ran out of time. I recommended going for longer than a day trip so that you can see different parts of the lake. When I think about coming back to Italy, Lake Como is one of the first places I would want to revisit.
Milan, Italy
After Lake Como, I spent the following day in Milan. Personally, this was my least favorite place that I visited and I do not plan on going back. Milan felt very Americanized, and I also had the hardest time communicating with people in Milan. I started my day by visiting the Milan Duomo which was beautiful. I then visited a few more spots like the Castello Sforzesco and Parco Sempione which was very nice. I also saw the famous Arco della Pace. I tried to see the "Last Supper" painting by Leonardo da Vinci in the Santa Maria delle Grazie, however, tickets were sold out till October when I walked into the ticket office. If you are planning to visit Milan and would like to see this painting make sure to get tickets months in advance. My favorite part about my trip to Milan was that I was coincidentally there when Milan played Manchester. While I know nothing about soccer or "futball", it was a very cool experience. I loved how excited the city was for this game. Everyone was dressed in jerseys and chanting all day long and the city came alive. Little did I know this was almost a Super Bowl equivalent game for Milan, so watching the game and sharing in the excitement was lots of fun and very memorable!
Cinque Terre, Italy
On our way back from Milan we stopped in the village of Monestro, one of the Cinque Terre villages. We spent the day on the beach and eating at local restaurants. Being a Florida local and self-proclaimed beach bum, I can firmly guarantee that the beach at Monastero was one of the most beautiful beaches I have ever been to. However, be prepared that it is very different from US beaches. You will need shoes and the ground is made up of pebbles and rocks that are both pointy and hot. Also, ideas on beachwear are a lot more lenient in Europe and it's common for some to wear little to no bathing suits. So now you can't say you weren't warned. From Florence, it was very easy to travel by train and if I had more time I would have loved to revisit and explore the other villages in Cinque Terre.
ROME AND VATICAN CITY – API EXCURSION
Vatican City
If you are a pro in geography, you may know that Vatican City is its own separate country located inside of Rome. Therefore, the Vatican was technically the first country I visited outside of Italy. If you are planning to spend a day in the Vatican I highly recommend touring the Vatican museum. It is so interesting to see thousands of pieces of art and learn about the fascinating history that the Vatican holds. The tour I was provided with through API ended in the Sistine Chapel where I was able to see the "Creation of Adam". I also went back briefly on Sunday to see the Pope recite the Angelus prayer in St Peter's Square. I absolutely recommend this even if you are not Catholic as it is interesting to experience this from a cultural perspective.
Rome, Italy
The last two days of my excursion I spent in Rome. Rome feels like any big city but has a rich history and there is so much to see. Don't believe me, count the number of McDonalds you find within walking distance of historical sites. Do not make Rome a day trip, even with two full days I felt rushed because there is so much to see. I went on a few walking tours visiting all the landmarks. Like most tourists, I really enjoyed the famous Trevi fountain and the Coliseum. Make sure to throw your coin in the Trevi Fountain so that you are "called back to Rome". Make sure to plan ahead when traveling to Rome so that you can see all the sites that your heart desires as tickets tend to see out fast.
SPLIT, CROATIA – SELF-PLANNED TRIP
One of my favorite trips that I went on while studying abroad was to Split, Croatia. It was a 3-day trip that I booked through Smart Trip, a travel agency company for Florence study abroad students that provides transportation and hostels for students. Friday morning I started the day on an ATV tour of the countryside and some free local BBQ. As a first-time ATV rider, I was a bit scared but ended up having so much fun. We even got to see the border of Bosnia and Herzegovina which was really cool. Split has a very active nightlife so it is easy to plan a full day as there is a lot to do. The following day I went on a boat tour, taking us all around the coast and stopping at swimming spots like the Blue Lagoon. Before leaving, we visited Krka National Park, which was simply breathtaking. This park was filled with beautiful waterfalls and I loved stopping here before heading back to Florence. Croatia exceeded every expectation I set and I would love to revisit!
PISA, ITALY – SELF-PLANNED TRIP
One of the easiest day trips you can make from Florence is a visit to Pisa. It is a very quick day trip from Florence costing around $20 round trip on a train. Plan to spend about 2 hours getting lunch and seeing the Leaning Tower and then heading back to Florence. If you are looking to travel solo this is a good day trip to take as it is very simple and easy to navigate.
TUSCANY REGION, ITALY: SIENNA, CORTONA, LAKE, SAN GIMIGNANO – API EXCURSION
Siena
Who doesn't love the Italian countryside? When you are looking to escape the hustle and bustle of city life, why not visit the beautiful countryside of Tuscany? On our first day, we drove about an hour by bus to Siena where we toured the city stopping and seeing the Basilica of St Domenico. Inside this church, you can view the mummified head of the revered Saint Catherine of Siena, which sounds a little creepy but is actually interesting. We then ate lunch at a cafe and then took a bus to a thermal bath outside Siena where you could either lounge by the hot/cold thermal baths or visit the spa for a facial and massage.
Cortona
On our second day of this excursion, we visited the quaint town of Cortona. This town is very small but filled with live music and outdoor markets. We toured the little city known for the famous novel "Under the Tuscan Sun" by Frances Mayes and then got some lunch. This was my favorite Tuscan town because I found its streets and atmosphere very charming and authentically Italian. After this, we visited Lake Trasimeno where we enjoyed the afternoon lounging by the beautiful lake.
San Gimignano
Before heading back to Florence we stopped in San Gimignano to explore for a few hours. We visited Gelateria Dondoli, which according to votes is the best gelato in the world. We ended the day with wine and pairing tasting at Tenuta Torciano where I had the best lasagna of my entire life. Definitely a must-visit for any fellow foodies looking for a relaxing vacation.
BARCELONA, SPAIN – SELF-PLANNED TRIP
Barcelona is a must-see for those planning to travel outside of their study-abroad location. It is a short and affordable flight out of any main airport. We spent most of the weekend enjoying the beach. You must eat the wonderful Paella, but be prepared to split your meal because the portions are very big. Barcelona is very lively at night but still feels very safe because their public transportation is constantly running and easy to operate. We also visited the Basílica de la Sagrada Família and the Gothic Quarter which was stunning. I hope to go back and see Park Güell, as we missed this stop on our trip, but overall I still had a great time and enjoyed this trip!
AMALFI COAST, ITALY: SORRENTO, POSITANO, CAPRI, POMPEII – API EXCURSION/SELF PLANNED TRIP
Sorrento
Visiting the Amalfi coast is a must for anyone looking for a luxurious but authentic Italy experience. While my program provided this excursion I independently traveled by train a few days earlier to spend more time on the Amalfi Coast. Due to train delays I even got to eat a Neapolitan Pizza during my 2-hour layover in Naples, so yummy. Sorrento is a cute little village known for its lemons that are massive in size! No seriously, I was shocked that some were the size of my whole head. It is also filled with cute shops and tons of restaurants. While the whole Amalfi Coast is quite expensive, Sorrento was slightly cheaper which made it great for dinner and staying the night after getting back from day trips. Also, Sorrento is a large hub for ferries, which will take you all around the Amalfi coast for $20-30 dollars round trip.
Positano
My first day trip was to Positano and it instantly became my favorite spot on the Amalfi coast! It is so beautiful we spent the day shopping, eating, and enjoying the beach at a nearby beach club. The beach was amazing and the view was incredible and it was a very easy and affordable day trip from Sorrento. This is a must-stop location when traveling to the Amalfi Coast, maybe I am biased because it was my favorite stop of the weekend, but it is underrated and a wonderful place to visit.
Capri
The next morning we visited the lovely island of Capri. We started the morning on a boat tour, provided by my program, where we saw the beautiful coastline and famous caves like the Blue Grotto. After this, we took a tram from the marina to Capri Town. I liked Capri town, but it was very crowded and extremely hot so prepare for long lines and lots of heat. We then bused to Anacapri where we took a chairlift to the highest point on the island. For anyone visiting Capri, this is my biggest recommendation! Not only was it beautiful to see the whole island from the top but the chairlift was really fun and relaxing, which was needed after waiting in long lines and navigating through crowds in extreme heat. At the top, there is also a cafe where you can get gelato and admire the view.
Pompeii
On our way back to Florence we took a short stop in Pompeii and toured the historical sight. It was very interesting to see all the artifacts and to learn about the history of the island. However, other than the historic sight there is not much nearby so I recommend getting lunch somewhere else and then heading to Pompeii to explore.
LISBON, PORTUGAL: SELF-PLANNED TRIP
My final trip before heading back home to Florida was to Lisbon. We spent our first night on the rooftops of several buildings admiring the city and heading to popular destinations like Pink Street. The next morning we walked the streets shopping and sightseeing, but we ended our day with a DJ boat trip and we all had so much fun. Before heading home on Sunday we stopped at LX Factory, an artsy urban upcoming part of Lisbon filled with handmade art, local food stands, and lots of markets. This was my favorite stop in Lisbon and I recommend it for everyone interested in visiting Lisbon.