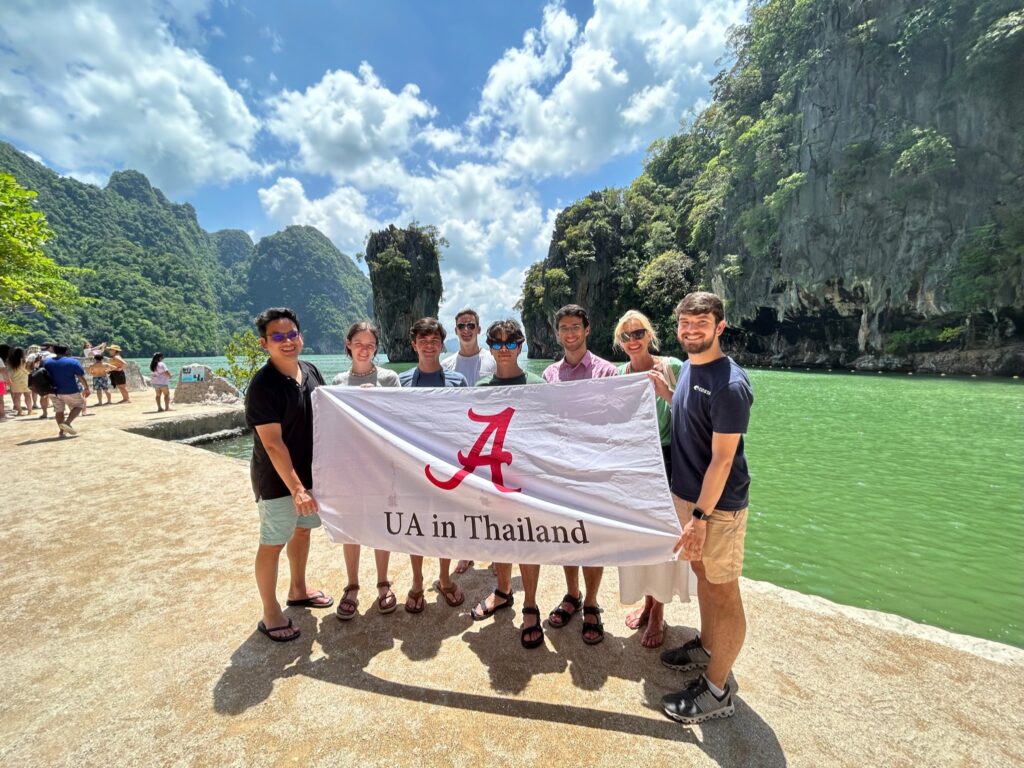 Hey, it's me again. If you didn't catch my last entry, I'm Connor Higgins (far right in the photo above), and I'm writing about my experience in the UA In Thailand: International Economics program. In my last writeup, I provided some background on the program, some of my expectations and initial impressions of Thailand, and a recap of how we spent each of our 14 days in Bangkok. If you haven't read that article, some of the context provided there may be helpful in understanding my perspective. (I try to keep things short-ish here, but we stayed pretty busy, so I'll forgive you if you breeze through the article to look at the pretty pictures.)
Our second leg of the trip took us from the bustling city of Bangkok to the southwestern tip of the country, a beautiful collection of islands in the region of Phuket. We flew there on June 14 and stayed for 7 nights.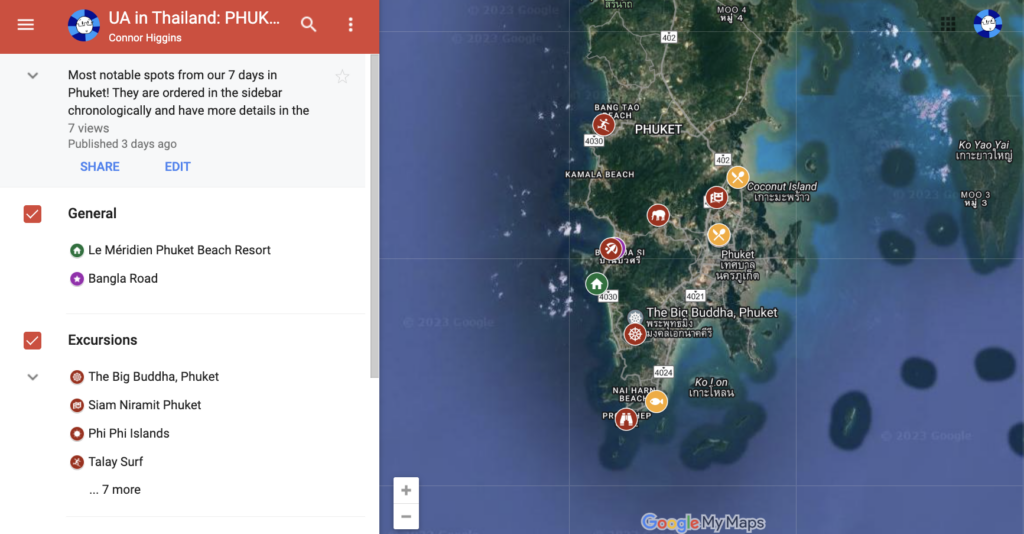 I've plotted all of our Phuket destinations on a Google Map here!
Day 1
The early parts of June 14 were spent getting our luggage together, bidding farewell to Bangkok, and making our way down to Phuket. Paan had organized all of our domestic travel well in advance, so all we had to do was show up, hand our passports to Namwan, and not get lost on the way to the gate. The flight itself only took about 90 minutes. Upon arrival, we were given a very warm welcome by some members of Paan's own family! His wonderfully bubbly mother brought us all handmade gifts and regional snacks.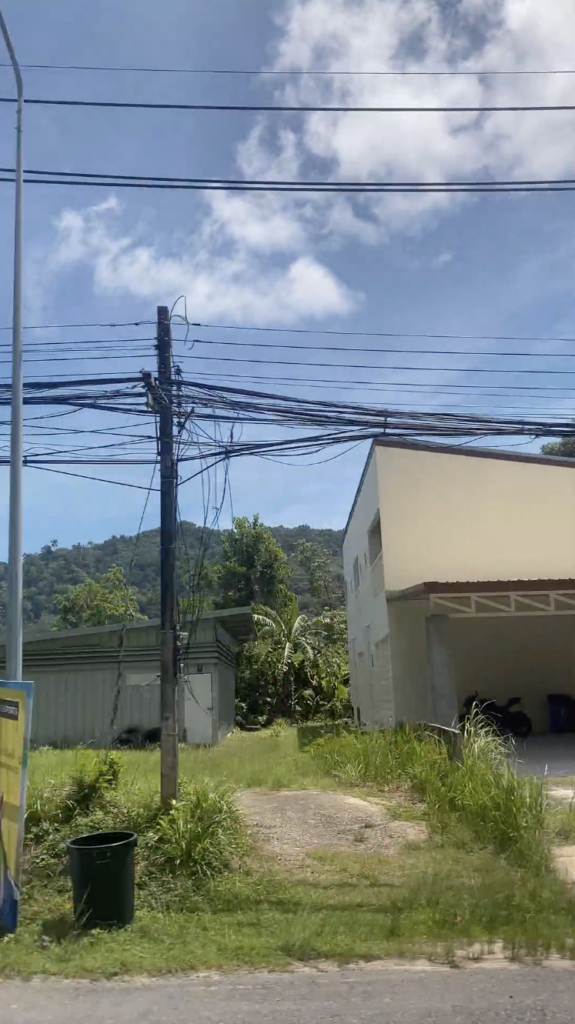 You wouldn't confuse Phuket with Bangkok by appearance. Where Bangkok is somewhat flat and filled with skyscrapers (including my favorite in the world), Phuket is more spread out, more hilly, and much more green. Our ride to the hotel was a refreshing change of scenery: our roadways were lined with greenery and nice views of distant hills. The architecture around Phuket is less vertical and more "beachy" — brighter colors, bigger windows, flatter sides, that sort of thing. Phuket has also become a very popular destination for Russian tourists (and expats), so there's a lot of Russian on the signage around here, which I don't recall seeing at all in Bangkok.
Where our last hotel was in the heart of the city, our hotel in Phuket was a resort tucked away on the side of a hill, behind two layers of security. There were these gigantic pools, a collection of restaurants on site, and a small private beach area sandwiched between two cliffs. Even the lobby was extravagant.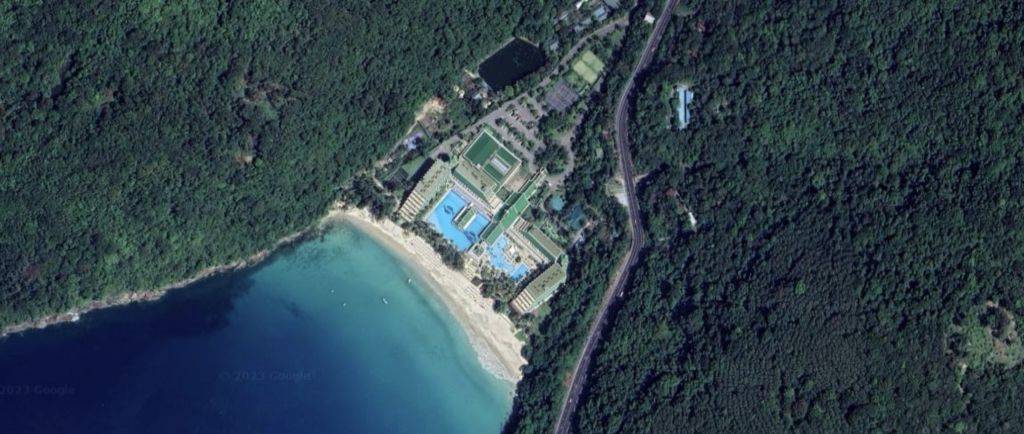 After we dropped off our bags, we made our way up many hills to Phuket's Big Buddha. The structure itself is obviously a spectacle, but equally impressive were the views of Phuket from that height. The photos don't do it justice, it's really a sight to behold. You've got the city in the middle, the water off to the side, and the hills and mountains off toward the horizon.
The spot is also popular among the monkeys that live in the trees just below the overlook. Several monkeys climbed up onto the deck and ran around in search of anything they could get their hands on. I think we probably had the most fun watching them swing around in the trees beneath us. I really wonder what goes on in their little heads sometimes.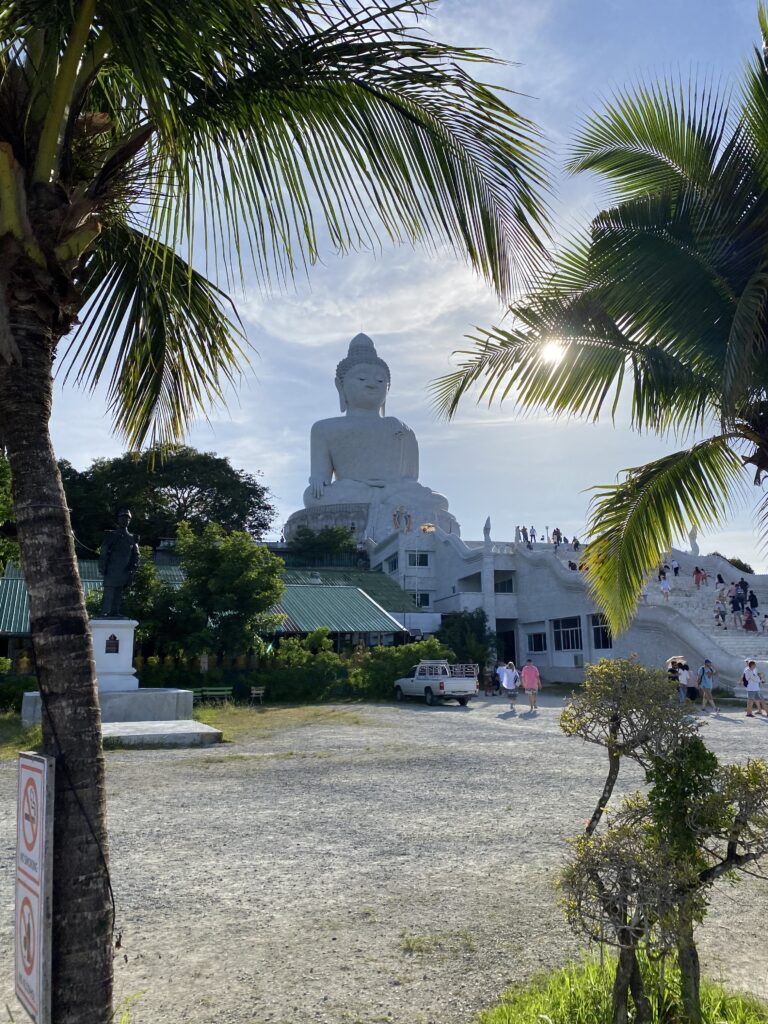 We spent our evening at the Siam Niramit center, an extravagant attraction showcasing Thai culture. Upon arrival, we strolled through a recreation of a Thai village, complete with period actors engaged in traditional activities: sewing, cooking, puppeteering, you name it. It's a living-history concept similar to a Colonial Williamsburg or Mt. Vernon. There are also animals to feed and carnival games to play. It's a cool spot.
But the main attraction here is the show. They put on a 90 minute performance, set during various points in Thai history, that tell traditional stories through elaborate dance numbers. The production quality here was genuinely impressive. I actually got distracted a couple of times wondering "how did they pull off that effect?" It was a great way to conclude our welcome to Phuket.
Day 2
Our second day in Phuket was devoted to checking out the Phi Phi Islands. We sat for a two hour boat ride to get there.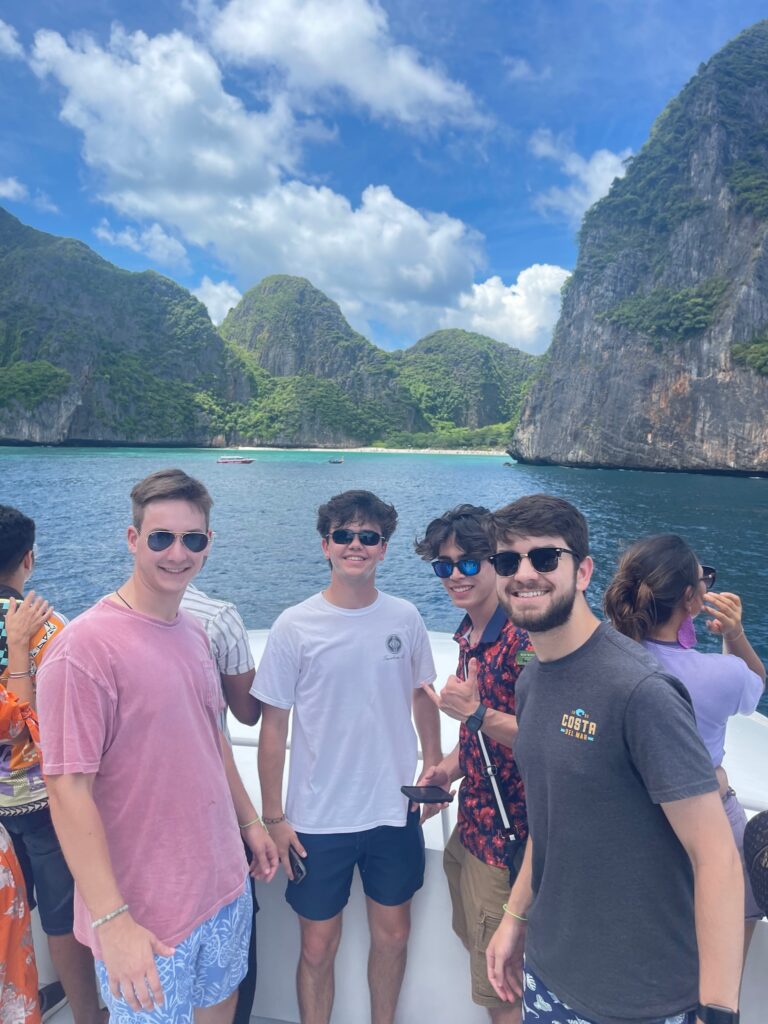 I really don't think there's much I can say about this. The pictures speak for themselves, even if they still don't do it justice. I feel pretty comfortable saying that, in terms of natural beauty, the islands are the most extraordinary site I've ever laid eyes on. The green of the trees glows against the rocky island backdrop. The waters are a gorgeous shade of turquoise. (And, to boot, we happened to come on a picturesque sunny day with blue skies and puffy white clouds).
We also got to snorkel for a little bit. The water is so crystal clear that you can see straight down to the bottom, some 30 feet beneath you, to the coral on the water's floor. Again, it's really impossible to give any of these views an adequate description. I've never seen anything else like it before.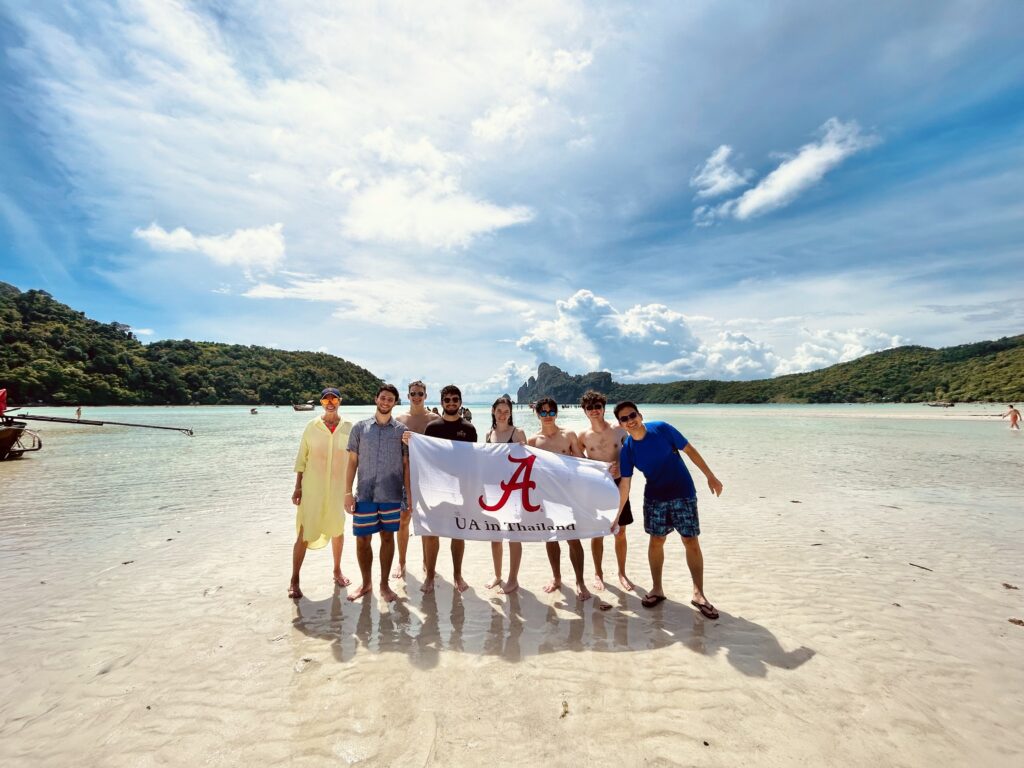 To quote David Letterman, "if this doesn't do something for you, you're not hooked up right."
Day 3
There are no major universities in Phuket, so Paan decided to host classes in one of the hotel's conference rooms. As it happens, there were several corporate conferences taking place at this hotel while we were staying there. Gigabyte, a computer hardware company, was occupying most of the other event spaces while we were here.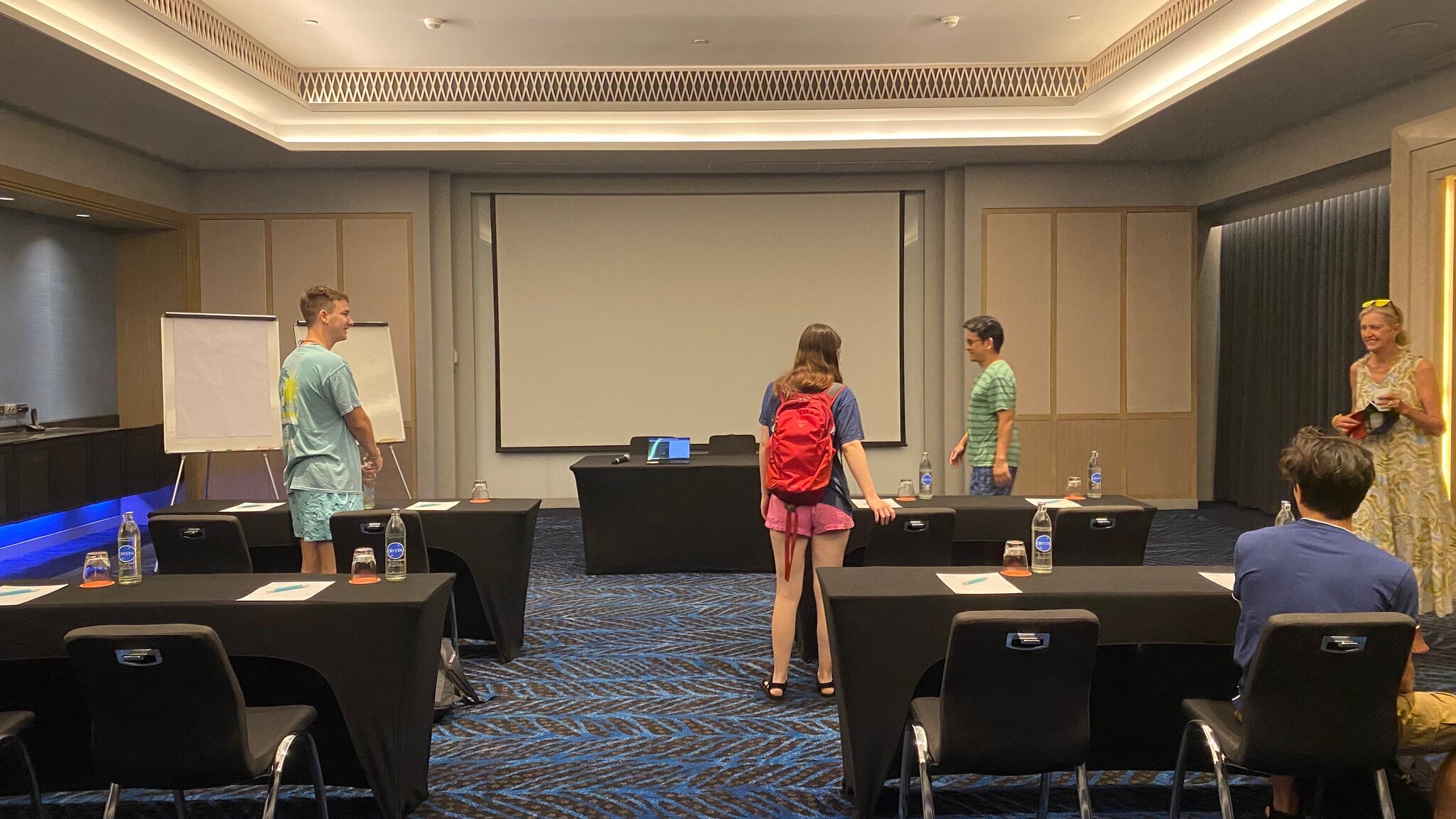 I loved having class at the hotel. The room was huge, the hotel provided bottled water, and it was less than 60 seconds away from my beloved breakfast buffet. It also felt more laid back and informal without the need to adhere to university dress code here.
We spent our afternoon learning to surf! Our instructor guided us through the basics and sent us into the water for a couple of hours of nonstop practice. We were all absolute beginners, and we all learned very quickly that surfing is, in fact, rather difficult. Getting balanced on the board is only one piece of the puzzle. As the wave approaches, you have to paddle forward to build speed, which takes a lot of arm and shoulder strength. You also have to time your jump correctly to align with the break of the wave. (Incidentally, I'm convinced that surfing gave us the phrase "can't catch a break"). Once you're done and out to shore, you then have to make your way back out, crossing the "impact zone" where waves break. That might actually be the hardest part. The waves look small enough from the shore, but they will absolutely knock you down and flip you around and send you back to where you started and laugh at you and snarl at you and dare you to try it again. But hey, it builds character.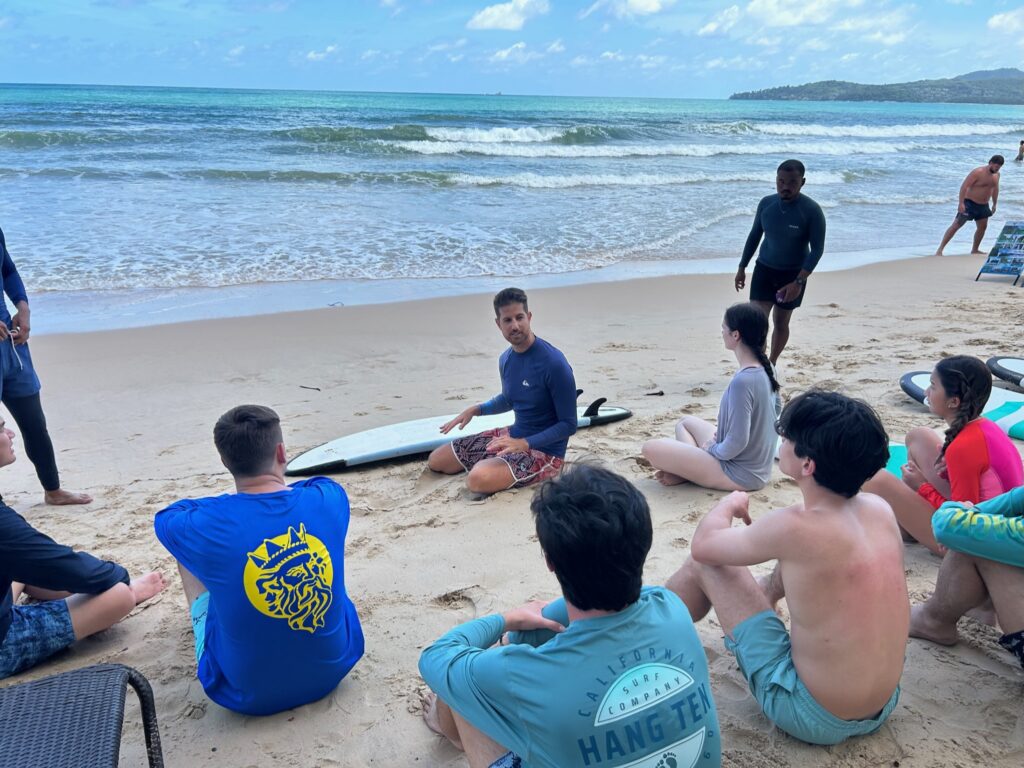 Jokes aside, it's all great fun. It's actually really satisfying to make that leap from absolute zero to 5% competence. There's definitely an adrenaline rush when you finally succeed in keeping your balance that first time. Most of us were even getting the hang of it pretty regularly by the time we broke for lunch on the beach.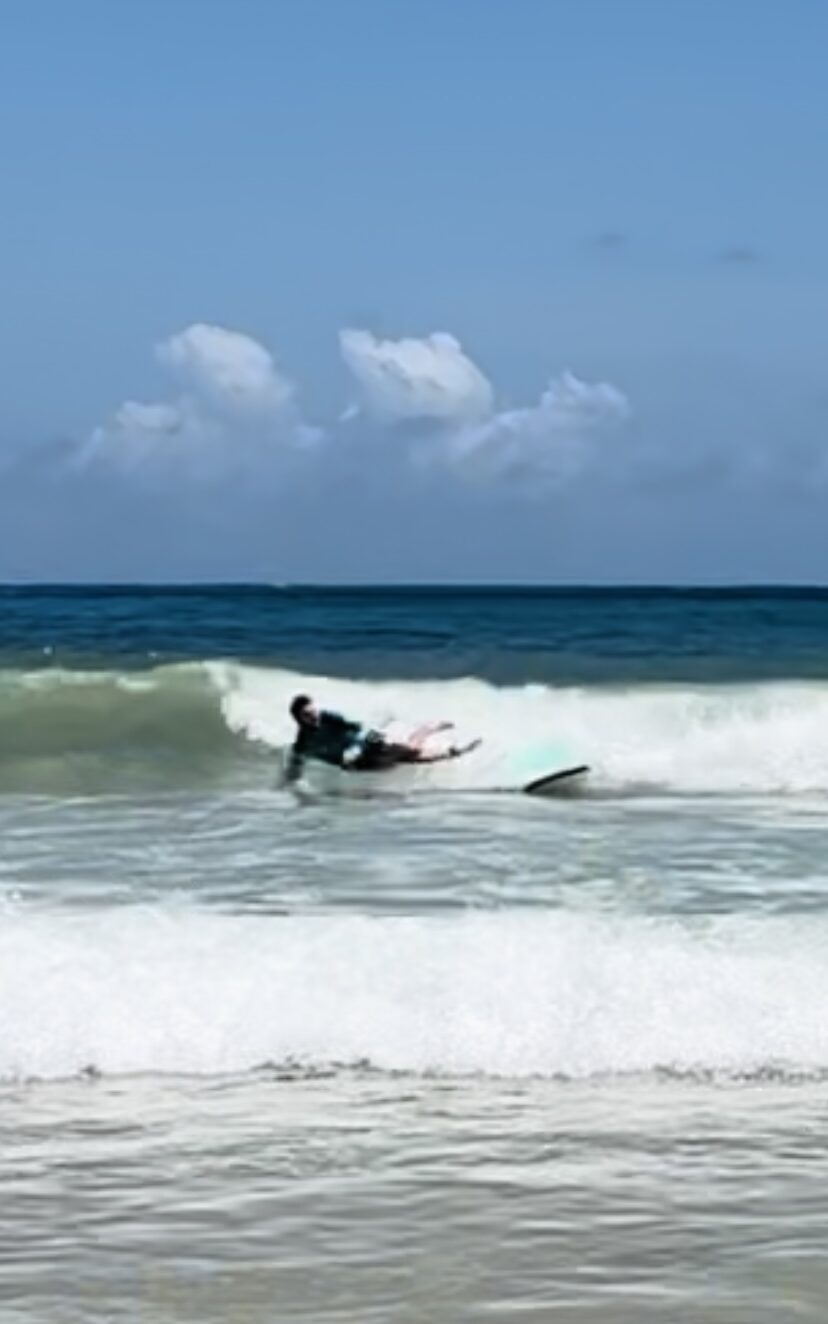 That evening, we rode over to Patong Beach to check out the hub of Phuket's nightlife, the bustling strip of bars and shops along Bangla Road. I would describe it as a flashier, more touristy version of Bangkok's Khaosan Road (which, to be clear, was already very touristy). We all really enjoyed exploring the place, and it's an especially fun place to people-watch given the geographical variety of tourists.
Day 4
We finished Intermediate Microeconomics during class! All that remained was a final assignment that we'd work on over the next few days. After class, we rode into town for lunch at a homespun spot with Namwan's recommended offering of crispy pork, which upheld her 1.000 batting average.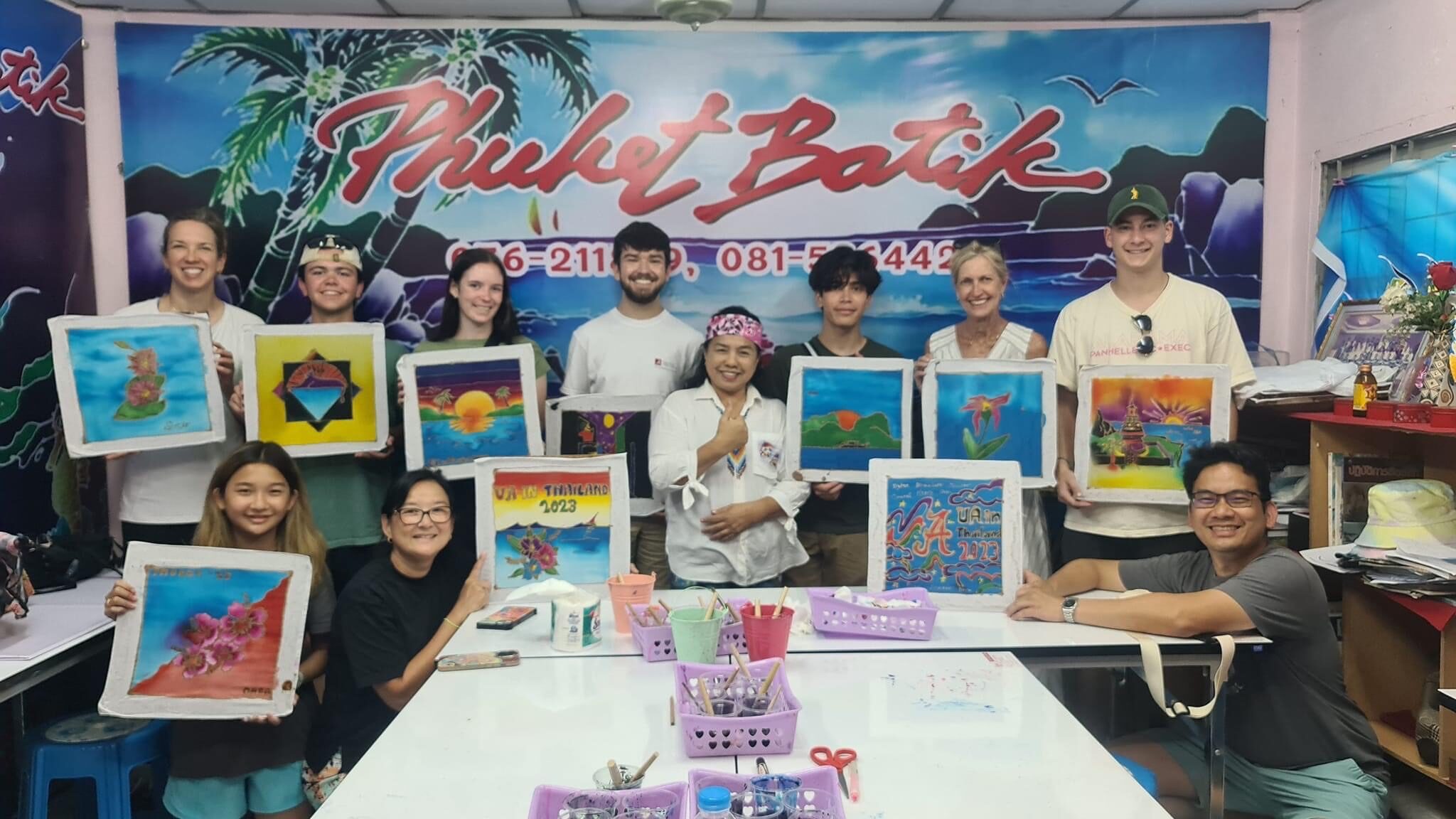 Next up was Batik Painting! I'm not much of an artist, but this process is really straightforward and can give you some really cool results.
You start by sketching your outline for whatever you want to create, then outlining it with a bold marker. I chose a city street, others chose temples, landscapes, animals, or album covers.
Once you finish your sketch, you adhere a piece of white fabric to a wooden frame, and then trace your sketch onto the fabric with a pencil.
Next, you use a special instrument to drip hot wax along the lines you've just traced. (It does help to have a steady hand here, but I do not, so we made do).
Finally, you add color with paint. Because the fabric is so thin, a drop of paint will permeate an entire area. The wax is what creates the boundaries for different colors.
After we left, our instructor left our paintings out to dry and removed all the wax, leaving white outlines in its place. It's a really fun process, even for the most artistically challenged (me).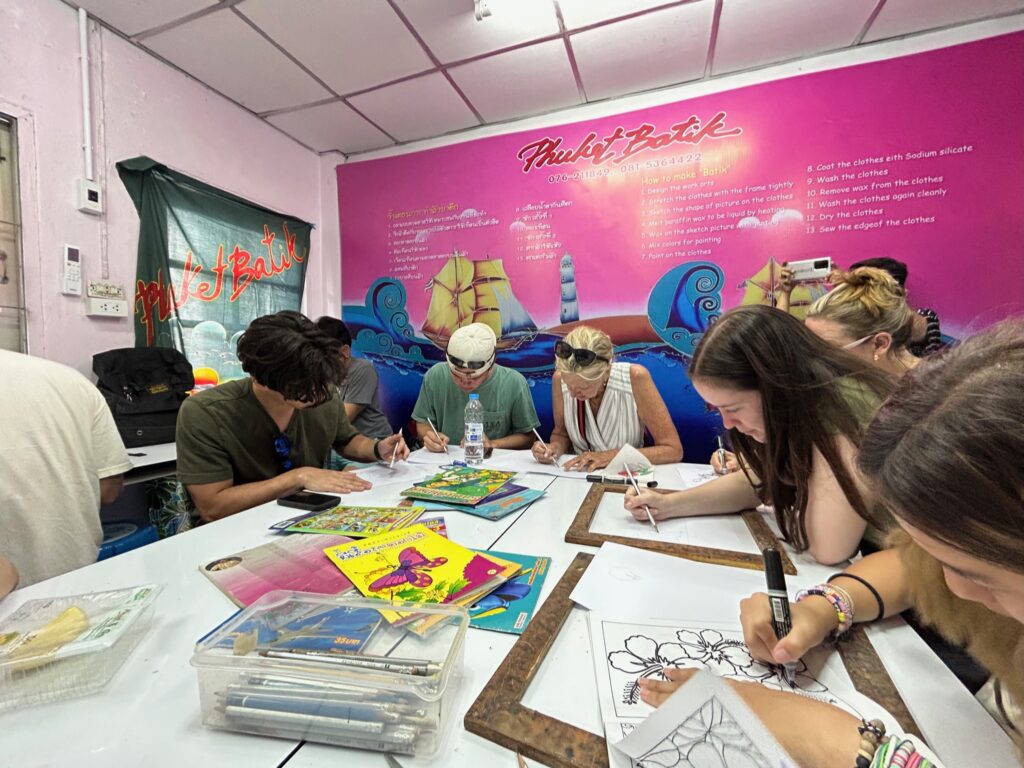 Paan told us that we were going to "watch the sunset" after we got finished, which might be the understatement of the trip. These were some of the best views yet, at Cape Phrom Thep, an absolutely breathtaking point looking out over the water. We began up high, but there was a path you could hike down to get different angles from a lower elevation. In a trip full of views, I think these might be my favorite so far.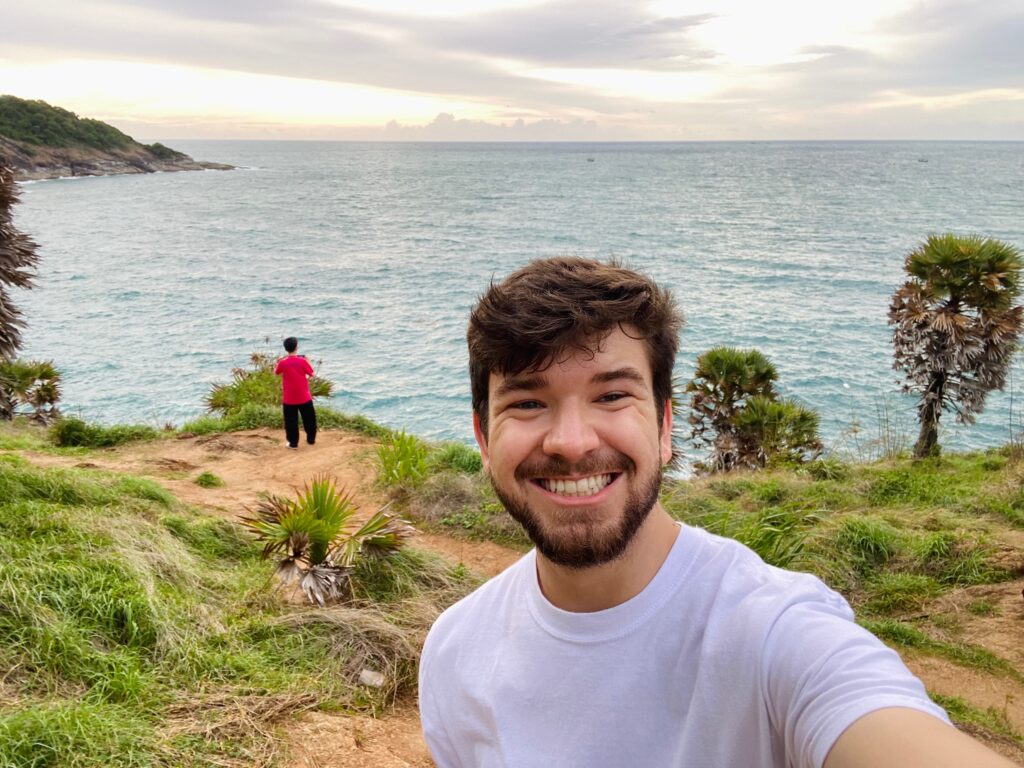 (It was also incredibly windy while we were here. There was a very brief bout of rain, which left behind a subtle rainbow. Cherry on top.)
Our night concluded with one of our best meals yet. There's this road that's lined with restaurants on one side, and live seafood vendors on the other. We (or, more specifically, Namwan) picked out a selection of seafood, and then we took it across the street to one of the restaurants, which prepare whatever seafood you bring to them. Seafood doesn't get much fresher than that.
And we had a spread: fish, oysters, mussels, shrimp, lobster, squid, plus a nice variety of side dishes to sample. It was all just so wonderful, probably the best seafood I've ever had. (My apologies to the gulf coast.)
Day 5
While we had covered some concepts from International Trade (EC 430) at various points during Intermediate Microeconomics, this was the first day we really dove into the course. We tested the limits of how much information you could fit onto a single graph.
In what is probably the most notable experience of the trip, our excursion for the day took us to an elephant sanctuary. There were about 10 or so elephants around for us to feed, muddy up, then rinse off. It's one of the coolest things I've ever done. I don't even know what to say. I think the pictures stand on their own for this one.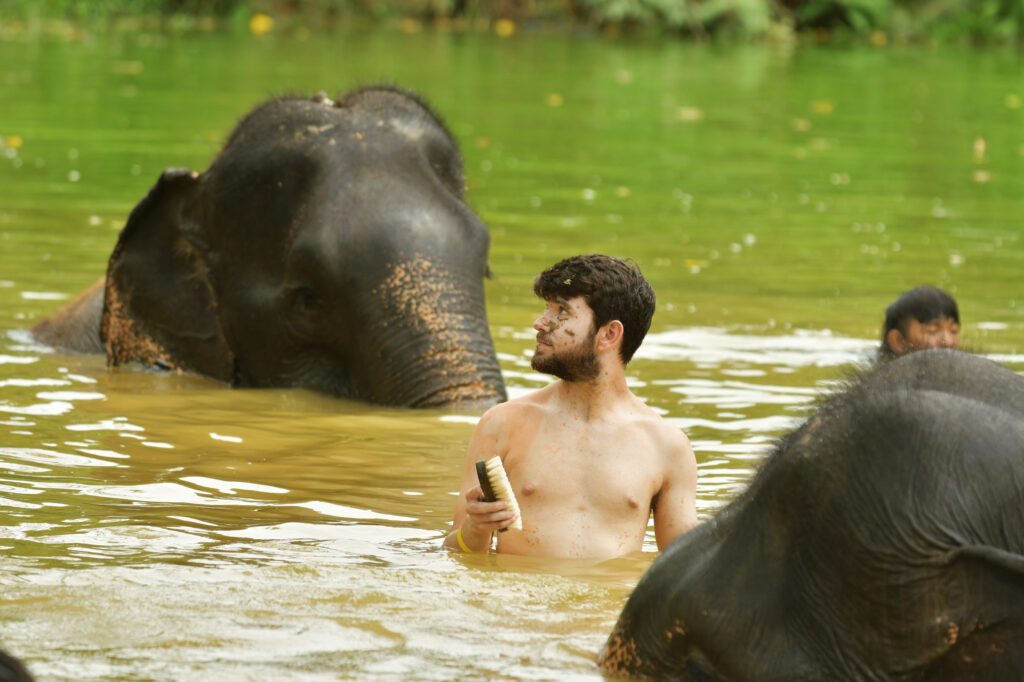 (My only advice is to be vigilant when you're standing behind an elephant. They use their trunks to sling mud onto themselves, but if they miss, and you're in the line of fire, well…)
The rest of our day was pretty unstructured, which gave us our first chance to spend time hanging around the hotel's pool and beach area.
Day 6
With the deadline for our final EC 308 assignment upon us, I spent most of this day working on getting that squared away. We did ride over to another beach at one point, and everyone did their own thing (Dylan jetskiied), but Connell and I focused on our assignment. Doing homework on the beach beats doing homework at the hotel, and we had Paan right next to us to answer questions. With that taken care of, I used the evening to lay out on the beach, get some much-needed rest, and enjoy this piece of paradise.
Day 7
We spent our last full day in Phuket on a long boat tour of Phang Nga Bay. More great views, more natural beauty, more of what makes Phuket great.
We went on a canoe tour of some of the caves and mangroves, which were unlike anything we had seen so far. At one point, we had to lean back to clear a low opening, and when we leaned up, we found that we were essentially in a hole, surrounded on all sides by rock walls. One of the other canoe operators sang a relaxing melody for the ride.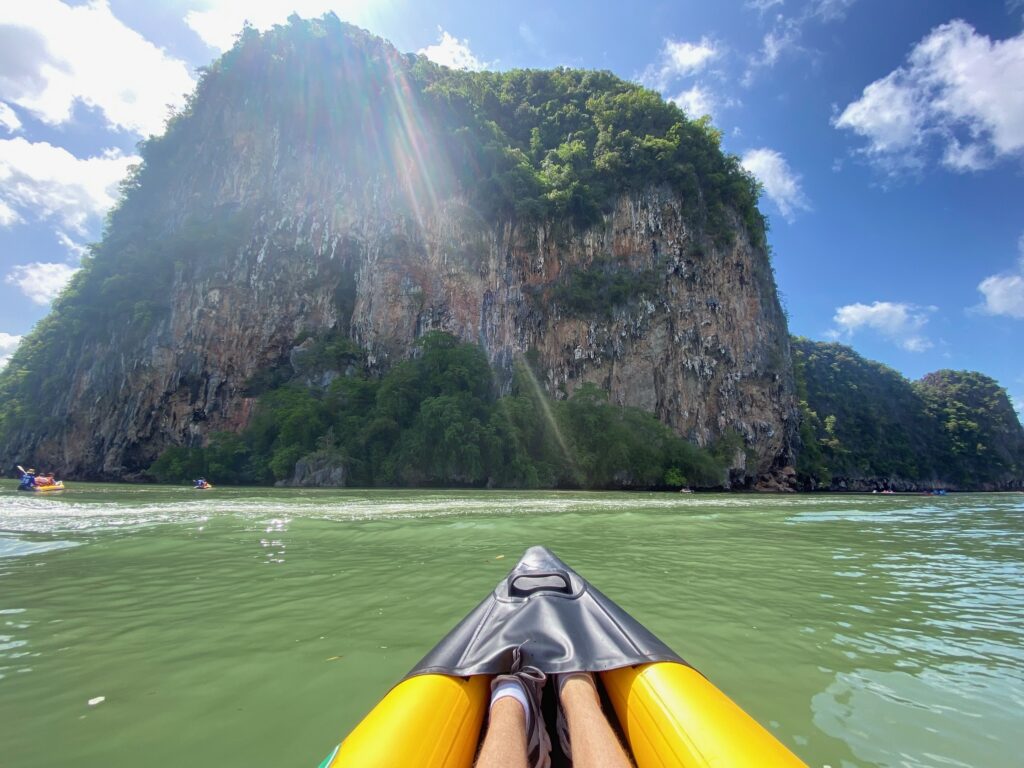 We also saw the James Bond Island, famously featured in the 1974 Bond movie The Man with the Golden Gun, which was surrounded by more cool caves to wander around.
After a lunch that included wild boar and a visit to an adjacent waterfall, our last stop of the day was a cafe on a beautiful lookout point. To get up there, we had to load into the back of a pickup truck and ride up the steepest road I've ever been on. But once we got there, we found (what else?) more top-notch views of the bay. Which is probably the most appropriate way to close the book on our time in Phuket.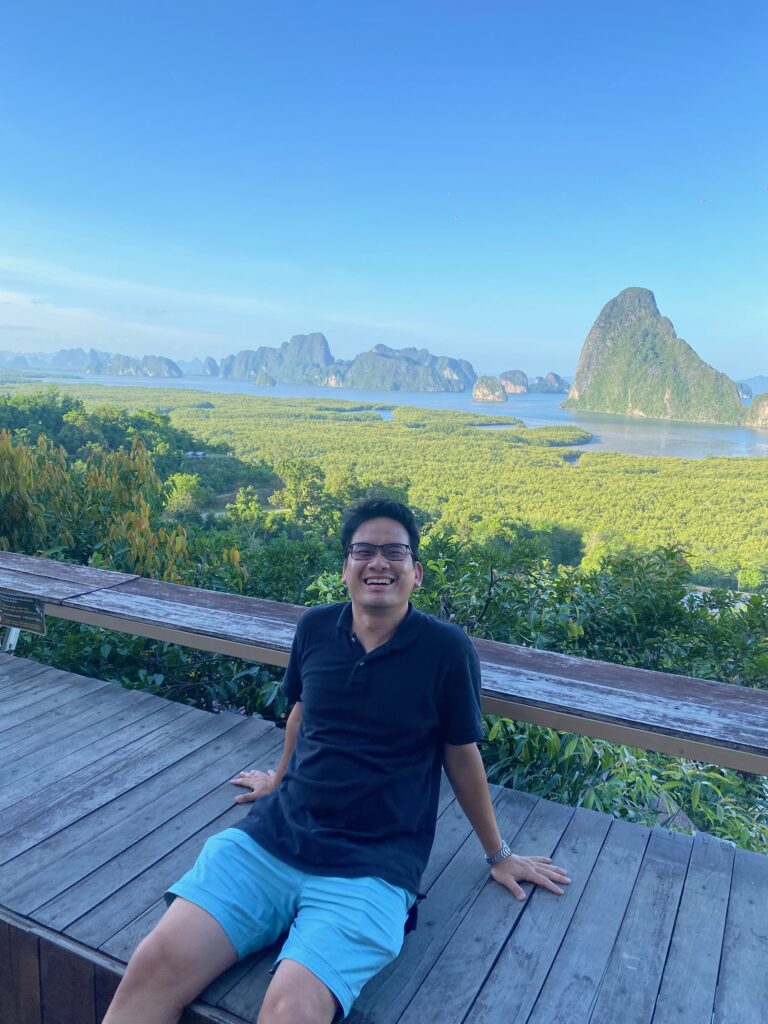 I kept a personal journal for the entire time I was here. I've kept a journal since I was 14, and I regard it as one of the single best decisions I've ever made. Keep a journal, keep a journal, keep a journal, especially if you study abroad. On this last day in Phuket, I included this (lightly edited) excerpt:
"So anyway, after we ride back down that very very steep hill, we get back in the van for awhile and end up at a mall for Japanese food. […] We all got overwhelmed at the menu, so after Emma Kate made the first order, every one of us just pointed to her and ordered whatever she got, which was amusing. Y'know, it's those little things that I'll forget if I don't write them down. There's no telling how many left my memory before I had a chance to write them down here. It's a shame really. But that's what we have. We have those little moments. They're gone so fast. But for just a small bit of time, they make this earth a nice place to be.
Dylan almost fell asleep in the van several times on the way to lunch, and his subconscious kept abruptly jerking him back up in this slightly amusing 30 minute loop. It reminded me of a doorstop being very slowly bent and then suddenly let go.
While we were at the mall, we kept getting turned around because of the way the map was labeled — there were no labels for stores, no direction indicators, no overhead signs anywhere. "Yeah we're just gonna put a dot somewhere on this entirely symmetric map, they'll figure it out." Lots of jokes about that.
Earlier, Levitating was on the radio at the cafe, and I was absentmindedly bouncing my fingers to the melody for some reason, and the people behind the counter on the other side of the cafe saw me. We locked eyes, froze for a brief second, and all just bust out laughing.
I'm seriously going to miss all this so much."
---
And that's how we spent 7 days in Phuket! Beautiful views of stunning natural landscapes, more phenomenal food, elephants, surfing, and even some economics in between. I think that these sights will be my measuring stick for natural beauty from now on. Pictures just don't do it justice. It's really a special place. I've gotten a lot of phone wallpapers out of it.
I'll also reiterate that this trip wouldn't be anything without the other people here with me. Paan and Namwan have continued to take great care of us, and my five compatriots have seriously been the best group I could ask to have around. Sappy as it sounds, I think the laughs we've shared are just as beautiful as the views we've beheld. And we've shared a lot of laughs.
It's so crazy to me that we only have 5 days left on our trip. We'll fly out in the morning to visit Chiang Mai. This trip has flown by, so now all that's left is to make the most of what's left.
I'll be back here soon to tell you all about it. In the meantime, here's a song I heard around the seafood markets on day 4.