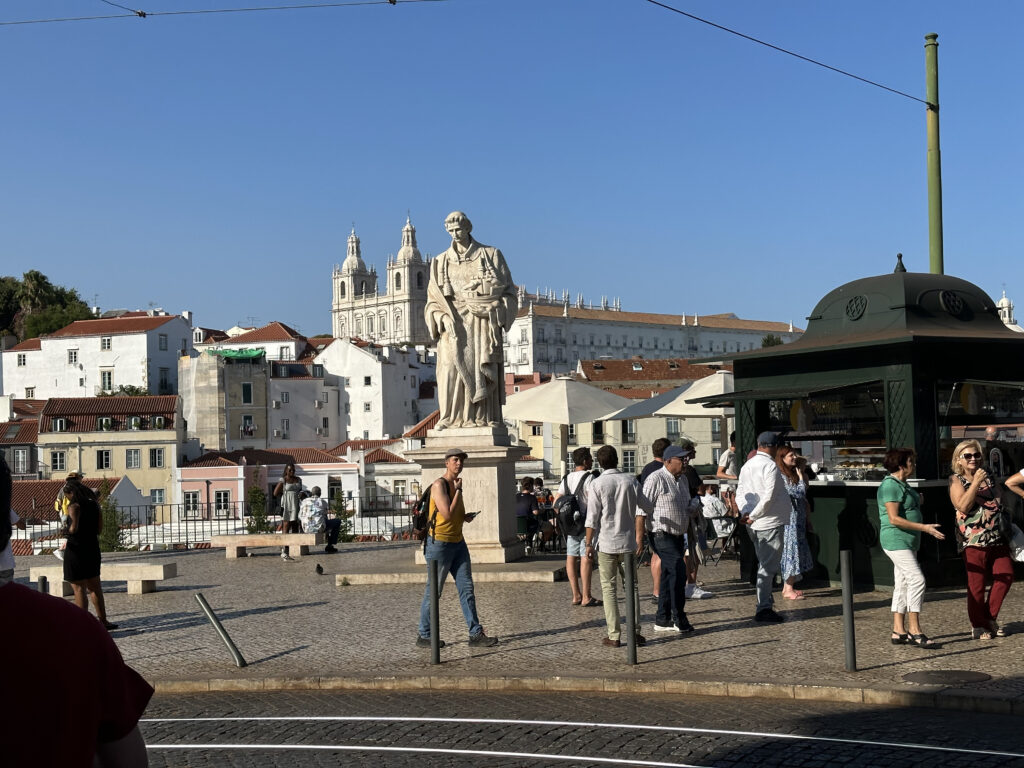 (Top Left) A view of Lisbon Cathedral and Saint Vincent, the patron Saint of Lisbon
(Top Middle) One of the many alleyways that flow through Lisbon
(Top Right) A small view of Lisbon's skyline, near sunset
(Bottom) The "FEP" building, which hosts the European Innovation Academy each year
Team Dynamics, Missing Members, and Lengthy Keynotes
As I alluded to in my previous post, week two of the European Innovation Academy wasn't nearly as pleasant as the first. For starters, one of the members of my group suddenly disappeared without giving any explanation, and despite numerous attempts to bring him back on board, he never responded to us. We also experienced some rather heated disagreements within our group, such as whether it would be right to pivot our business idea or stick with our original plan (for a bit of context, our business idea was to build a robot that could collect and sort trash and recyclables for event companies and local governments). In hindsight, between the missing group member and the divisions forming within the group, I'm rather surprised my group didn't dissolve completely. Perhaps the fear of having to find a new group kept us together, nevertheless, we persisted. By the end of the week, we were able to get back on track, and though we were falling behind the rest of our peers, I remained hopeful that we would be able to pull everything together for our pitch the following week.
Outside of some rather concerning issues our group faced over the course of week two, I also began to notice a decline in the quality of the keynotes that we attended over the course of week two. For those unaware of what a typical day at the European Innovation Academy looks like, we usually start at 10 A.M. by watching a few keynotes presented by the people who'd be mentoring us over the course of the week; these individuals would be coming from a variety of business-related backgrounds, such as marketing, finance, operations, etc. and would present a keynote discussing a topic that would be relevant to us for that particular day's work. At the beginning of week one, these keynotes were highly informative, well-presented, and very helpful, but as time progressed these keynotes began to fall apart. Sometimes the person presenting would be incoherent thanks to the poor quality of the microphone and speaker equipment that was used or would present a keynote containing information that was common sense to everyone in attendance. Some keynote speakers even suggested that we do things that could not be accomplished within three weeks or with our particular skill sets. I'm not really sure why this ended up happening, but the declining quality of the keynotes certainly had a negative effect on the number of people in attendance, and on some days I decided to simply skip the keynotes in favor of doing something more productive for our project.
Hiking through Lisbon, the City of Seven Hills
After the mess that was my second week at the European Innovation Academy, I was looking forward to the weekend. I had been invited by a few of my friends attending the program to join them that weekend on a trip to Lisbon, the City of Seven Hills, so named for the seven hills the city was born on. And boy was the city hilly! Exploring Lisbon felt like summiting a mountain, with every street being so steep I was afraid I might slip and roll out of the city. On our short trip, we managed to visit the Lisbon Cathedral, Saint George's Castle, and the "Ocearnário de Lisboa," one of the largest aquariums in Europe. Unfortunately, that's where we had to call the trip and return to Porto, in hindsight I wished we had left a day earlier to explore Lisbon more thoroughly, yet even still, I enjoyed every minute I was there. Like Porto, Lisbon is a beautiful, bustling city with plenty of things to see and do (and plenty of good food to enjoy!), and I would highly recommend anyone interested in attending the European Innovation Academy or going to Europe in general to make plans to visit Lisbon for a few days. You won't regret it.