Today I woke up in Guayaquil, Ecuador! One of my biggest anxieties about traveling to a foreign country was the language barrier. While trying to communicate has been a challenge, I have enjoyed practicing speaking another language. I even had moments where I thought in Spanish instead of English! Last night our taxi driver was very patient and understanding. He spoke clearly and slowly so that I could understand, and I was able to reply so that we could have a pleasant conversation. I was very proud of my progress.
I was initially shocked by the heat and humidity of being so close to the equator. It was so easy to become dehydrated. Plus, it seemed as if my clothes were never dry. The city was beautiful though. It was unlike any city I have ever been to. The houses are carved right out of the hills, and they are all so colorful. There is so much life and joy here. We walked down to a plaza with some historical statues and a park with iguanas (pictured) in the middle of the city. We also strolled down the boardwalk to a museum where we read about the history of Ecuador. The locals have been so welcoming and patient.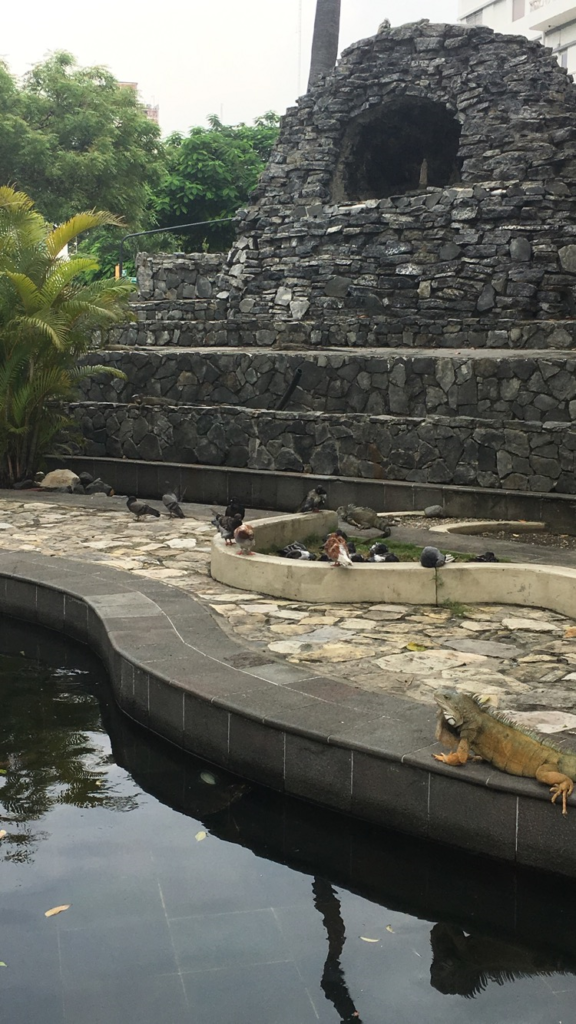 The upcoming days of the program will include visiting the coastal city of Bahia, attending lectures from a local architecture professor, learning about agroforestry at Los Arboleros farm, and attending a local soccer match. I can't wait for what is to come. This has been one of the most amazing and eye-opening experiences I have ever had!