Our first week on the island was all about getting acclimated, both to our new environment and our classes. This week, as we have gotten settled in, things have ramped up quite a bit. We've started covering more content in our courses and having more assignments due. I've also had more work to do for my extracurricular activities back in Tuscaloosa. Obviously, I knew that was part of the trip and I've enjoyed learning more, but I did have to adjust and create a routine for myself to make sure all of my work was getting done.
One of my favorite ways of motivating myself is to have homework parties with my friends. We have a lot of partner work for my content marketing class and my roommate and I happened to pair up with another roommate pair, so we've found ourselves getting together as a group of four in one of our rooms, making pina coladas, and grinding out some content for a couple of hours. I've also gotten back into my productive Sunday routine.
This week, I got to experience my birthday on the island. This was extra special for me because being born in late May, I rarely get to experience my birthday with friends. I spent the majority of the day on Mullet Bay Beach with my friend, Izzie, shooting content. Then we all went to dinner at Mama's, a delicious Italian restaurant in Cupecoy. I was so shocked when they brought out a lava cake with candles on a plate that said "Happy Birthday, Alex!"
We also got to go on two excursions this week. On Monday, we headed to Marigot, the French capital. We stopped to shop around the mall and grab a bite to eat before beginning our trek to Fort Louis. The hike up to the fort was challenging but rewarding. We got to explore the fort, see incredible views, and take a funny picture with Mrs. Daria. After Fort Louis, we headed over to Philipsburg, the Dutch capital. I think this city is my new favorite. There are pretty murals and photo spots everywhere. The boardwalk is gorgeous and there are delicious restaurants everywhere you look. We stopped by Zee Zee's for a frozen mojito before continuing down the boardwalk to The Thirsty Pirate for a delicious lunch.
On Friday, we went on a rhino tour of the island. Based on what I had heard, I was super excited, but after a few minutes on the rhino, I was scared for my life. My partner Kayla drove on the way there. We got a little behind the group and hit some pretty rough waves. Despite my moments of fear, I actually really enjoyed the ride to our snorkeling adventure. The wind felt so nice and I got a rush from speeding through the ocean. What really terrified me was when I had to drive on the way back. Despite the fact that I spent most of the ride screaming bloody murder, trailing far behind the rest of the group, I got the hang of it eventually and we made it back safely.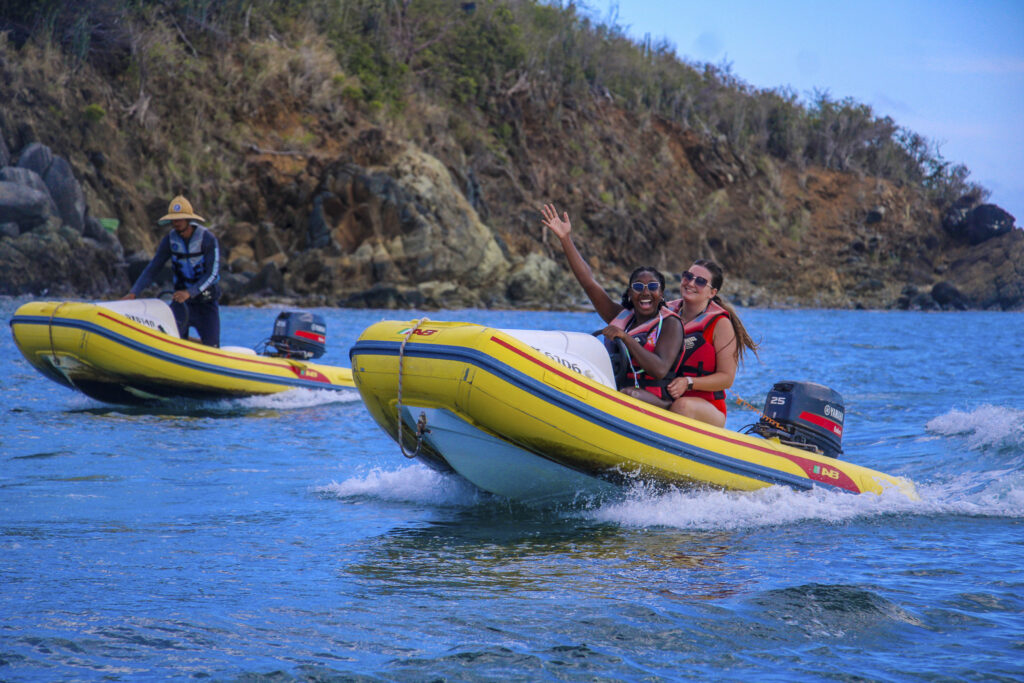 This week, we have really started to dig deeper into our campaign plans. Although I have only been here for two weeks, I have noticed some differences in the way they do PR here compared to the U.S. Social media marketing is not nearly as big. Most companies rely on word-of-mouth and locals advising tourists to check out their business. We met with members of Sapphire's staff and discussed how we would improve their social media to attract a younger audience. This was super fun and felt like practice for the real world since I want to work in social media after graduation. When Izzie and I were at Da Waterhole capturing content for class, one of the staff members came up to us and asked about our time on the island. We talked for a long time about why we were here and what we were up to so far. When we told him we were capturing content of his restaurant to promote on social media, he really appreciated it and told us it would help him a lot.
I've also noticed how friendly the people are here. Much like the man at Da Waterhole, almost everywhere you go, people want to get to know you. I wound up on an elevator with an older couple visiting the island and we had a whole conversation about how we liked our pina coladas. He even offered me some ice from his refrigerator.
Overall, this has been a super-packed week, full of learning, work, and fun. I'm so excited to see what the rest of the trip has in store, and I'm particularly excited for our boat trip to Prickly Pear next week. During my time here, I've found that I'm the happiest when I'm on a boat.