It's hard to believe we landed on Sint Maarten exactly a week ago today because of how quickly it felt like home. After only seven days, it feels like I've lived here for months already.
After a long day of travel, the first day was spent enjoying drinks and a nice burger by the pool. We met some of the hotel staff, including Veronique, who keeps us brushed up on our French and takes care of us like family. My roommate, Kayla, and I were so exhausted that we were asleep before 9 p.m.
On our second day, we took a bus tour of the island with Eva and Andre. We stopped at a French bakery, where most of us got gelato to cool off, and then explored some of the beaches. My personal favorite was Orient Bay. We also got to see some of the monuments and forts on Sint Maarten/Saint Martin and learn about the history. Eva told us about the popularity of iguana soup and then we pulled over to a spot where you could lots of iguanas were located. A couple of people even fed them.
The next few days were spent taking classes and getting to learn the neighborhood around Sapphire Beach Club. In Mrs. Daria's international PR class, we talked about the importance of acclimating to a new culture and being respectful of the norms and traditions there. When a large group of us walked into the grocery store, we got a lot of looks from the locals because they weren't used to seeing groups as large as ours come in. We talked to them and explained our study abroad program and they became much more comfortable with us. The store owner even drove some of us back to the hotel a few days later.
We also took one of our days after class to explore the beach. Mullet Bay Beach is one of the top beaches in the Caribbean and only a 10-minute walk from our hotel. We all enjoyed lunch by the beach and then spent the rest of the day floating in the ocean. I feel confident in my sunscreen after this day because I made it out without a burn.
On Friday, we had our first big excursion of the trip: a catamaran tour. We had to wake up extremely early to get on the boat, but it was so worth it. We got to lay on nets at the front of the boat while we were sailing around the island and then hopped off at multiple locations to snorkel. The boat even had a slide that a lot of us enjoyed going down. Around noon, the boat stopped near Grand Case and we all swam to lunch, where I enjoyed a nice meal of chicken and ribs. We then swam back to the boat and continued our journey around the island. This was easily my favorite day on the island so far, and I slept like a baby after a day full of snorkeling; however, I learned when I got home that despite my tedious sunscreen reapplication, I had missed some spots on my hips and was burnt to a crisp.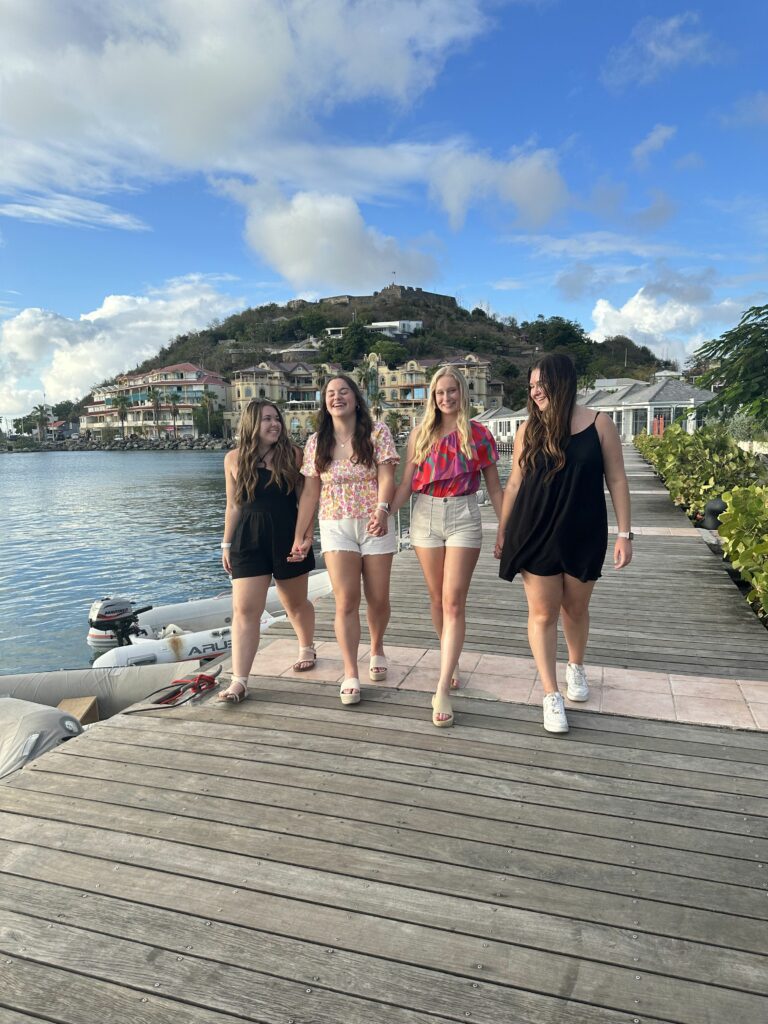 After a fun week of classes and exploring the island, we enjoyed a relaxing weekend. Saturday morning, we went down to Port Cupecoy for breakfast at Rendez Vous. This was definitely a favorite among the group. I enjoyed a Nutella crepe with strawberry and banana. The food was super reasonably priced and we got a student discount. Saturday dinner was another hit. We all went out to Bar Code with Mrs. Daria. Most of our group got the southern burger, which was delicious, but we also heard rave reviews about the chili.
This first week on Sint Maarten has me dreading leaving already. We've had so much fun and I've gotten so close with so many of the girls here. I'm excited to see what the rest of the trip brings and enjoy our other excursions.