It's hard to believe yet another week has gone by. When I first arrived, it felt like I had been here forever, but since the first week, time has flown. I can't believe we only have six full days left before we fly home.
Despite being shorter due to Memorial Day, this week was still slam-packed with education and activities. On Monday, we went to Natural Cafe for a delicious brunch. Their drinks came in the cutest cups with bear-ear lids. I enjoyed the farmer's crepe, which included chicken, bacon, lettuce, tomato, shredded cheese, and a surprise of egg. This was one of my favorite meals on the island. After brunch, we headed down to Mullet Bay Beach for the day to swim and tan. We came back to the resort for dinner and karaoke, where we graced (or tormented) everyone with our American core music, including "Party in the USA," "Before He Cheats," and "Dixieland Delight." At the end of the night, it started raining and Dr. Hayes led us in "Family Tradition."
On Tuesday, we were back to work. The head of marketing for Vacation Sint Maarten, Gianira Arrindell, came to our class to help us with our plan books. She told us about how they run their office, their current statistics, goals, and successes, and how they work with the French side. We learned that Sint Maarten's main competitor is Aruba and that the island aims to attract younger thrill seekers and people who want to get out and experience all the island has to offer, rather than those who want to stay in an all-inclusive resort and hang by the beach all day. This is why islands like the Dominican Republic are less of a threat, despite technically being considered competition. We learned that one of Vacation Sint Maarten's main challenges is creating engaging content, particularly for platforms like TikTok and Instagram Reels. Considering that my group's target audience is 22-29, I definitely see some opportunity to include vertical short-form content in our campaign plan in order to attract a younger audience. Gia told us about upcoming collaborations the tourism bureau has planned with content creators and artists, which I definitely think will produce engaging content that attracts more people to the island.
On Wednesday, we headed to Maho Beach with Cat to watch a bunch of planes fly in. We anxiously waited for Air France to fly in so Cat could get her iconic plane pic. After a couple of American flights came in, Kayla and I got pics with a Delta flight. We then took an intermission to have lunch at Sunset Bar and Grill. We enjoyed an array of pizza, coconut shrimp, mozzarella sticks, and burgers. After lunch, we headed back to the beach, where we got to watch some planes take off, which created the infamous jet blast. We saw a couple of sunglasses and hats fly off and land in the ocean and a couple of tourists get blasted with sand. This was such a memorable experience and the photos were iconic.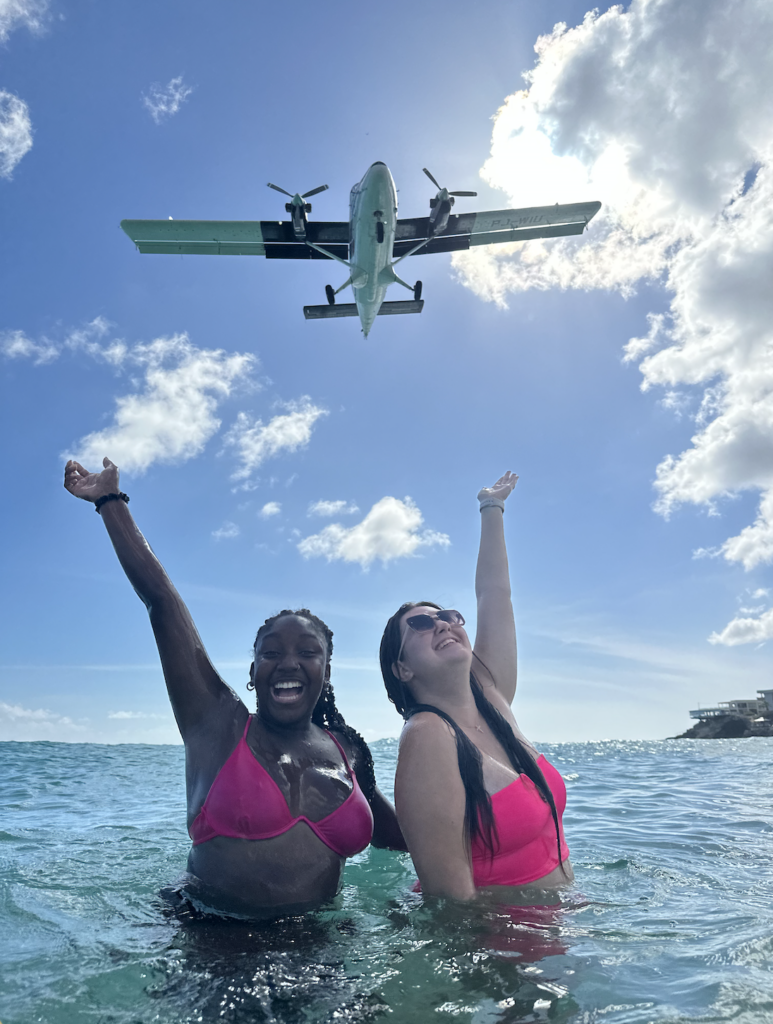 Thursday wasn't very eventful. After class, we sat by the pool and worked on our content for Huff's class and then enjoyed a very long (and much-needed) nap. When we woke up, we walked up the hill to Shogun for dinner.
Friday we were back on a boat—my favorite activity. We had to wake up at 5:30 a.m. but it was so worth it. We sailed around the island, laying on the nets on the front of the boat, while immersing ourselves in Caribbean culture by drinking rum punch. Our first stop of the day was Prickly Pear Island, where we snorkeled and saw a stingray, before swimming to the beach for a delicious lunch of ribs and chicken. The water was stunning and turquoise, but you really sunk into the sand close to shore. After lunch, I opted for a challenge and swam back to the boat. We sailed over to Anguilla for the most iconic swim spot of all time. We all hopped off the boat with our noodles and before we knew it, it was raining beer. Cans were thrown off the boat for people to enjoy while they swam. I'm not a big beer fan personally, so I convinced Huff to deliver a rum punch to the back of the boat. I was so sad when we had to swim back to the boat to leave. The ride back was very rocky and those of us on the front of the boat got drenched, but it was still super fun. When we got home we rallied, took a quick shower, and headed down to Ginger II for some delicious Asian cuisine.
I enjoyed a very chill weekend at Sapphire, chilling by the pool and catching up on work. I'm trying to soak in every moment before we leave the island. I know next week will be packed full of activities because we're trying to complete all of our bucket-list activities before we go home.