Hello from the South Island of New Zealand! So far, the weather here has been even colder than the North Island (where we spent our first week), so I thought I would go over some of the most used items I brought, and some things I probably could have left at home.
Most Essential Items:
Rain Jackets (light and heavy)
It has rained most days in New Zealand, and I am so glad I brought two different rain jackets! My heavier rain jacket is perfect for colder days when we have walking tours during the day, and especially when we explore the city in the evenings. The light rain jacket is great for our hikes. Our hikes have been about 4 miles, and usually by mile 2, I start to get pretty warm, so a light rain jacket is much easier to carry around the trails if I want to take it off, and it still does a great job keeping me dry in case it starts to sprinkle.
Hiking Shoes
A few students did not bring hiking shoes, and several of them went to stores in New Zealand to buy some after our first hike! Most of the trails we've done are not too difficult, but having the grip of hiking shoes makes it a lot easier to stay balanced on the muddy and rocky trails.
Portable Phone Charger
While I would definitely recommend bringing an outlet adapter and cables to New Zealand, I also strongly recommend buying a portable charger. There were several days when we took an all-day trip (leaving around 6am and getting back around 10pm) without any outlets. Having a way to keep my phone charged made sure I was able to take plenty pictures and also keep in touch with the rest of the group.
Two things I could have left at home:
Shorts
I brought several pairs of shorts to New Zealand, and never wore them once! The month of May is still the winter season for NZ, so it was relatively cold each day. Most days I wore jeans or pants, a t-shirt, and a pullover or sweater (which I could easily take off if I started getting too warm).
Non-Waterproof Tennis Shoes
I brought several pairs of shoes to New Zealand: Flip-flops (which worked great as shower shoes when we stayed at a hostel for a few nights), Waterproof On-Cloud Shoes (which I mostly wore on days when we stayed in the city), Hiking Shoes (which I wore on hikes and times when we would be walking in mud), and then Allbirds Tennis Shoes. My Allbirds are not waterproof, and given that it rained most days, I didn't want to risk getting my shoes soaked on a day when we might not have a chance to switch out shoes at the hotel. So, if I did this trip again, I would leave those shoes at home and wear my On-Clouds for our general outings.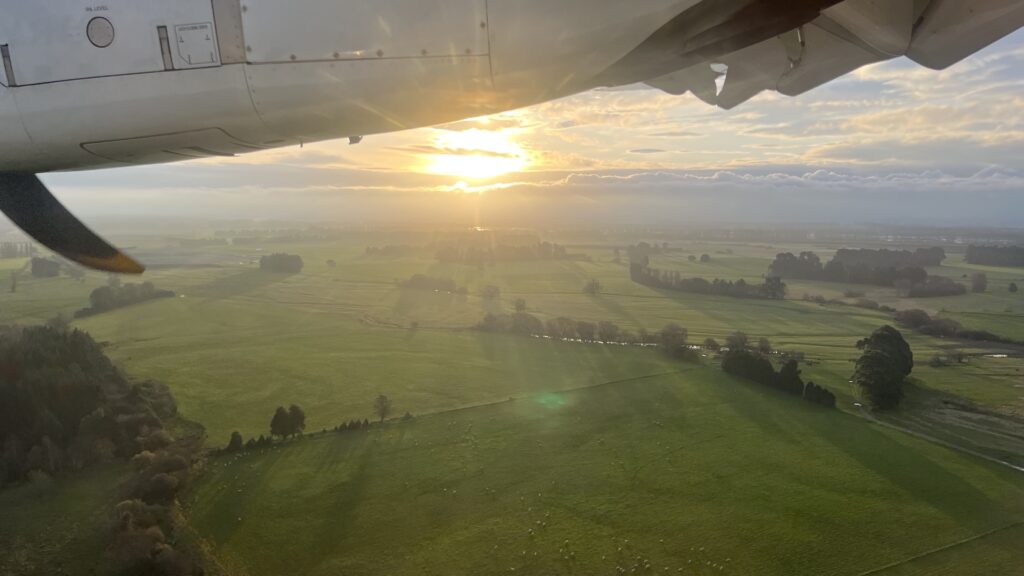 View from the plane as I was departing New Zealand!