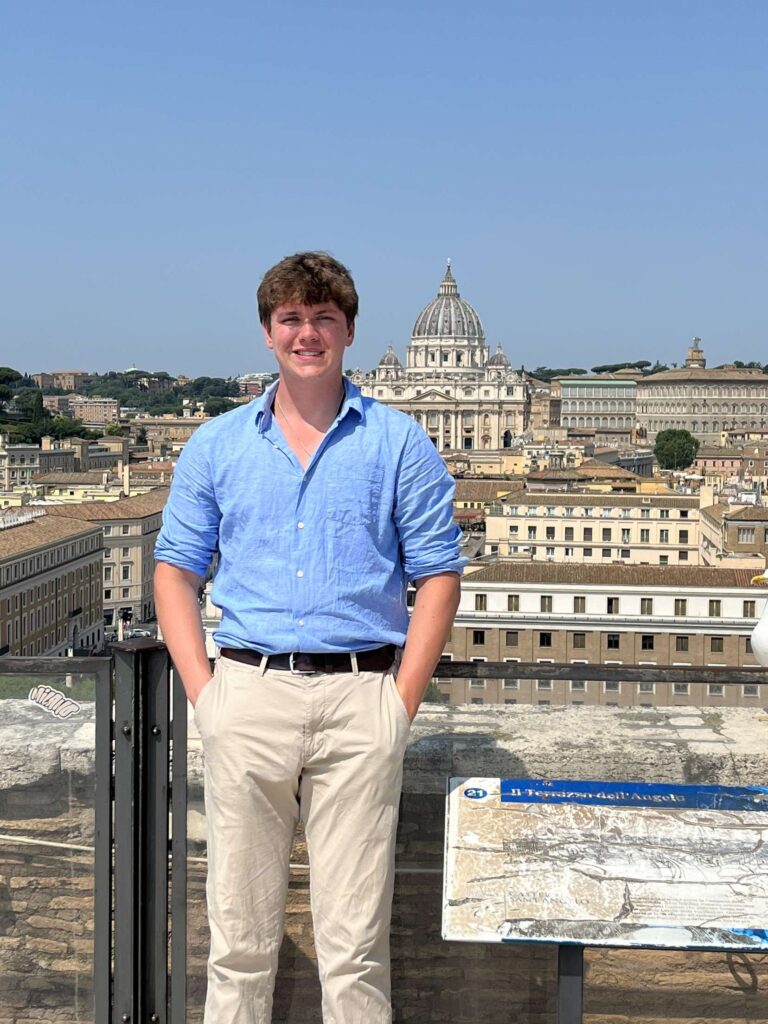 Hello! I would first like to introduce myself. My name is Jacob Blincoe, and I am a rising Junior from Louisville Kentucky. For my blogs, I would like to highlight the high points of all the different places I have visited throughout my study abroad journey! This blog will focus on the must-see spots of Rome as well as my favorite restaurants around the city!
Rome has many famous landmarks as it is rich with thousands of years of history! One of the most famous, undoubtedly, is the Roman Colosseum. Book a tour ahead of time to skip the long lines and experience one of the wonders of the ancient world. My Colosseum tour is an experience I will remember for the rest of my life, and I highly recommend it to anyone traveling to Rome.
Next to the Colosseum is the Roman Forum, which is a huge park full of ancient Roman ruins. This includes massive ruins like the Temple of Venus and the Imperial Palace. Makes sure to get a picture at the overlook point which gives a stunning view of the ruins below.
One of the coolest experiences that I recommend is traveling to the smallest country in the world, the Vatican! Go in the museum to see the papal art collection, or the Sistine Chapel to see some of Michelangelo's finest work. Be sure make your way into the breathtaking halls of St. Peter's Basilica.
One of my favorite parts about Rome that is an absolute must eat is the carbonara. This classic Italian dish is made of spaghetti, eggs, and bacon, topped with black pepper and pecorino cheese. Afterwards, go find some of the famous Italian gelato spread throughout the city!
I hope this blog was able to give you some further insight into Rome! It is such a cool city and a must see when traveling Italy.