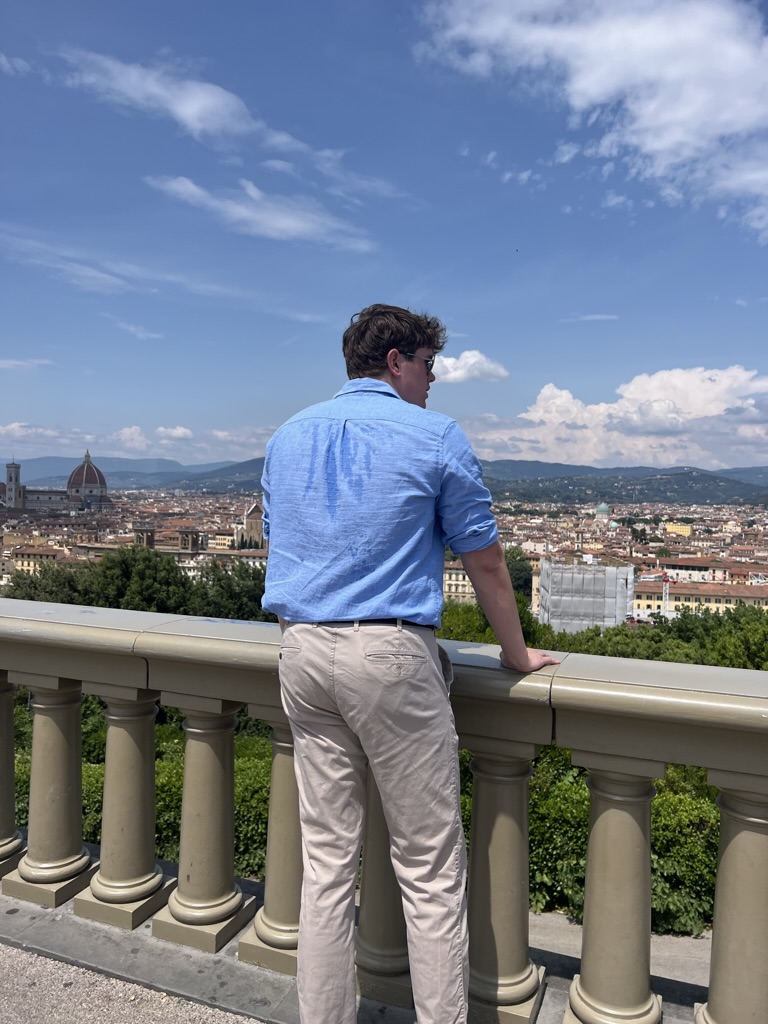 Hello! I would first like to introduce myself. My name is Jacob Blincoe, and I am a rising Junior from Louisville Kentucky. For my blogs, I would like to highlight the high points of all the different places I have visited throughout my study abroad journey! This blog will focus on the must-see spots of Florence as well as my favorite restaurants around the city!
One of the most famous sites of Florence is the Duomo, also known as the Cathedral of Santa Maria del Fiore. This is a huge cathedral that is famous for its huge dome as it towers of the skyline of Florence. It is an architectural marvel inside and out. The Duomo is a must see, but remember to book tickets in advance so you can climb this famous dome!
One huge thing to check put in Florence is the art galleries! The Uffizi gallery is an art gallery right on the banks of Florence's Arno River. It features works from famous Italian artists such as Michelangelo, da Vinci, and Raphael. Featured here is the famous painting The Birth of Venus. Personally, I am not a big art guy, but that's ok! The Uffizi gallery is beautiful and features something for everyone to appreciate! The Galleria dell'Academia is also a must see in Florence! This art gallery holds the extremely famous David by Michelangelo.
Another extremely famous spot is the Ponte Vecchio. This bridge is lined with jewelry shops and is definitely a must-see! Walk across it to get the the Oltrarno, which Is an area of town that is less touristy and more residential. From here you can walk to the Piazzale Michelangelo, which is a famous part of Florence that is seated up on a hill overlooking the city.
Food wise, Florence has something for everyone! Definitely check out All'Antico Vinao, a famous sandwich spot that is absolutely delicious. I recommend the Favalosa sandwich which is salami, cheese spread, and marinated artichokes and eggplants. It sounds kind of weird but it's so good. Another good street food spot is any kebab spot. There are a lot of Turkish spots and their kebabs have been some of my favorite food I've had here. For dinner, go to any place with Trattoria or Osteria in the name (these are just Italian words for restaurants) in order to find the best and most authentic Italian food. When visiting, you ABSOLUTELY MUST get a Florentine steak. It is a T-bone streak that is charred on the sides and left rare in the middle served with salt and lemons to squeeze onto it. It is probably one of my favorite meals I have had here and I recommend it to everyone.
I hope this blog was able to give you some further insight into Florence! It is such a vibrant city and a must see when traveling Italy.