On my Study Abroad in Italy, I love being a tourist—riding a gondola in Venice, buying pasta-themed socks at the souvenir shop, taking that photo of the Leaning Tower of Pisa. Going into my trip, though, I also had the goal of eventually shedding that tourist label. I wanted to, for at least a period, do as the locals do and completely blend in with my surroundings.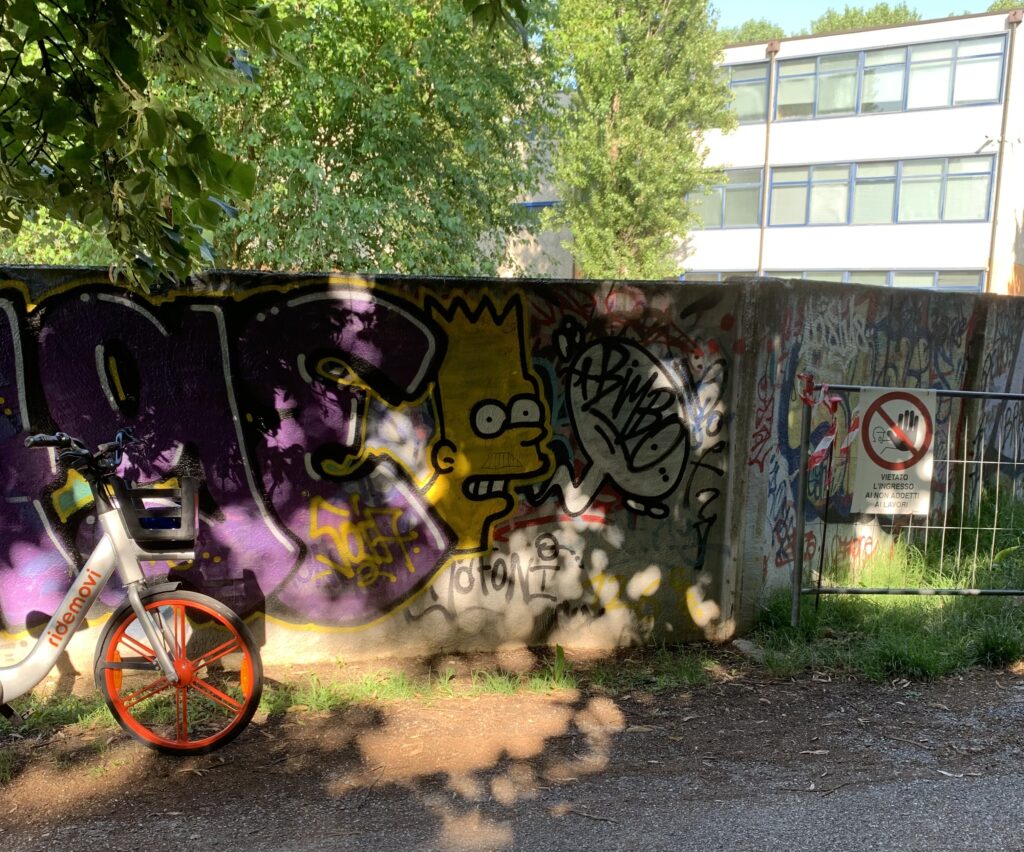 I found the way in Padua, our second stop on the trip. We had just come from Venice, with so many incredible sights but also so many tourists. Padua was a total 180°. It's a small college town, with nice parks, the best (and most affordable) sandwich shops, and a fun downtown area—a relaxing environment to spend a week and catch up on class reading. I knew that if I wanted the "authentic" Italian experience, not just the tourist-y one, this was the place to get it.
Walking from our hostel to the supermarket in Padua, the number of bikers immediately caught my attention. There were bike lanes everywhere and people of all ages rode through the streets. I made a plan to rent a bike first chance I got during our free day. The process was surprisingly simple: I used an app called RideMovi, which works in a couple of Italian cities, where if you see a Ridemovi bike on the street you can just hop on and pay on the app (kind of like the Veo bikes on campus). RideMovi has electric bikes, which was fun to try but a little scary using to speed through unfamiliar streets. Whenever I could I opted for the regular pedaling bikes for more control, better exercise, and a surprisingly low cost! On the non-electric bikes, they only charge you 1.25 Euro for every 20 minutes you ride.
I, admittedly, felt a bit like a tourist riding at first, navigating in the downtown area with bumpy roads and stopping every few minutes to work out the traffic. It was still fun to watch people as I rode past shops. The real highlight for me, though, was later that day riding away from the main city in Padua. I found a long bike trail through a park and then along Canale Scarciatore (a beautiful canal). I felt the sun on my back and wind in my face as I passed by other bikers—old Italian men in full biking outfits, a parent riding with their kids, young people jogging, and not a single other tourist. In the middle of nowhere along the canal there was a picturesque biker cafe, people having a drink and lounging in the sun, with some leashed-up dogs. I feel like I saw a side of Padua very few other Americans get to see.
After Padua, I looked for bikes in all the other cities we visited. I was navigating through Florence and Ravenna on Ridemovi bikes, and even took a short bike ride to get to the tower in Pisa. According to the app, I've biked over 17 kilometers in total!
Biking in these cities has been super peaceful, and one of my favorite parts of the trip as a whole. I feel a stronger connection to the cities I've gotten to see on a bike—Padua might be my favorite we've visited as a result. I'm so glad that I got to use our free days to have this unique experience.