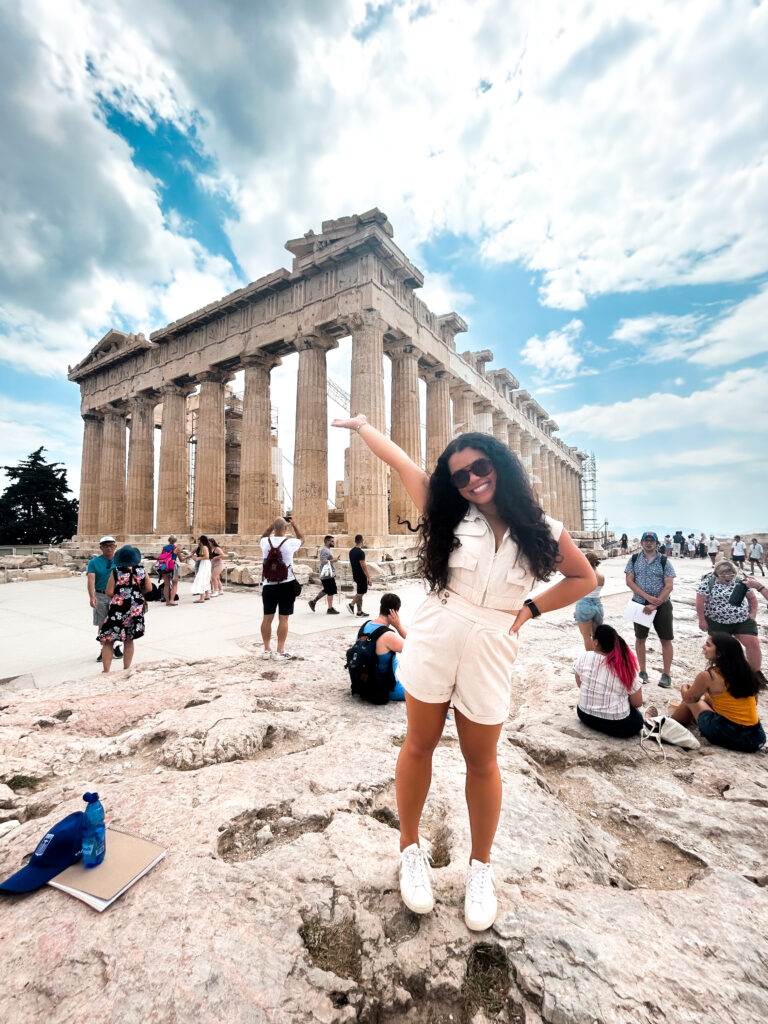 Hey everyone!
My name is Cathy Stockstill, and I am a sophomore at UA majoring in Communicative Disorders with a minor in Human Development! I am so grateful to have been given the opportunity to study abroad through UA in Greece, a faculty-led study abroad program! Through this 3-week program, I will earn 6 hours of credit that will apply towards my general education requirements. I have always been very interested in history, so being able to study Greek civilization while totally immersing myself in the culture and seeing the great temples, ruins, and archeological artifacts was too good of an opportunity to pass up!
We have been in Greece for almost a week, and it has been life-changing, to say the least! We spent 3 nights in Athens, visiting major sites and taking in the big city culture. I, along with 13 other students, have visited the Parthenon, Agora, and The National Archeological Museum in Athens! My mind was blown as I got to walk in the steps of so many before and catch a glimpse into the rich history of Athens! The ancient monuments blew my mind! I can't believe everything was still standing after so many centuries. Breakfast at the hotel was the perfect way to start my day. The self-serve buffet was filled with pastries, fruits, and cheeses; not to mention that the seating was on the top floor and overlooked the beach across the road! We ate the food of the locals, including a small Greek "hole in the wall" restaurant! We also ate at XXXX, a recommended to me by one of my friends! We hiked up a mountain, taking about 20 minutes, to get to the top where the restaurant was! The hike was a lot for all of us and also unexpected, but the view from the top was worth it! It overlooked the Parthenon and the Olympic Stadium, both of which were lit up; it was stunning! last night in Athens, we ate at a tiny restaurant on the beach under The Temple of Poseidon in Sounio! The view was stunning!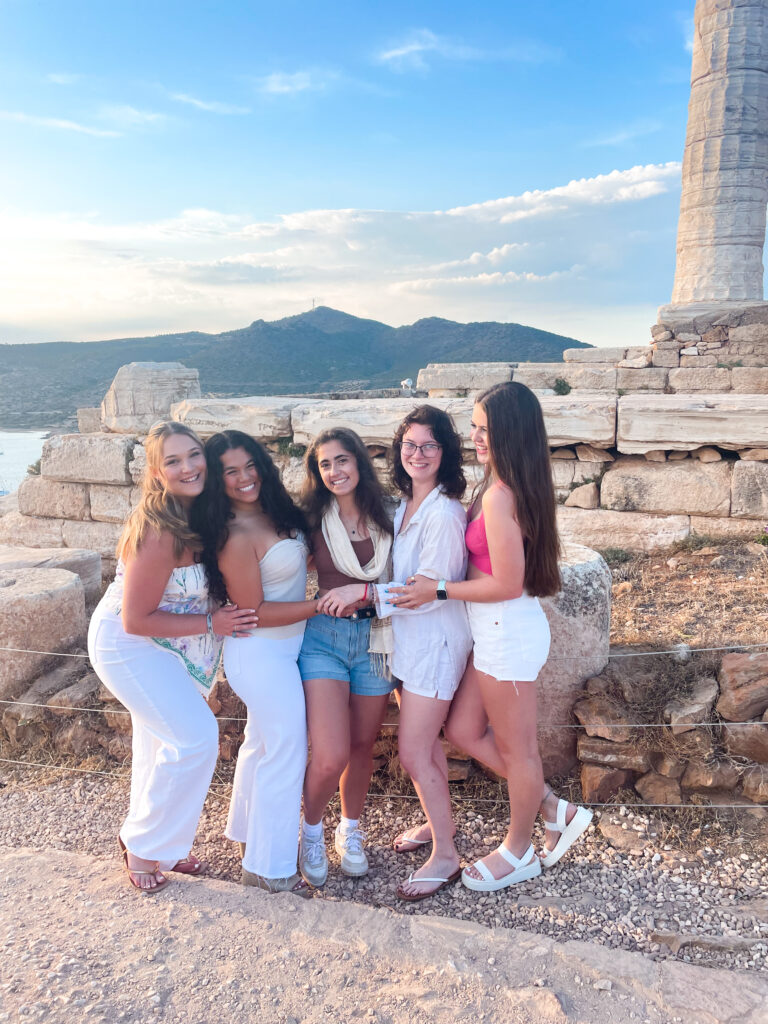 After Athens, we traveled to spend 3 nights in Nafplio, a gorgeous, quaint port city! On the way, we stopped at the Isthmus Canal and saw someone bungee jumping into the beautiful turquoise water. Then, we went to Corinth, an ancient Greek city where Paul the Apostle preached to the Corinthians. My mind was blown that I had stood where Paul was so many centuries ago! During our time at Nafplio, we visited Palamidi, Epidaurus, and Mycenae. Nafplio has been my favorite place of the trip by far! The streets were not dangerous at all to walk, and the locals could not have been kinder and more welcoming! We got various free drinks and desserts at the restaurants we ate at- I think they really liked us! There were so many cute shops and restaurants, and all of us girls went shopping every day! We also took many trips to the beach. You could walk through the city or down the coast to get there, and I would recommend going both. The city is beautiful with beautiful flowers, paintings, and lights; the coast is breathtaking with gorgeous views of the mountains, blue-green water, and sunset! I could not say enough good things about Nafplio, and I would recommend that city to anyone!
Overall, the trip could not be going any better! I have formed close bonds with everyone, and our teacher is so knowledgeable about Greek history! He has made the trip ten times better by being so passionate about what he teaches, presenting the information in an easy-to-understand way, and being patient with all of us! I can't wait to see what else my next 2 weeks have in store!