Upon arriving to Italy, I was immediately in awe of the culture there. As I rode in a taxi to head over to my host mom's house, I was captivated by the architecture and scenery that I drove past. The Renaissance building styles were like nothing I had ever seen before, and the numerous shops and restaurants along the way gave the city a touristy yet homely feel. After my first three weeks of Florence, I am still in love with the city and everything it has to offer. My Italian classes have been very enjoyable every morning, and although my teacher seemed a little intimidating the first few classes, I really have grown to enjoy her teaching methods. I've also grown to like the class schedule that I have, where there is two 1.5 hour classes with a fifteen minute break in between. The 1.5 hour classes were long but enjoyable, and the 15 minute breaks has allowed me to go grab some coffee at a nearby store and meet many new people from all across the world who also attend my same school.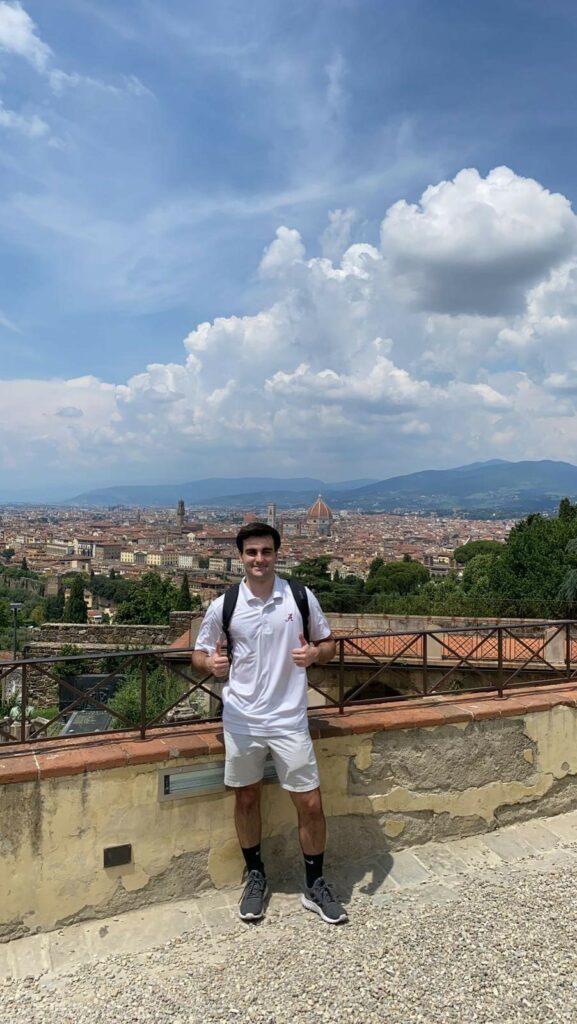 At this point in the trip, I feel like I've seen most of the popular tourist destinations of Florence, except the ones on the opposite side of the city. My favorite spots up to this point would have to be the Duomo, Piazzale Michelangelo (which has an amazing view of the entire city), and La Basilica Santa Croce, a beautiful church where many famous people throughout history are buried. However, I haven't only remained in Florence the whole trip, as I've taken many excursions to nearby cities. I've visited Pisa, Fiesole, Rome, Le Cinque Terre, Verona, Lucca, Lazise, and Naples, and still on the list to visit is Siena. I would have to say my favorite place thus far has definitely been Rome, while the most beautiful has been Le Cinque Terre. I thought I would dislike Rome because of how touristy I heard it was, but my friends and I had no trouble getting around to see the Colosseum, Pantheon, Trevi Fountain, Forum, and the other main attractions around that part of the city. The thing I loved the most about Rome was how much ancient history is still present in the most common of places. Everywhere I looked there were statues of Roman gods, or debris of ancient buildings.

Now, there is only a week left of my month away in Italy. I've made so many friends and seen so many cool places, so it will be extremely sad to leave next Saturday. However, I'm still happy for the memories I've made and will continue to make on this trip, and I will treasure them forever.