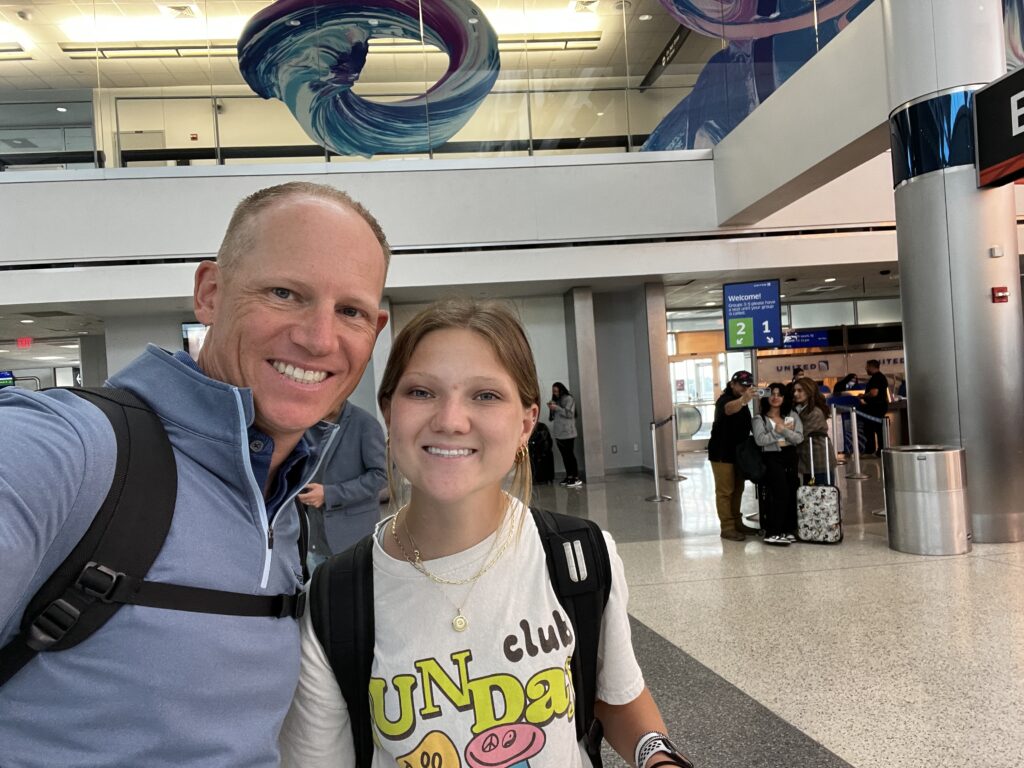 Here is a picture of me getting dropped off in the airport!
Honestly, this trip came faster than I was expecting and suddenly I was at the airport about to make a long journey all the way to Europe! I have flown plenty of times and a few of those times have been on my own, but I was still nervous that I was going to encounter some sort of problem (missing my connection, losing my luggage, getting stopped in customs). I think that ultimately getting to Europe was what I was most nervous about for this trip. I had to first fly to Newark, then Brussels, and then finally to Zagreb. Three connections including one 9-hour flight really was not as bad as I was making it up to me in my mind. I seamlessly arrived in Zagreb, and my professor met me at the airport. He had already arranged a way for us to get to the hotel, and helped me get all settled in.
Now that I was in Croatia, it felt a little odd especially because I was the first in the group to arrive by a few hours. I decided that I would explore the city on my own for a little before our program Welcome Dinner. After walking around Zagreb and stopping at a restaurant for a little bite to eat, I had already realized how much I was going to enjoy this program. I had never really looked into Croatia before this program, and after just a few hours, I quickly noticed how much I liked the city. It felt very safe, was easy to navigate, and many of the people spoke English!
I returned to the hotel for a few minutes to freshen up and head to the Welcome Dinner. My roommate for the first segment of the trip had arrived, and we walked to the restaurant together. This Welcome Dinner was the first time that I was really going to interact with the other students in this program. The nice thing about a UA Faculty Led program is that we had all gotten the chance to meet one another a couple of times over the past semester, but none of us had really gotten to know each other yet. We quickly starting chatting about our travel days and what we were looking forward to for the next 3 weeks, and all my worries about the trip went away.
A picture of both of my professors, my roommate and I at the welcome dinner!