Growing up, I heard what seemed to be endless stories about my parents' adventures abroad. I always knew that when the time came, I would cease the opportunity to go abroad. When I first visited Alabama during scholars weekend my senior year of high school, I heard about the Honors Abroad programs and immediately knew it was something that I hoped to pursue. My freshman year rolled around, as did the Fall Study Abroad Fair, where I met Dr. Latta, the leaders of the UA Honors in New Zealand Program. I knew before coming to the fair that I wanted to do a program that was in a country that was both new to me, and a place that felt, in some ways, unexpected. My family has traveled to multiple countries in Europe as well as the Caribbean, so when I read the information about the New Zealand program and syllabus, I knew that it was the program for me. Thus began the preparation for the trip. It all became real during our first group meeting. It is funny to me now, as at the time, all of the people around me were strangers, and I now consider many of them to be close friends.
Over the course of three pre-departure meetings, along with the UA pre-departure programming, I felt more than prepared for my trip down under. Along with the benefit of having been abroad before, when May 6th rolled around, I, along with my backpack and a 25 pound suitcase (small enough to qualify as a carry-on bag), was prepared to spend a month in a new place.
Having a 25 pound suitcase ended up being one of the most impressive feats that I did not realize I was pulling off. Most other people on the trip brought multiple bags, or one large suitcase. I felt as though what I had brought, approximately 5 outfits worth of clothes, along with a pair of pjs, 3 jackets (a coat, a rain jacket, a sweatshirt, and a fluffy pullover), 2 pairs of shoes, and any toiletry item that I deemed as necessary to use, was more than enough items to live happily. We had regular access to laundry, and were often dressing casually.
I encourage future study abroad students to take a play from my book and pack less than you think you will need. Bring items that all match one another. You will be thankful when you are pushing your suitcase through the airport, finding clothes in the morning, and doing laundry. It simplifies a fun, but sometimes overwhelming, experience spent abroad.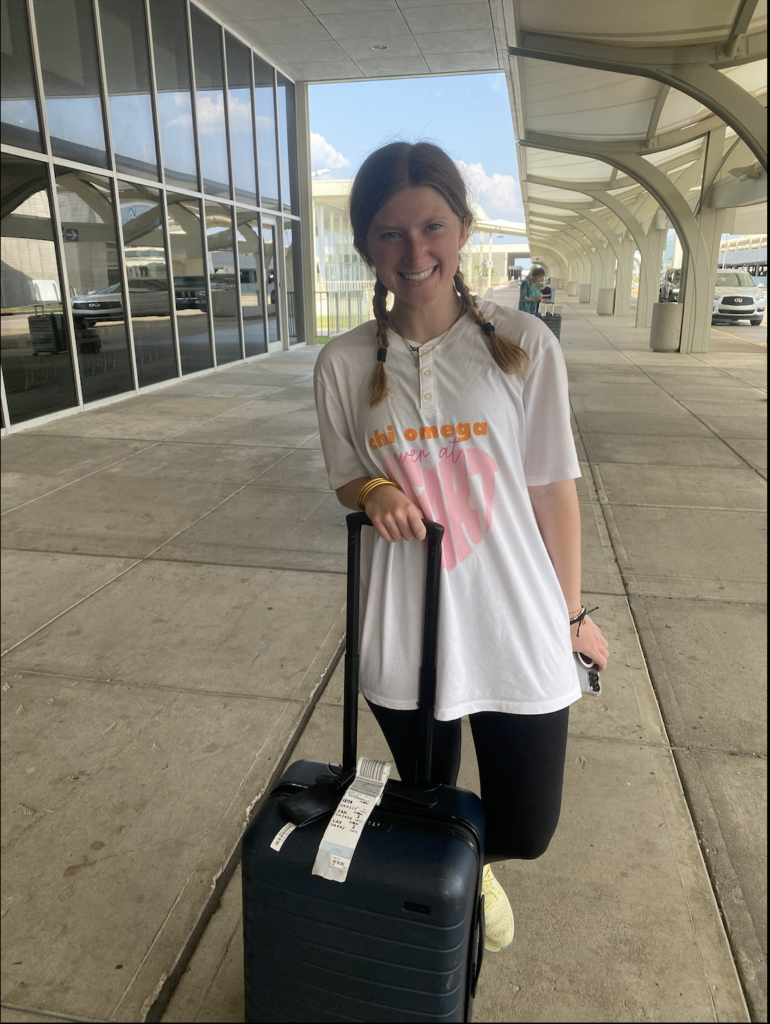 Here is a photo of me and my suitcase upon arriving back at home.