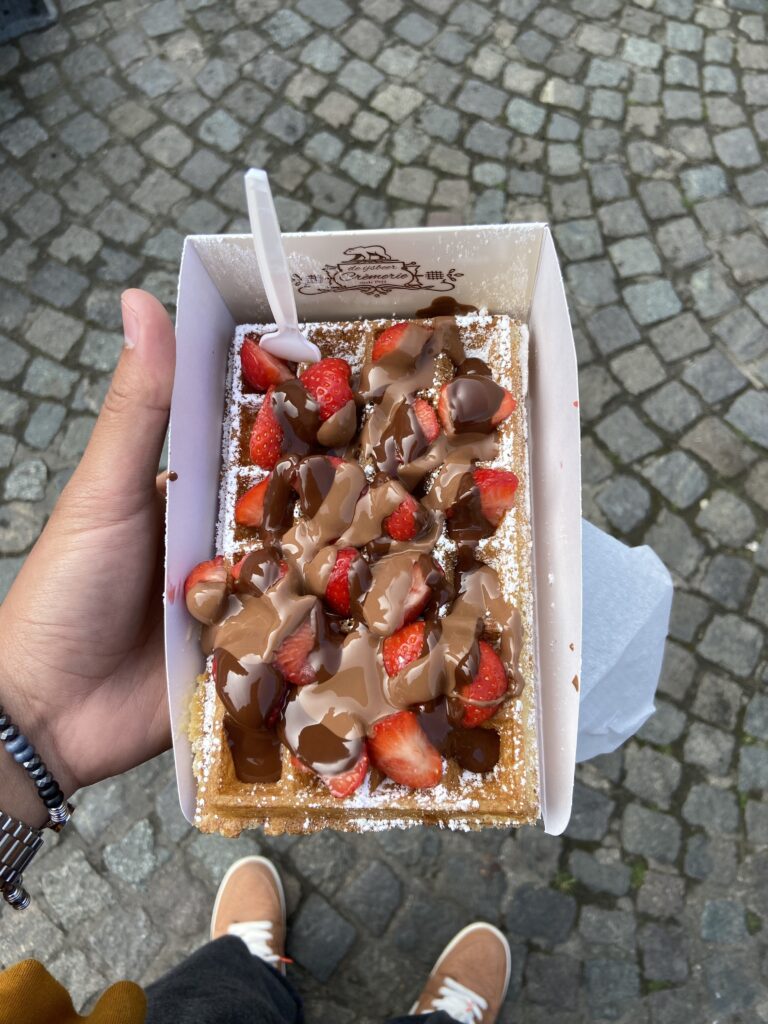 One of the many reasons I committed to my two week faculty-led abroad program was the full itinerary that Professor Lopez created for his students. In addition to staying in both Athens and Paris for a week each, we also made trips to London and Bruges. Being that it's a small town in Belgium, Bruges far surpassed my expectation; this may have been my favorite day of the entire Europe trip.
After leaving our Paris hotel at 5am, we arrived at Bruges at 9am. The town was very quiet as we walked around to explore. The architecture was beautiful, and the churches were grand yet peaceful. One of my buddies mentioned that a popular time to visit Bruges is around Christmas because it turns into a magical winter wonderland.
Naturally, the first thing we did was find a delicious Belgian waffle. There was a main town square that was filled with food trucks, fruit stands, and flower vendors. My friends and I found a cart that sold Belgian waffles, and we were not disappointed. The waffle itself was very crispy and light; the chocolate sauces were a perfect rich and creamy complement to the fresh strawberries. The best part about the experience was that I was not feeling bloated or heavy after eating such a decadent dessert.
After doing some more exploring around the town, it was time for our Segway tour. Although I have never ridden a Segway before, it was pretty easy to control as it felt similar to the hoverboard that was popular a few years ago. I felt like Paul Blart the mall cop, but I probably did not look as cool as him. Following two tour guides, my friends and I rode around and learned a lot about Bruges' architecture, history, and beauty. This activity, which Professor Lopez scheduled for us, was a highlight of the trip.
Bruges, often overshadowed by larger European cities, exceeded all expectations and became the highlight of my entire Europe trip. From the peaceful churches and stunning architecture to the mouthwatering Belgian waffles, Bruges captured my heart.