Now that I am finally back home after being in Dubai for a month, I am reflecting on my trip. My experience studying abroad this summer was absolutely phenomenal. I am so fortunate that I was able to take this opportunity to broaden my cultural horizons while also receiving credit towards my education.
Upon entering the airport in Dallas, a wave of relief to be home and appreciation for the time I was gone had hit me. I was so excited to see my family and friends back home but saying goodbye to the new friends I had made in my host country was so hard. I have already begun texting them and updating them on my life back home, and I hope to continue to stay in touch with them often.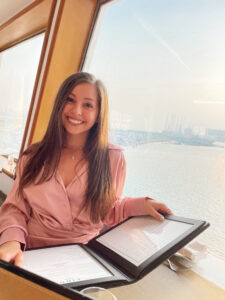 My favorite part of going through this process was the worldly view I was able to take away about the UAE. Media plays a huge role in out perception of the unknown and unfamiliar. I came in thinking I knew what to expect from the country but all of my stereotypes were quickly debunked. The UAE is actually one of the safest countries in the world despite our American perception that terrorism is common there. I fell asleep in multiple taxis accidentally and never once felt unsafe. Everyone is also so friendly. I assumed that they would be unaccepting of Americans, but everyone I met actually seemed so genuinely eager to meet me. Also, everyone spoke perfect English. I assumed there would be a language barrier or at least a dialect or accent barrier, but I never once had to ask someone to repeat something because I couldn't understand them. Come to find out, most kids in Middle Eastern countries now learn English at the same time as Arabic. Their reasoning when I asked was because they knew the majority of the world primarily communicates in English, therefore they must acclimate themselves to the world while also keeping their roots.
The best piece of advice I can give students looking to travel abroad is to enter it full steam ahead with no looking back. Try to go outside of your comfort zone or the comfort zones of others around you. Be bold and choose a place that is uncommon to travel to. You are lucky to have this amazing opportunity, take full advantage of it. I am so glad I chose Dubai despite the worries and remarks I received prior to my trip. It was completely worth it, and I can't wait to talk about this for the rest of my life.