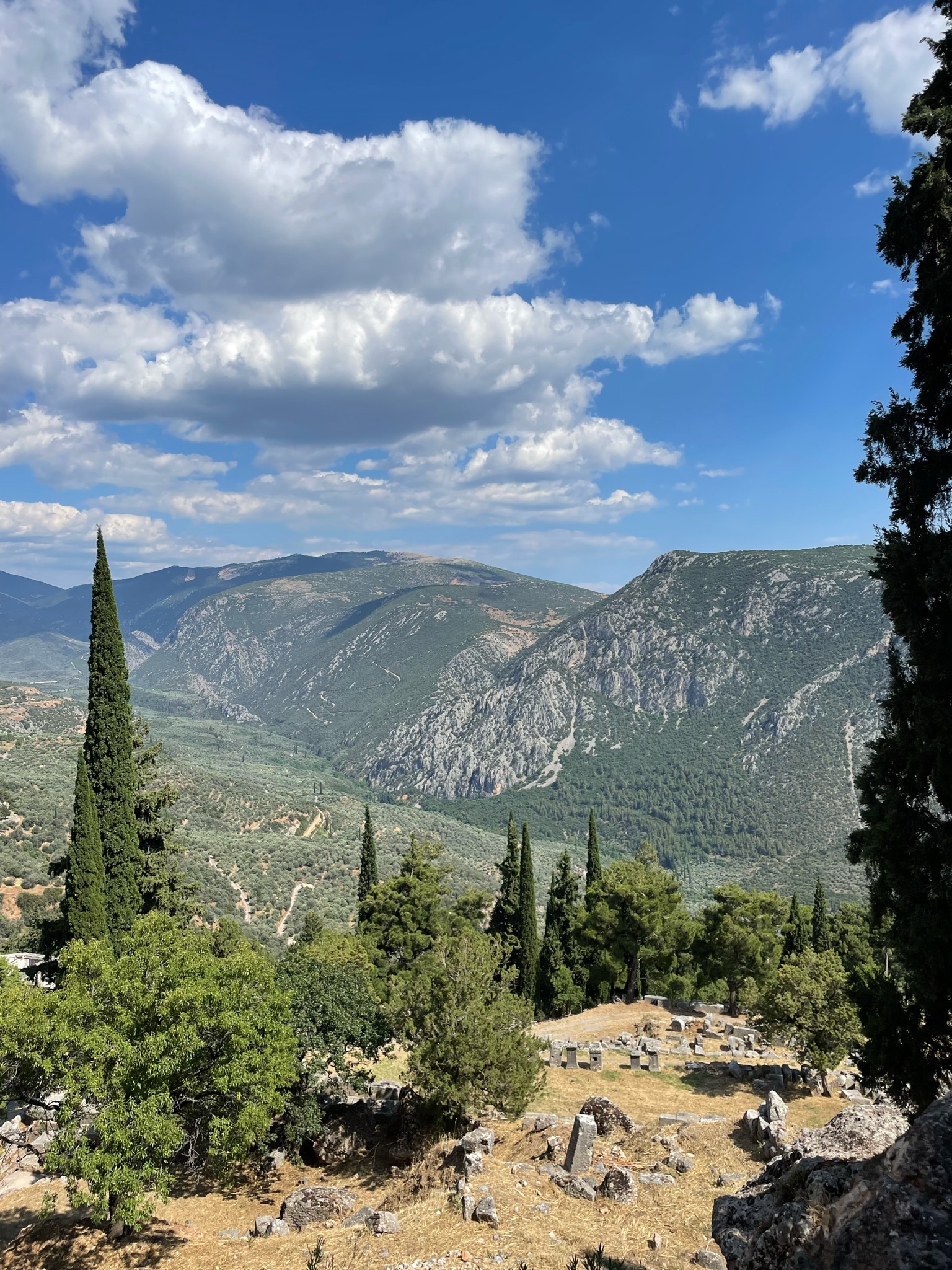 One great thing about the program I am in, UA Greece: The Cradle of Civilization, is that we traveled throughout the entire country of Greece during our trip. We spent a few days at each location before moving on to the next. Our group had a bus that we used to take us from place to place. So, we able to experience many different aspects of the country. We visited places like Athens, Corinth, Mycenae, Nafplio, Olympia, Delphi, Litohoro, Vergina, Thessaloniki, Vergina, and Pefkohori, etc. Some of the towns were on the water and some were in mountainous areas. Some of the places were large cities and many were small towns. Personally, I liked Nafplio, because it was a really beautiful city right on the water. I also like the town of Delphi, because it had beautiful views from the mountains. Overall, the country was beautiful. Each place was as interesting as the one before.
It took me a minute to adjust to the food and the language, but for the most part, this was not a problem. We got to try a variety of foods as well. I tried lamb, goat, local seafood, gyros, and some local pasta dishes. For the most part it was good food. I will say the dinners were much slower paced than back home. Most people spoke English, which was helpful.
A few other thoughts…The hotels we stayed in were nice. They all had AC; had or were near restaurants; and had reasonable accommodations. Some did not have elevators though, so pack light. However, many of the places had spectacular views. The weather was perfect most of the time; although, there was a strong heat wave while we were there, which was unexpected. It only rained twice and only for a short time. I also thought things were very reasonably priced in Greece as well. I did not spend as much money as I anticipated.
The only thing I would change about the program is that I would extend it. I feel like I could have used a little more time at each place to appreciate the uniqueness of location. Also, the workload was a little bit steeper than expected, so I'm glad we earned six credits for it. But, it was well worth it! I would absolutely recommend this trip to anyone interested in ancient history, history, or Greece overall