My month in Dubai has been filled with so many incredible moments and amazing people. From the time I stepped off the plane to the time I walked out of campus for the last time, I was enjoying every second of this adventure. The first night I arrived, I began exploring the campus and buying some necessary toiletries from the small co-op connected to the women's dorms. Later that night, I went to the city mall and had some food court Chinese and gelato. I then went to bed because I was warned of the extreme jet lag after long plane rides such as this 14 hour one, and I had a day of exploring downtown Dubai the next day.
My first excursion of the trip was a cultural immersion experience of Emirati customs. We arrived in Dubai midday at a small house, which is where the experience would first take place. After checking in, we were told to remove our shoes, out of respect, and have a seat on the cushions placed around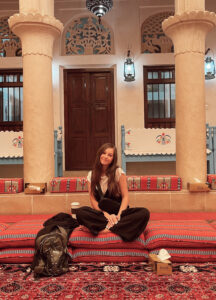 the outside of the room. We were greeted by an Emirati woman who began explaining the culture of natives in the UAE. We were able to partake in their custom of drinking coffee and eating dates, which they have with every meal and at every gathering. I wasn't a huge fan of the dates personally but the coffee was delicious. They discussed the traditional clothing of their people, their rules around marriage and dating, and what it is like to live a traditional Emirati life in an ever-changing, modern world. We were then led on a bus tour around Dubai that was so beautiful. After the tour, we returned back to the small house to experience a traditional Emirati meal of chicken and rice, stew, and the best little doughnuts I have ever had. They normally eat these meals kneeling around the food in the center and using their hands, but I opted for the silverware. Such an amazing way to introduce me to the culture of the country and give me a better understanding of their lives while also debunking some American stereotypes we assume. This day was very fun but very tiring, hence why I fell asleep in the taxi on the way back. I guess the jet lag hit me harder than expected. But tomorrow was a new day, with new adventures so I needed to get my sleep.
The next day was an excursion I had additionally requested. When I was researching Dubai, one attraction constantly came up: The Miracle Gardens of Dubai. It looked like an enormous and beautiful garden with picture opportunities all around the area. I simply had to go to see it for myself because the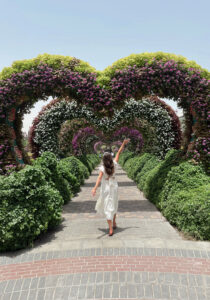 pictures made it look unreal, almost as if it was out of a fairytale. I woke up extra early to get ready and put on the cutest long white dress I had been saving for this very day. Upon arriving, I was in awe. The garden was everything I had seen online and even more. Honestly, the pictures didn't even fully do it justice. The park was gigantic and blooming with flowers everywhere. Big sculptures that towered over us were completely crafted using floral arrangements. It was absolutely breathtaking. I took so many pictures until eventually the heat from the 110 degree day settled in and we bolted for a taxi to take refuge. We then rode on what is known as the Palm Strip to Emirates Mall, where we stopped for a quick lunch of authentic, homemade pasta. Still one of my favorite meals of the trip. After becoming so full, we decided to go to a private pool and beach area, where we laid out and enjoyed the sun and sea. The resort was gorgeous and getting to cool off in the pool was a perfect way to end this day. Next week, I would be starting school and my two courses of finance and management, but for now, I was relaxing.
School began that following Monday. I was excited and nervous all mixed together. I wondered what my peers and teachers would be like, how the lectures would work, how hard the courses would be, how many students would be in the room, etc. It was like my very first day of school all over again, this time in a new country. I must have been so eager that I actually showed up to the business administration college building an hour and a half early just to sit there to wait for my first class to begin. While waiting, I discovered the small coffee shop located in the center of the college and that is when I knew all my money would be spent every morning there. I sipped on my overpriced mocha frappe and watched TikToks, killing time. Finally, it was time to go into the classroom and my first impression was how small the lecture room was. I am used to Alabama's 200 student business lectures but walking into this classroom, there weren't more than 30 seats. I sat down, fairly close to the front but not too close to be obnoxious. I didn't expect anyone to sit directly next to me, so I was shocked when this one girl sat down beside me. She offered to help me find the syllabus on the Blackboard page and since then, we became friends. The finance professor took the role of everyone present and of course had a laugh at my name. We started the first lecture right away and that's when I knew these courses would be quick-paced and rigorous. Finance ended after an hour and 45 minutes and I made my way to my next class, management. Before I even walked into that class, a group of girls pointed me out and came over to ask me a million questions. These girls would later become my closest friends here. We walked into class together, where they insisted I sit next to them. The professor was funny and loved to pick on students, so I knew this class would be a fun change from finance. When the school day ended, the group that approached me from management invited me to eat with them in the student center. We had food in their food court, which was surprisingly delicious, and talked for hours. I was feeling so grateful to have found such immediate friends in both of my classes. Overall, school was looking challenging, but rewarding at the same time.
My study abroad program decided to give me a weekend to settle before doing another excursion since I had just started school and already had work and quizzes. So the next weekend, when we had plans to go to Dubai, I decided to invite some of the friends I had just made in management out with me. We taxied to the Dubai Mall to begin our day. The Dubai Mall is the world's largest shopping mall based on total area and is home to the world's largest aquarium. (You will start to notice that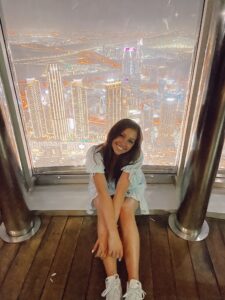 Dubai is known for a lot of "the world's... " records.) We first stopped at their huge food court and had some nitrogen infused ice cream: so delicious. We then stopped by the aquarium and watched the fish, sharks, and manta rays. After the aquarium, we walked around and admired the complete 150-year old dinosaur skeleton and the indoor waterfalls. We continued to walk around and waste some time before our appointment to go up in the Burj Khalifa. The Burj Khalifa is the world's tallest building (see, I told you) and we were going to ride an elevator 163 stories to the top. After waiting in what seemed like the world's longest line (I had to), we were shuffled into the elevator. My ears have never popped so many times from the elevation. When we finally reached the top, the view was insane. Overlooking downtown Dubai at night, with all of the skyscrapers and lights was a sight unlike any other. I would personally rank it above going up in the One World Trade Center in NYC. We stayed long enough to watch the iconic water fountain show the mall puts on from above before going back down the 163 stories for some dinner. Dinner was amazing, and later, we ended the night watching one last water fountain show, this time from ground level. Looking back, this excursion day was my all time favorite.
The school week came and went, with tests, assignments, an upcoming project, and the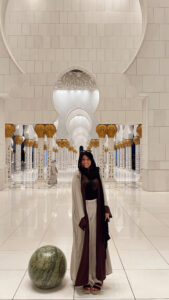 impending finals. This didn't stop the fun though! The next weekend I invited a friend I had met in the student center during lunch to Abu Dhabi, where we would explore the Louvre art museum and the famous Grand Mosque. Abu Dhabi is a further emirate to travel to than Dubai, so we had to make a little pitstop on the way at a gas station Starbucks that, by the way, didn't serve cake pops or pink drinks. Regardless, I enjoyed the snack, and before we knew it, we had reached the Louvre. I'm not an art connoisseur or anything, but the Louvre was magnificent. The architecture itself of the building was breathtaking let alone the artwork inside. After the gallery walk, we headed back into the taxi to the Grand Mosque. For the Grand Mosque, since it is a religious sight, I was required to cover my hair and wear an abaya. An abaya is a lose-fitting robe worn by Muslim women. Once we were suited up in our necessary attire, we took a tour of the inside and outside of the mosque. The building was so detailed and stunning. Following the tour, we needed some dinner, so where else would we go but classic McDonald's.
Another week of fast-paced school passed, leading into another exciting weekend with fun plans. On that Friday, two of my class friends and I woke up at 6am to be shuttled into the desert to ride ATVs, camels, go dune bashing, and go sand boarding. The ATVs were SO FUN!! I never realized how much of a speed junky I could be until I was ripping donuts in the desert sand. I actually got told by the monitor to slow down. Then, we moved on to the camel ride, which was exciting. I knew camels were tall but I could have never guessed how high up I felt while riding one. After a quick break in the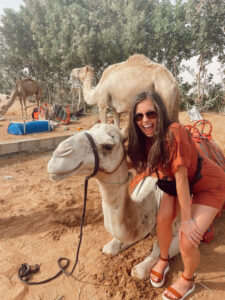 air conditioning, we went back into the car for some dune bashing. Dune bashing, for those who don't know, is increasing and decreasing speed in a car over sand dunes in the desert. Let me start by saying I have never gotten motion sickness. Maybe for the first five minutes, I was having the time of my life, taking videos, laughing with my friends in the backseat. But for the rest of the ride, my head was buried in a plastic bag, begging the driver to chill out. He thought this was a joke of course, and proceeded, but eventually he got the memo I wasn't kidding and could yak at any moment. Finally, the driver found a good dune and the car was stopped. I regained my composure and stepped out of the car for fresh air and to start the sand boarding. I watched my friend go down first, 1) to settle my stomach a bit, and 2) to watch and observe because I didn't want to fall. She fell however, and then it was my turn. The man gave me the option to sit on the board or stand. My initial choice was to play it safe and sit but something came over me that told me I needed to man up and stand. So I did, and I successfully made it down the sand dune without falling on my first try! I went down one more time before we retreated back to the rollercoaster of a car ride that eventually took us all the way home. We must have all been so exhausted that we fell asleep the whole car ride home. Such a thrilling experience and a good way to go into my last real week of school.
The last real week of school was a hectic one. I had a finance exam on Monday and a 30-page group project paper and presentation due Wednesday. But it was all worth it when I received a good grade on the test and I was one of two students to get a perfect presentation score. Guess my constant American presentation practice paid off! It was also all worth it for the last weekend excursion I would be going on before I left the UAE. I gathered my closest friends and went to Dubai to take a tour of the Queen Elizabeth II Cruise Ship docked in the iconic Dubai shipping port and then ended the night with a fancy dinner inside the boat. It was my official farewell to the UAE.
Finals took over my final week. Long nights of studying but it all paid off. To celebrate my last final and to say goodbye to my friends before my flight the next day, we all went to an indoor amusement park called IMG World and finished with my favorite dessert place I discovered called Dip-N-Dip. We ordered our usual fettuccine crepe with vanilla ice cream, assorted fruits, and milk chocolate drizzle. Once our plate was absolutely demolished, it was time for the goodbyes. Such a bitter sweet experience. Making such close friends in such a short amount of time to leave them and be uncertain if you'd ever really see them again. We are all planning on keeping in touch, and hopefully someday our paths will cross again in either the UAE or America. Ultimately, I am so beyond grateful for this whole experience and the people I met within it.