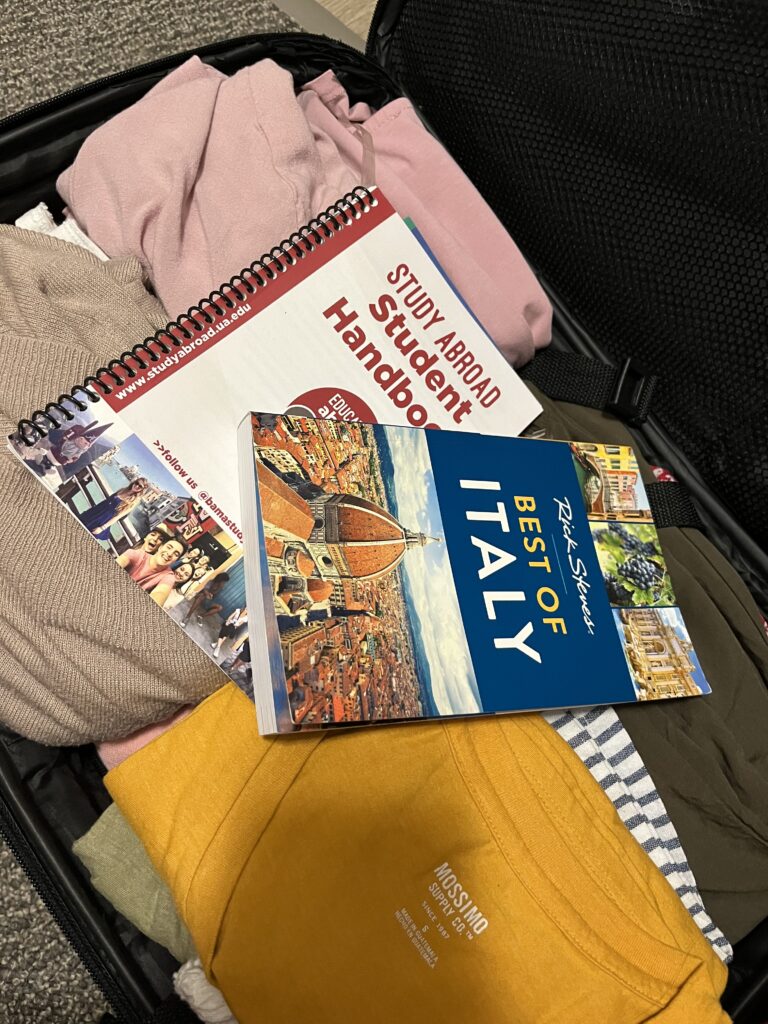 I am so excited to be spending a month abroad in Italy on a faculty-led study abroad! I always dreamed of going abroad and this program fit perfectly. I will be earning 9 upper-level credit hours towards my degree and all the classes transfer exactly with a faculty-led program. I am thrilled to see the architecture and learn about water quality from another culture. I love that I will be on this journey with other UA students and hopefully make some lifelong memories and friendships. I am grateful for the opportunity to go abroad with all of the financial assistance I was awarded from UA.
In preparation for going abroad, I have been planning my packing for months. Since I will be away the longest I have ever traveled, I knew that I needed to be smart and efficient with packing. I packed lots of lightweight clothes that can easily be matched together for different outfits. I purchased an Italy book to learn about the history and culture beforehand and find all the best places to visit on the weekends. I also tried to learn a little of the language with Duolingo each day before leaving.
I am feeling a little apprehensive about the trip before leaving because of the unknown and traveling to a new and unfamiliar place. I have been to Europe before with my family, but I didn't have to do any of the planning and booking. Sorting out the weekend trips has been the most stressful part so far. I think that my goal for this program is to just go with the flow and trust that everything will work out in the end. I am hoping to visit some touristy must see areas, but also to find the backways and try to live like the locals. Ciao for now!