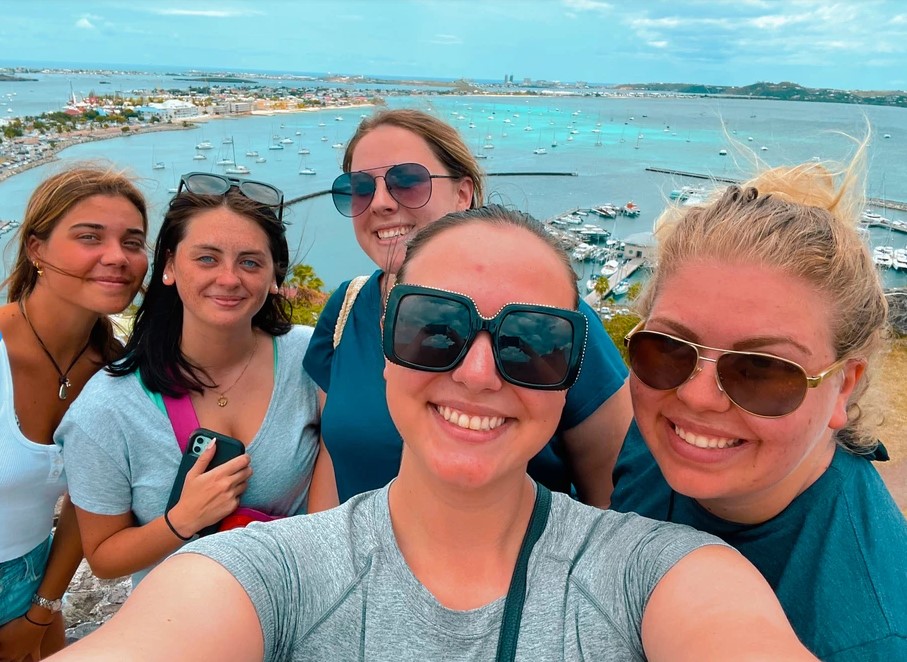 I'm a couple weeks in on my trip and this is the time where you're finally starting to get adjusted, where you're getting past the initial excitement and should be settling in, and I have felt that settling in but also a overwhelming wave of homesickness where I'm feeling like I'm missing out on things back home and it makes you feel kind of crazy as who could possibly be sad in a place like this and right now that happy vs sad feeling has came and gone and came and gone all week, along with just the craziness of the week. But then I had things to do during the week that distracted me from that for a bit. we were all dressed and ready to go to Marigot the French capital of the French side and as we sat and waited we realized there was a mix-up of the schedule and things got a little crazy, kind of like our week of classes crazy but great. This week it seemed like we didn't have a lot of class but the days we did there was so much information flying at me I felt all over the place but was excited to learn, then we presented our project this week and I was so nervous as I had never done something like that in any of my classes yet. Eventually we went to Marigot it was a very chill day of just walked and shopping and exploring a little bit of Marigot lots of things to see and learn. Above is a picture of me and my friends in fort Louis it was a hike up there and some of us fell on the way up, but that's kind of like Public Relations and Life. You may stumble on the way but eventually you'll get where you need to go if you just keep trying. As many of the businesses here have stumbled, because of the hurricane and COVID, but have managed to pick themselves up anyways.
For our next excursion of the week we went to toppers rhum distillery where we got a history of rhum and it's uses and what it is today, which I thought was very educational and we got to meet topper himself. The place was amazing and obviously very popular. I'd love to see what they do in the future. They present themselves remarkably well and throughout tour I was like wow they would be a good client for future study abroad trips. Of course below is our fabulous chefs EB and Kate who made chicken for us. All in all 10/10 experience.
All in all this week was amazing, crazy, but amazing. This trip has surprised me at every turn by what we are doing and how I feel, and of course my computer issues that decided to happen at the start of this trip. Word of advice make sure you're computer works perfectly before you go and study abroad. it's also more fun than I thought it would be to discuss the possibilities for our final project and diving deep in what we could do for the island while we are here. I can't wait to see what the rest of this trip holds and what new memories and lessons I will learn and experience.