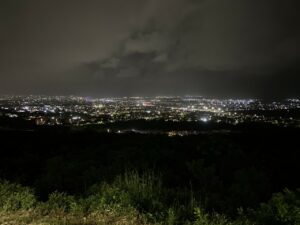 Written 28 June 2022
Well, here I am. It's my last week in Colombia, and I am perched atop a hill, gazing down at the luminescence of the bustling city of Barranquilla. To my left is my Colombian best friend, Ángel. He brought me to this spot to see the city before I return to the US. I have been wanting to come to this place for two weeks now, but honestly it is fitting for it to be during my last week here.
As I survey the city, memories of the past few weeks coalesce before my eyes.
Watching Juniors go against Club Atlético Unión de Santa Fe (and unfortunately lose)
Visiting the renowned Colombian author Gabriel Garcia Marquez's house in Aracataca
Dancing the night away with my groupmates in the discotecas of Santa Marta
Visiting the vibrant Carnival museum in Barranquilla
Touring the colonial city of Cartagena and relaxing on its beautiful white beach
and most fondly the memories made with my Colombian friends: our many late night trips to the park to hang out and chat, runs to corner restaurants to wolf down salchipapa, trips to the beach, watching Netflix in each other's houses, discoteca nights, and a trip to the local amusement park.
Honestly with the many adventures and warm memories I have had here in Colombia, I do not feel ready to return to the US. Just thinking about the transition process back to my home state of Alabama makes me wince. Of course I want to see my friends and family and get back to UA, but what if I miss all of my friends here? What if we lose touch? How will I handle that? The time I have spent here and the friends I have made has given me a second home that I am reluctant to leave.
As I gaze down at the city that welcomed me with open arms and held my most cherished moments, I remember a great piece of advice I was given.
"The memories you have made are not memories left behind but rather memories that live on."
And honestly my Colombian friends were right.