A few weeks ago, for my spring break, me and a few of my roommates decided to use or week of free time to take a trip around the Iberian Peninsula. We went to Madrid for a few days first, which we all enjoyed, but found ourselves blown away at how much we fell in live with Portugal. I had never heard anything negative about Portugal before, in fact I hadn't heard much of anything, I had never talked to anyone who had visited so I didn't really know what to expect. The cities we went to were both very hilly compared to the Czech Republic, where my abroad experience is based this semester, and most of the other places that I have visited during my time in Europe. Because of the geography there, the landscapes were incredible once you reached the right vantage point, with the surrounding buildings looking as though they were simply piled on top of one another.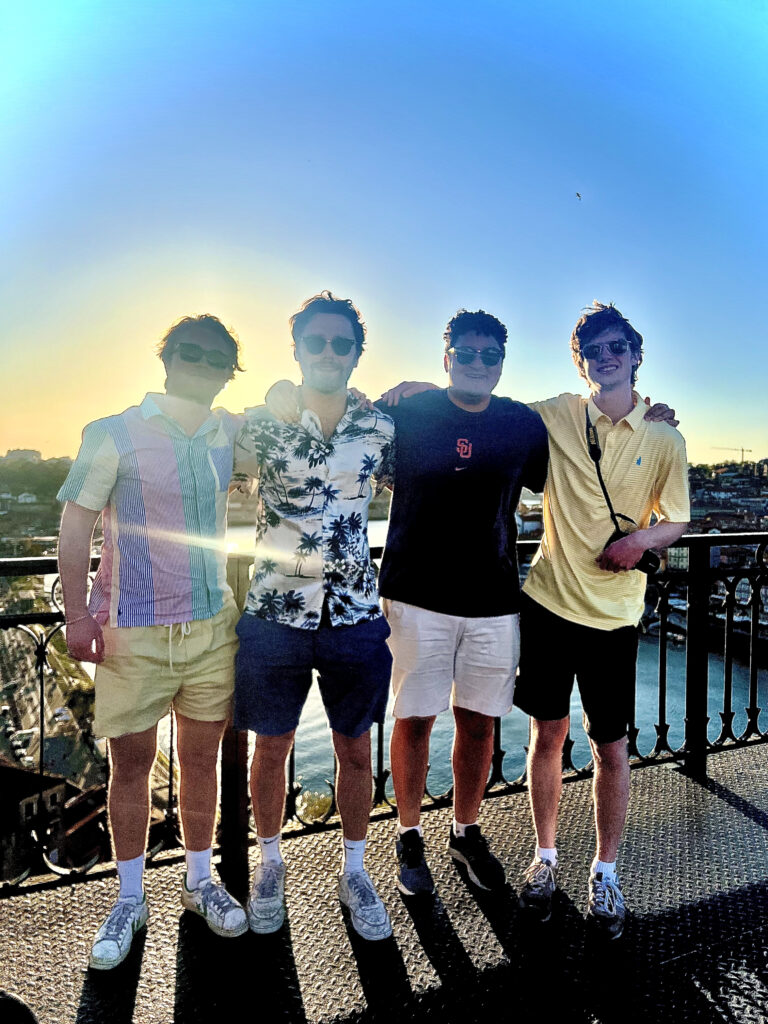 The first city we visited was Lisbon, the capital of Portugal. After getting to our AirBnB from the airport, we set down our things and headed out to see what we could of the city before it got too dark. The first place we went to was São Jorge Castle, a hilltop fortification with panoramic views of the city atop its walls and old cannons facing out towards the city below. It's one of the highest points in the city and looking out amongst the ancient stone walls really helped to put into perspective just how old Lisbon truly is. From there we walked around throughout the streets of Lisbon, taking in the atmosphere. It's such a colorful city, with pastel-colored buildings and ones covered in patterned tiles, every corner felt fresh and lively. We passed by the Santa Justa Lift, a famous elevator connecting different levels of the city, another indicator at how varied the Lisbon landscape is. After walking around some more we eventually stopped at a restaurant for dinner where I had some grilled salmon which was delicious, especially considering how hungry I was due to all of the walking and traveling we had done that day. The service at the restaurant was somewhat obnoxious as the server stood over our shoulder pretty much the entire time we looked over the menu for what we wanted to eat, he also didn't speak very much English so there was some communication issues when we finally did order and when we were waiting for the check. Being as tired and hungry as I was I got a little impatient with the guy. As I said before, though, the food was good and helped get rid of my hangry feelings. The salmon still had the bones in it which was something that I wasn't really used to when I've had fish back at home but it didn't bug me too much. After we ate we grabbed an Uber back to our AirBnB because our legs were too sore from walking all day to make it back on foot. The next day we woke up and got another Uber out to Belém Tower, and old fortress by the sea that was built back in the 16th century to protect the ports of Lisbon. It was cool to see the inside of the tower and climb around into the turrets of the fort but it was more or less empty other than some cannon batteries in placed in certain spots, the best part was honestly just seeing it from the outside and grabbing some photos. From there we took a short walk to Padrão dos Descobrimentos, a monument on the water dedicated to the sailors that make up Portugal's rich history of maritime exploration. The monument was a lot bigger than I expected it to be once we arrived and is located at the old location where explorers set sail for different places around the world, like India and Asia. A short walk under some train tracks across from the monument took us to the Jerónimos Monastery, a gorgeous building with an incredible chapel inside. After peeking inside the chapel we grabbed some lunch at a nearby restaurant where I had some fried fish and Portuguese rice that was delicious. We hopped into an Uber to Alfama, the oldest neighborhood in Lisbon, and walked around, saw the famous Lisbon Cathedral and stopped at an outdoor terrace and grabbed some refreshments and enjoyed the nice weather and atmosphere around us. Up above the terrace there was a balcony that offered an incredible view of the city below. From there, we walked back to our AirBnb to freshen up and gather ourselves before going out to experience some of the nightlife for our last night in town. That night we went to a place called Pink Street, a cobbled road that is literally painted pink and lined with various clubs and bars. It was a weekday when we went out so it wasn't as lively as I would expect it to be on a weekend but there was still plenty of people out and we hopped to various bars, socializing and enjoying the music.
After enjoying Lisbon for a few days, my friends and I took a bus north to the city of Porto. It was about a 3 hour ride and I spent most of it trying to get some sleep, but when I did open my eyes I saw beautiful rolling green hills dotted with houses and vineyards. We arrived in Porto in the mid-afternoon and passed the time before our AirBnB could check us in by walking around the city with our bags over our shoulders. The architecture was similar to Lisbon with colorful tiles once again lining various buildings, blue tiles with ornate designs on them were particularly common. There is definitely plenty to see and do in Porto but overall the city was smaller and had less major historical sights to see so we all felt a little more relaxed since we didn't have to do as much running around across the city like we did in Lisbon, which made it a great last-stop on a long vacation. One of the most prominent features of Porto is the Luís I Bridge, a tall arch bridge that connect the two halves of Porto and stretches across the Douro River. Crossing over the top of the bridge provides you with one of the best views of the city and is also a great spot to watch the sunset. Our AirBnB host met us at the place we were staying to let us in and talked with us for a bit, asked us where we were from and gave us some suggestions of landmarks to check out, places to eat, and where to go for a good nightlife experience. The restaurant she recommended was a short walk from the AirBnB and we went there for dinner the first night and enjoyed the food there so much that we went there to eat for virtually every meal afterwards. The food was great and rather inexpensive considering how large the portions were, the menu confused us a little the first time we went there because they offer each item in either a "half dose" or a "full dose" and on the first night when I asked for full dose of grilled chicken I was served basically and entire chicken chopped into different pieces, it was so much food so I had leftovers to take back with me. They also offer take-out in addition to having sit-down dining so one night we ordered some food and carried it back to our AirBnB to eat, I had ribs and some kind of rice dish and when I opened up the container I was surprised to see almost a full rack of ribs inside. When I went back there on the last day I tried octopus for the first time, it was served with potatoes and was delicious. During the daytime when we were in Porto we walked around the city and saw various landmarks, such as the Iglesia de los Clérigos, a church with a famous bell tower that towers over the rest of the buildings in the city, and the nearby Igreja do Carmo. We also stopped by a famous bookstore, Livraria Lello, but didn't end up going in because the line outside was so long. One of the things that Porto is most famous for is Port wine, so one day while we were walking along the river we stopped by a restaurant and tried some. It tasted great, a little heavier than other wines I have had while abroad and it has a higher alcohol content. It was very relaxing and enjoyable to be able to sit out in the sun and enjoy the scenery, as the famous bridge was right behind us.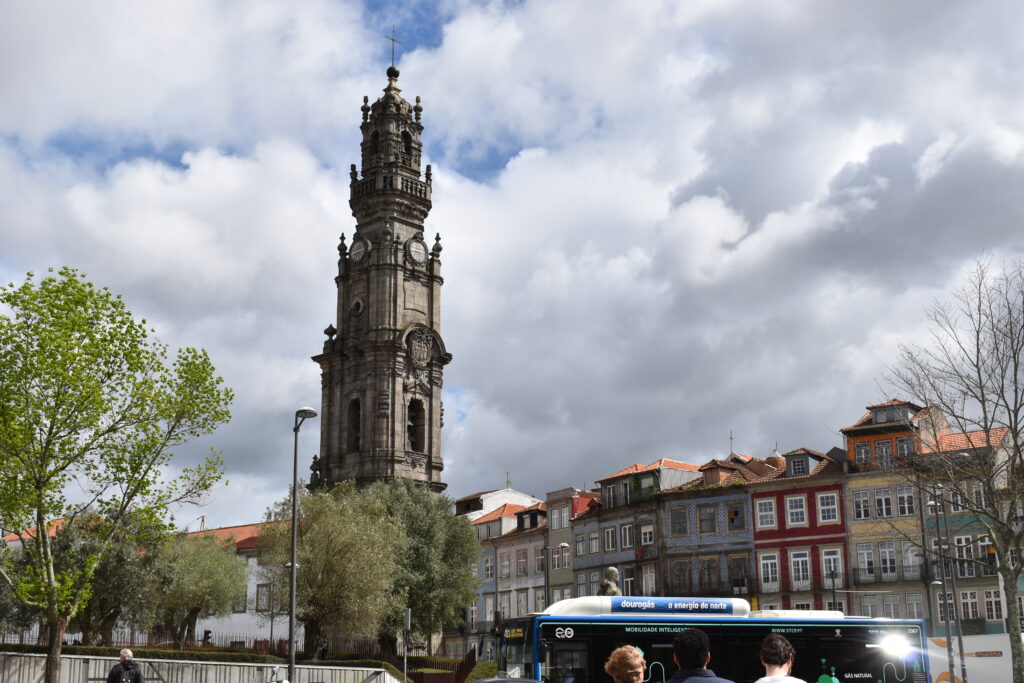 Overall this trip was amazing and something that I'll never forget. I had a great time seeing some really cool things with the new friends that I have made while abroad and Portugal will definitely go down as one of my favorite places that I have ever been. I honestly can't decide which city I enjoyed more as I made so many great memories, tried some amazing food, and saw some incredible sights in both places. I feel so lucky to have gotten the opportunity to take a trip like that.