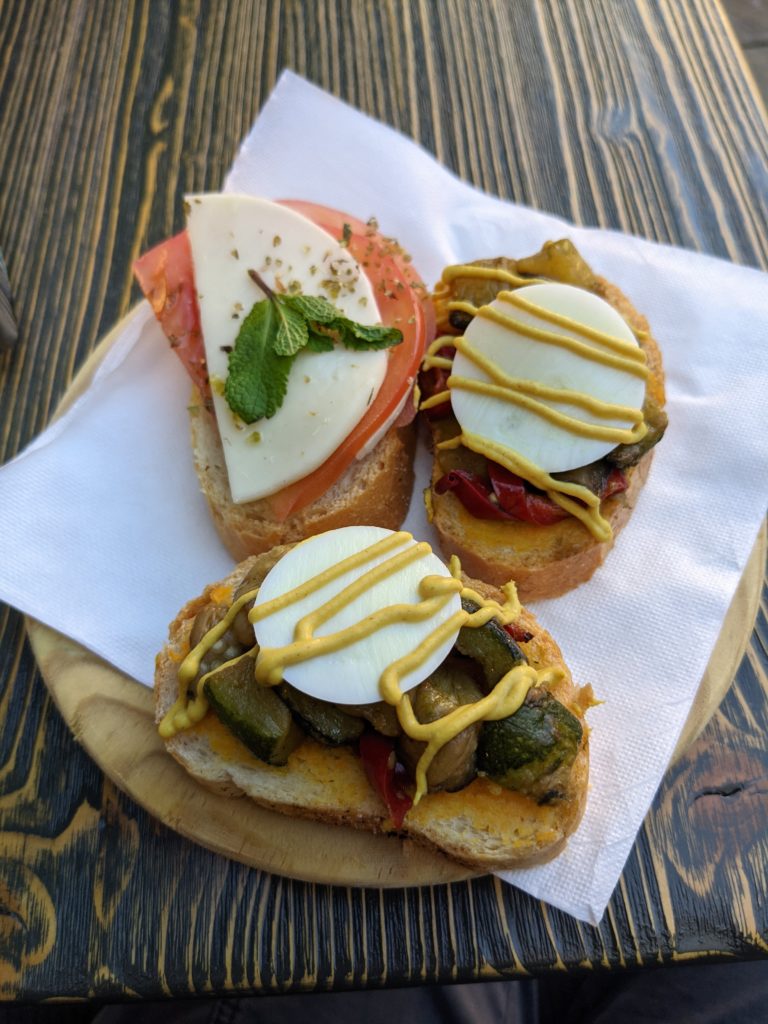 Italian food is very prevalent in American culture with Italian classics such as pasta and pizza filling tables all over the US. I have got several longing requests from friends and family back home to describe the food, so I thought I would write about it here. I have included a couple words in Italian as well as English because these foods really feel like a distinct entity from their American counterparts. All Italian words are in italics.
While traveling or when hanging out with friends I will eat out, but a lot of the time I cook for myself as my school, Sant'Anna in Sorrento does not have a dining hall. On average the food is much fresher and less mass-produced than in the US. As a result of the decreased preservatives, fresh foods go bad faster. Vegetable gardens are very common in Sorrento and my school has a vegetable garden which I go to often. Fruit and vegetables are commonly sold by specialized stores which resembles a permanent farmer's market more than a US store. There are also separate stores for bread and cheese, although all these things can be found in the main Supermarcato or grocery stores. Even Italian chain grocery stores are much small than a standard American grocery store and have less variety. Italians also eat Italian food, which doesn't seem like much of a realization until you try to find ingredients not commonly used in Italian food that are scarce and expensive.
Breakfast: Italians do not eat big breakfasts. Traditional Italian breakfast consists of a cornetto, or crescent, and a cappuccino. Their cornetti are delicious and come with a variety of fillings including cream, jam, and chocolate. Finding a savory breakfast is possible but challenging and generally aimed at tourists.
Lunch: Traditionally, lunch is the biggest meal of the day and could take all day to make and severally hours to eat. In reality, the demands of daily life don't often allow for such an extravagant lunch. My favorite thing to have for lunch is a sandwich or panino. A classic and favorite of mine is the Caprese which is tomatoes and fresh mozzarella (the only kind of mozzarella in Italy) and maybe pesto, olive oil, or basil.
Dinner: Italians generally eat dinner late in the day. It is not abnormal to see a family out eating dinner at 10pm on a school night. Dinner menus are generally presented in courses although I'm never hungry enough for more than one course. In addition to the familiar, appetizers, side dishes, and desserts, there is the primo, a pasta dish, and secondo, meat or fish. Many places also have a large pizza section. Many restaurants closely follow this outline and have remarkably similar options.
Street Food: When traveling I often get street food and eat it at a cool place in town. Common street food varies by region. In Sicily, I had rice balls or Arancini. In Venice, I had Cicchetti (in the picture above) which are small open-face sandwiches. Across Italy, mini pizzas, calzones, and similar foods are common.
Dessert: I can't write about food in Italy without talking about dessert. Gelateria (gelato shops) and Pasteria (pastry shops) are everywhere. In crowded downtown areas there is always generally more than one in view. The gelato is amazing. My favorite flavor so far is passion fruit while the most interesting flavor I've tried is ginger. While many trips to Italy will include eating gelato every night, I think it would be a mistake to miss out on the pastries which Italy has in great numbers and variety. A favorite of mine is sfogliattela which originated in Campania, the region of Italy I am studying in. It's a layered, flaky pastry with a rice cream filling. Another favorite of mine is granita or Italian ice, which tastes so different from store-bought cups of Italian ice that I did not even realize that's what it was.