In college, anything is possible. Considering it's almost been a year since I started the process of Study Abroad, I'm blown away by how fast time has passed. It has always been a dream of mine to Study Abroad and I grew up knowing I had to do it. I'd spend nights looking up programs and colleges that had good Education Abroad offices. Yet, when I came to Alabama I almost forgot about an experience I've dreamt of for so long. One morning in October, I was walking by B.B Comer and saw the signs for the Education Abroad office, and I walked in. From that point on, my journey began. I remembered the reasons why I wanted to study abroad and the ladies in the office were super helpful with creating my plan, especially my advisor.
Growing up, I was always super interested in other cultures. Being Latino myself, my culture is influenced by so many countries and other cultures that naturally I've been exposed to so many different types of people. Even with languages, I always told myself that I wanted to be a polyglot and learn other languages so I can speak to others in their native language. I heard this quote one time saying "Speak to a man in his second language, you're speaking to his brain, speak to him in his native language, you're speaking to his heart." This quote has forever left a mark on me and influenced me to explore other cultures. The best way to do that is by travel. So, by putting the two things I enjoy the most, traveling and school, the answer was clear, I had to study abroad.
So, in two days I leave for Dublin, Ireland for a semester to study at University College Dublin. Why Dublin? There are many reasons why Dublin was a perfect match for my experience. Primarily, since English is the primary language of education, I would be able to take courses that advance my degree rather than solely language learning classes. As much as I dreamt of my study abroad experience to be a certain way, I cannot forget about my education and progression of my degree. Yet, there is so much more to Ireland than just that they speak English. Irish history is rich with folklore and the influence of the many tribes and nations that occupied the Emerald Isle. From the Celts to the English, Ireland has seen many people call their island home. Growing up in the Northeast, the month of March is dedicated to St . Patrick's Day and we spend lots of time learning about Irish culture and history. From iconic sites like the Cliffs of Moher to step dancing, I've always been interested in their culture and have wanted to experience it for myself. Ireland is also quite central to Europe, which allows me to reach the mainland for cheap and the opportunity to explore so many other countries. Ireland allows me to stay on track in school but also explore other countries and cultures.
As for preparation, I felt like there isn't much to prepare. Since English is one of their official languages, there was no need to learn another language (apart from some common Gaelic words). I spent this past summer working, saving up money for all the experiences I'll have in Ireland. Since the Euro is stronger than the Dollar, I had to work a little bit harder to make sure I had enough to live comfortably. 4 months isn't that long to be gone and is almost like a summer break. That's how I'm viewing this experience to not make it as dramatic as moving across the pond seems, haha. Apart from clothes and shoes, there aren't many things that I have access to in the US that aren't available in Ireland. But I will for sure be packing peanut butter to bring with me, as it's VERY hard to find anywhere but the US.
Always, people ask me about how I feel about this experience. Am I excited? Am I scared? My answer to the question is always the same, there's no way to explain the way I feel. It's a mix of excitement but also a small bit of fear. Specifically, because the COVID situation hasn't changed much across the pond. I know my experience this year will be different from those of years prior, but just the uncertainty with COVID is always enough to make one fear. Apart from COVID, it's pure excitement to be in a completely new country. I've never been out of the States and I can't wait to see what it's like somewhere other than here. In a way, this experience is similar to how I came to Alabama. I never toured, only looked at pictures and videos, and took a leap of faith. Thankfully, it worked out well for Alabama and I'm sure the same will happen for Ireland. I can't wait to walk the streets of Dublin and hear accents that aren't what I'm used to. I know it won't appear how it was pre-Covid, but that doesn't matter. In life, there are always situations that you can't control and you just have to adjust. Which is how I'm approaching my experience in Ireland. I hope to immerse myself in Irish culture and finally see what I've learned and read about for so long. Pictures can only do so much, but to experience in person is a whole different dimension. Thankfully, University College Dublin has trips for us planned, so I am relieved that I don't have to plan out some of the larger sites and cities I want to see.
I'm 2 days away.
(and I still need to pack, ahaha)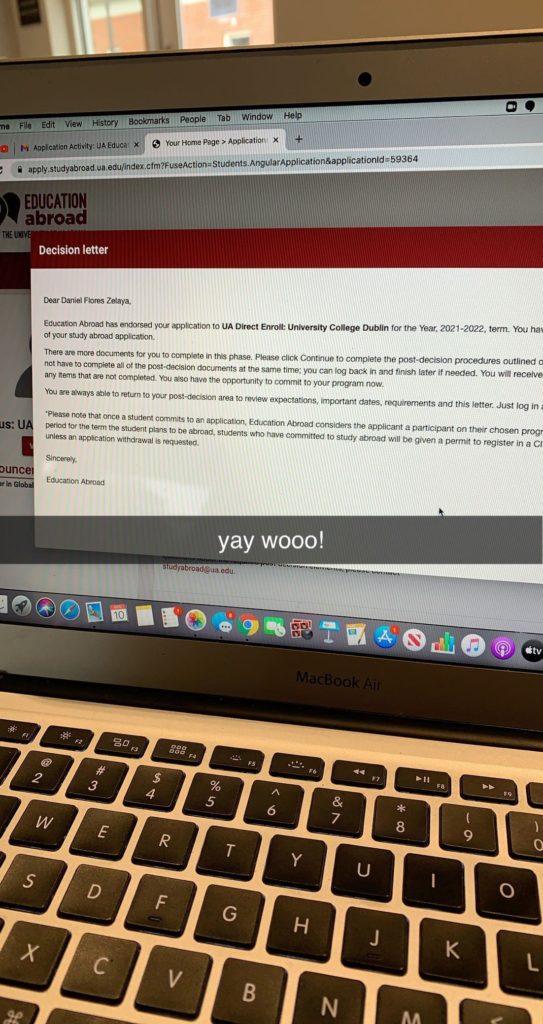 When I received my endorsement from the EA office