**DISCLAIMER** all of this information is about June 2019's experience in Ireland. While it may be the same program, the University College Dublin (UCD) or The University of Alabama may have made some changes.
I found it was much easier to go to Ireland prepared than not so here is a list of how I prepared to go to Ireland and some commentary on what I wish I had done, for future reference.
1.I talked to my future classmates and professor a lot before going.
My professor, Dr. Kim, required an orientation separate from the Study Abroad orientation. He had an excel sheet available for everyone to add their flight itineraries to and made a GroupMe for all of us. This was helpful because I saw that two of my classmates were on the same flight as me going to Ireland and we stuck together while traveling to campus from the airport. We also created a separate GroupMe without Dr. Kim to discuss travel prep and possibly traveling to other countries.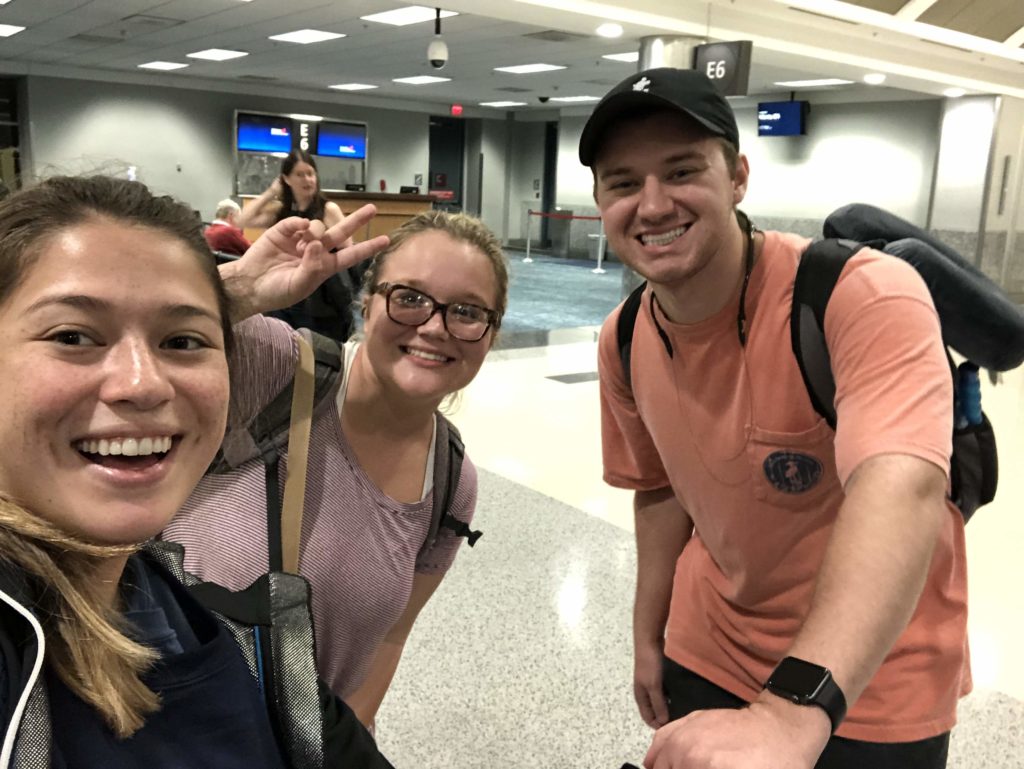 Side note: if you plan on traveling to another country on one of your free weekends, plan it before you go to Ireland. Ireland is an island therefore; you will likely have to fly to get to another country. I knew this, but I assumed you could still get cheap plane tickets while we were there. Unfortunately, plane tickets to Germany were more expensive than we thought they would be.

One thing I did not have before going to UCD is proof that I was a student studying there for a month. A lot of us were hassled a bit at customs for not having a letter or email from UCD themselves verifying our acceptance of us as international students. I was allowed through by customs because I had my flight itinerary ready to prove that I had a set date of me leaving the country. However, it would've been much easier if I had gotten a verification email or letter from UCD and had it ready for customs when I got there.
2. Prepare for a month of actual studying.
I borrowed a textbook from a friend BEFORE going to Ireland and while I was there I found a free PDF version online. Ireland does NOT have engineering paper. Ireland's paper size is also longer and slightly thinner than ours. I wish I bought a pad of engineering paper before going. Also, pencils are slightly different than ours. I do not know how it is different, I just know that I did not like the pencils I bought while I was there, and I was very grateful I found extra pencils in my backpack while I was there.
Transport Phenomena is like taking Fluid Dynamics, Heat Transfer, and Reactor Design all in one class. It is a very difficult class, even during the regular fall or spring semesters. I took all 3 of those classes prior to taking this class and I still studied almost everyday for at least 2 hours. I uploaded my old notes from those classes to Google Drive (to save physical space while traveling).
Stem Cell Bioengineering was a lot of reading and writing. We averaged 2-3 research papers or articles that ranged from 10-30 pages every night, and we had to write a one-page memo on them before we discussed them in class. This class is basically an intro to bioengineering research. There is not much math, but a lot of explanation and critical thinking. There is not much preparation you can do for this class. However, it is an excellent class for brushing up on some research and report writing, skills. We do not do this much in school as engineers, but it is essential in industry to be able to write and present your findings to others. The main reason why I wanted to do this study abroad was so I could take this class. I do research in Stem Cell Bioengineering and I am heavily considering grad school for this field.
3. Set up for success with personal finances.
Most places in Ireland do not take American Express or Discover. I only had one credit card before this trip and it was American Express. I applied for a Chase Sapphire Preferred Visa credit card because it does not charge foreign transaction fees or conversion fees. It also had the best travel rewards, from what I could tell. I flew with Delta the entire way, and even though Chase usually partners with Southwest and Virgin, I still was able to earn plenty of points. I am very satisfied with my experience with Chase so far. I learned that Europe also prefers credit cards that can tap and the Chase card has that capability so that I was an extra bonus.
Side note: for travel, I stayed with the same airline the whole way to avoid my bags getting lost. I also paid for a plane ticket that included a checked bag. I am very glad I did that now, looking back.
I have USAA and Navy Federal for banks and neither charge foreign transaction fees. I did not want to take my debit card out with me around Ireland though. I did not want to lose my debit card(s) and not be able to get in touch with my bank while I was there and not have cash readily available. I was more willing to lose my Chase credit card than I was my debit card. I brought all of my cards with me to Ireland, but I only kept my Chase credit card and some cash on me. I brought my debit card out once to get cash out and that was it.
4. International communication.
I purchased a 3ie (service provider) UK SIM card from amazon. Because it was 3ie UK, I had a UK phone number. I wish that I had thought about purchasing a SIM card with an Irish (+353) phone number though. This is essential because you cannot order takeout/delivery if you do not have an Irish phone number, and there were many late nights that I struggled to order delivery to our dorms because of this. I do not believe that you can order a 3ie SIM card with an Irish phone number from Amazon, but you may be able to order one from the website. The service was not the best ever, but it did its job. Lastly, I chose not to activate my SIM card until I was in Ireland because I was staying 32 days and I wanted to try to stretch out my 30 day SIM card as much as I could, but I ended up activating it a day earlier than I meant to anyways. Nonetheless, activate your international service plan or SIM card before flying into Ireland to help you with directions to campus and into your dorms.
Side note: I had to call my service provider and ensure my phone was unlocked before I put in a new SIM card.
5. Research Ireland! History, weather, music, local culture, etc.
I learned plenty about the history of Ireland while I was there, but I did at least watching a couple of YouTube videos to get a brief history of Ireland ahead of time. I also tried getting to know some of the Irish pub music. I realize now that I did not exactly do the best research in the world because there were definitely better music playlists and YouTube videos that more accurately portrayed Ireland than the ones I watched. Things I knew not to do were not to ask for an Irish Car Bomb at the pub, and not to talk about politics or religion. I decided not tell very many locals that I was Catholic after I did some more research.
Side note: religion was another main reason why I wanted to participate in this study abroad. I was born and raised Catholic. I have had my falling out with the Church multiple times throughout my life, but I still identify with Catholicism. Ireland is a predominantly Catholic country and much of it's recent history (good and bad) is centered around the Catholic Church. I always had a special interest in Ireland because of this.
I only researched the weather reports of Ireland in June 2018, not realizing that they were experiencing some unusual heat and sunny weather at that time. I should've spent more time researching Irish weather because I wish I had packed more winter clothes than summer clothes. Our first 2.5 weeks being there, Ireland was very overcast, windy, and had an average low of 40-45°F (~4-7°C) and average high of 50-55°F (~10-13°C). It drizzles with light rain often in Ireland, but rarely thunderstorms. Overall, while packing you're going to want to pack more pants and rain jackets than anything else. The style and trends in Ireland for people our age remind me a lot shopping around Urban Outfitters or Top Shop. Below is a very generalized list of what I packed and how I packed it:

Side note: I am from sunny, warm, humid Florida. Needless to say, I really had to adjust to the weather.
Helpful Links:
SkyScanner: https://www.skyscanner.ie/
History of Ireland: https://www.youtube.com/watch?v=dQvaGt9B6H0
Ireland Weather: https://weatherspark.com/m/33845/6/Average-Weather-in-June-in-Dublin-Ireland
Irish Music: https://open.spotify.com/playlist/46aS5RHvlDm2uYoQ9LzYfL
Irish SIM Card: https://www.three.ie/irish-sim-card/