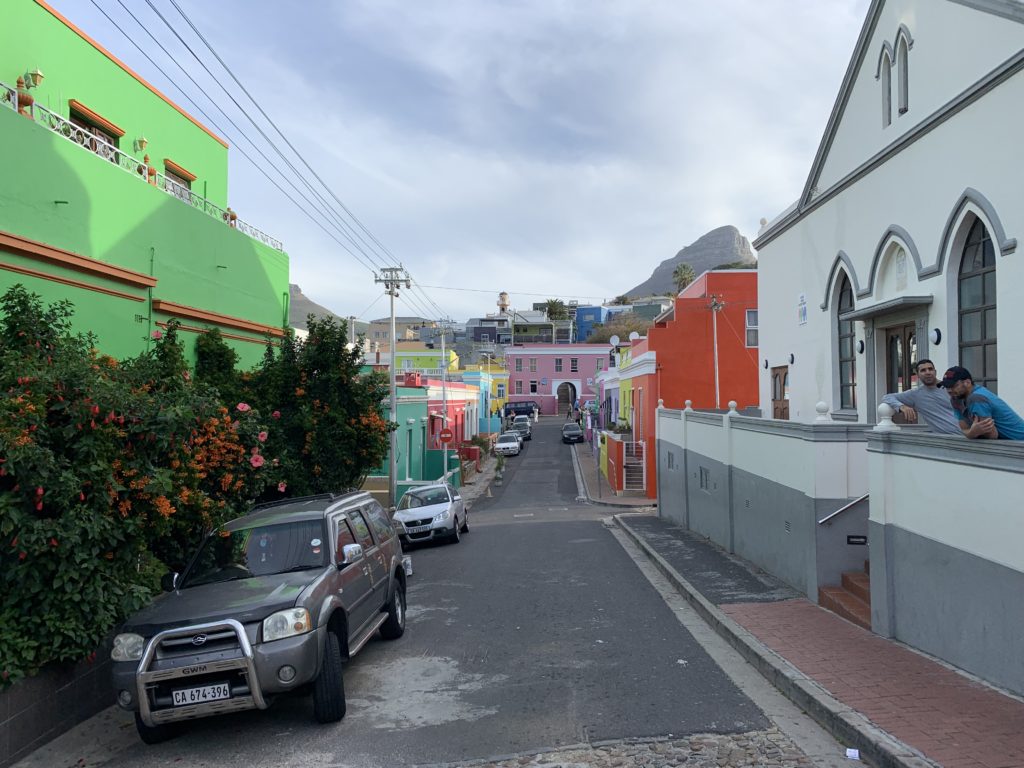 When I first arrived in South Africa, I was not sure how I should feel. I still felt anxious and nervous but excited and curious about everything. To choose what I miss before actually leaving is so difficult when I cannot help enjoying everything about South Africa so far, such as the major tourist sites, the taste of the different foods, how the locals interact with each other, and what would I miss the most when I depart for home. However, if I had to choose one thing, I will miss the colorful homes within the townships in South Africa, such as Soweto in Johannesburg and Bo-Kaap in Cape Town.
            During the trip to Soweto, my fellow classmates studying abroad, and I received a tour of the township as well as a discussion-based luncheon with Soweto residents. Our informative tour of Soweto, involved a drive through Soweto as we learned about the townships, hostels, and the people, who live in Soweto. While the Soweto township was an area that was created to house black South Africans in underdeveloped and racially segregated areas, the people, who continue to live in Soweto after gaining a higher socioeconomic status choose to support their community and make renovations on their houses, resulting in vibrant colored homes, such as a pretty pastel pink one that reminded me of my childhood home. This pink house gave me the experience of feeling like I was at home. Additionally, one of the highlights of our Soweto trip was the opportunity to learn greetings in Zulu from Soweto residents, receive names in Zulu, listening to them sing antiapartheid and freedom songs and their willingness to learn about American culture. For instance, I will remember my Zulu name meaning, which was "wait for good things to come," although I am unsure how to spell my Zulu name, which started with a name that sounded like Linda. 
Additionally, the tour of Bo-Kaap in Cape Town was also informative because I learned about the Indian community's experience in South Africa during apartheid as well as the origin story of the Nurul Islam Mosque. The name of Bo-Kaap, which comes from Afrikaans origins, arises from how the area is above the Cape in Cape Town. Although the Bo-Kaap community is vulnerable to gentrification because of economic development and expansion that threatens residents' homes and businesses in the area, I was also awed by the gorgeous vibrantly colored homes in the neighborhood. One of the other highlights during the tour of Bo-Kaap was the excursion to the local grocery store because I purchased sweet mebos, which are dried apricots with sugar, as well as Rooibos tea packets, which is a popular South African product and herbal drink. I am really glad about these tea packets because I am a tea enthusiast and these packets also mean that I will be able to bring some back to the States for my family and friends to try too.
Overall, my favorite thing about South Africa so far is the friendliest of the locals, who are willing to share their culture and experiences with us; meanwhile, the locals are also interested in learning about American culture and America from listening to us talking about our experiences as Americans. Additionally, I enjoy drinking Rooibos tea so much and plan to return home with some tea packets with me if I don't drink them all us first. Currently, my mind is trying to remember all the sites I visit and how the colorful homes made me feel while looking at them because I am unable to take a picture of each house while being present and continuing to experience everything as a first-time abroad student.