In just a few days, I will fly home from Dublin back to the United States. While I am incredibly excited to see my family and friends again, it has not yet hit me that I have been here for 4 months. The time has gone by quickly, but I believe I have made the most of it. I can't help but to reminisce while I am preparing for my last final exam. As my time in Ireland comes to a close, I thought I would go through the highlights of a few of my trips around and outside of The Emerald Isle.
The Cliffs of Moher, Galway – Back in February, a large group of my friends and I took a train out to County Galway for a weekend to see the city and the Cliffs of Moher. This was my first time outside of County Dublin and was my first realization that Dublin is really quite different from the rest of Ireland. The train went right through the middle of the country, which was laden with beautiful green pastures for miles on end. The city in Galway is a small, but quintessential Irish town. The next day we saw the Cliffs of Moher, which require about and 90-minute drive or bus ride from Galway City, and they were nothing short of spectacular. The picture below says it all, but it definitely exceeded expectations. The bus ride back from the cliffs along the Wild Atlantic Way was also very scenic and we stopped in a small town called Doolin for lunch.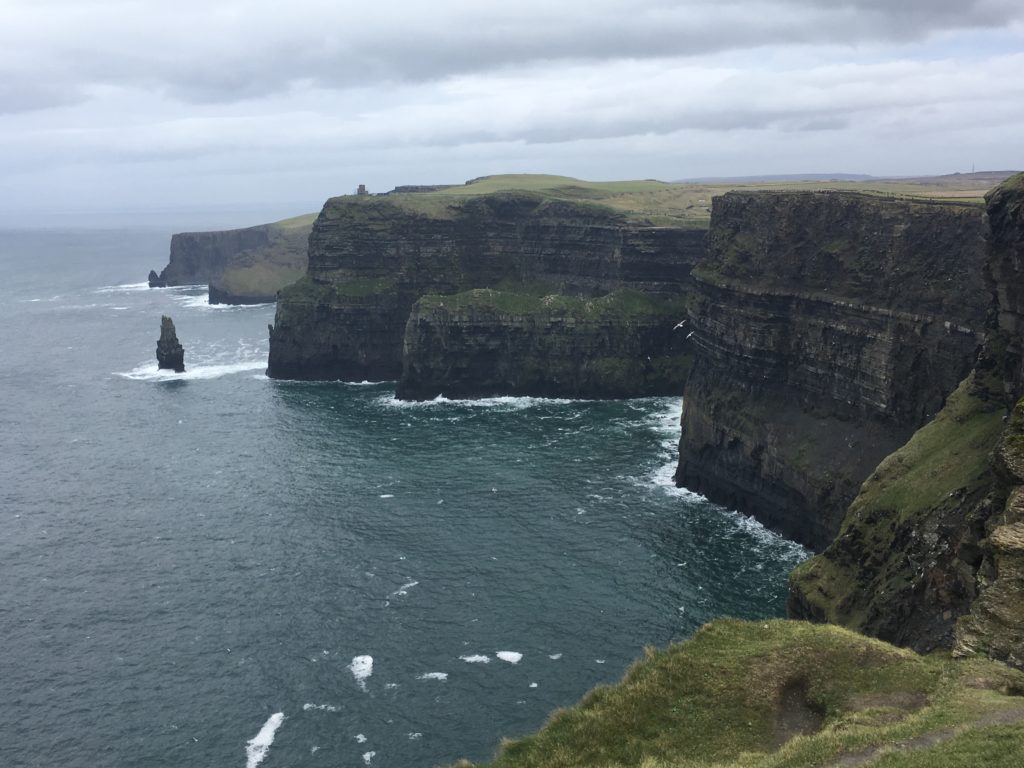 London, United Kingdom – The very next week, a smaller group of friends and I took a trip to London. I love big cities, and I truly enjoyed London. The public transportation system in London may be the most impressive I have ever seen, right up there with New York City even though London is significantly more spread out. Unfortunately, Big Ben is under construction, but we saw a lot of other cool places such as Westminster Abbey, Buckingham Palace, Hyde Park, Tower of London, Imperial War Museum, and Museum of Natural History.
Barcelona, Valencia, Madrid – I spent the first week of my spring break in March traveling through these 3 cities in Spain and it was awesome. After becoming accustomed to 45 degrees, cloudy and rainy weather, spending 7 sunny days in Spain in 65 degrees was a great decision. I flew into Barcelona, took a train to Valencia and then to Madrid, and flew to Dublin from Madrid. Public transportation in Spain was also impressive – it was easy and cheap for me to travel from city to city. Barcelona was much larger than I expected, and there is so much to do there. My favorite part of being there was probably seeing Montjuïc Castle, an old military fortress first used during the Catalan Revolt in 1641. In Valencia, I really enjoyed seeing La Ciudad de las Artes y las Ciencias and just relaxing on the beach. I finished up the trip in Madrid, where I was able to meet up with a few other friends and enjoy Retiro Park and other great places in the city. The food everywhere was excellent and being in Spain for a week reminded me how much I enjoyed learning Spanish in high school and inspired me to practice some more again.
Belfast and Giant's Causeway, Northern Ireland – The last trip I took outside of Dublin was to Northern Ireland. My girlfriend and I took a train from Dublin to Belfast and this was another great opportunity to see the more rural parts of the country. The endless green fields spotted with small towns are a captivating view. The history of Belfast, The Troubles and Good Friday Agreement is worth your time to read about if you aren't aware already. The city has almost 100 peace walls still standing today. We took a bus ride to the Giant's Causeway, which was just as stunning as the Cliffs of Moher. There are several paths to walk along and look out over the Atlantic from a high point, but the actual causeway is a field of thousands of hexagonal basalt column rocks arranged and fit together like a puzzle. Of course, what you see now is only part of what was built by the Irish giant Finn McCool, who built it stretching across the North Channel so he could fight Scottish giant Benandonner, hence the name. There are a few crazy ("scientific") theories floating around out there about how the columns were made, but as far as I know, it was the giants.
All of these trips and the others I took were learning experiences in many ways. I learned about other people's cultures – the language they speak, the foods they eat, the music they listen to, as well as their history. And as simple as it may sound, I learned how to successfully plan a trip to a foreign country where you might not even speak the language. You have to be prepared for things to go wrong and figure it out from there, like when my phone completely broke while I was traveling in Madrid. These adventures made me more independent and confident in my ability to be on my own in a new place to which I'm not accustomed. I'm excited to bring these memories and everything I've learned back home to the United States.