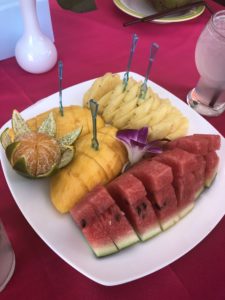 As the semester comes to a close and the temperature continues to drop, I constantly find my mind wandering away from my studies and thinking about better, warmer days. Specifically the days during my trip to Thailand in October, when six friends and I stayed in Bangtao Beach, Phuket and had way too much fun. (PS. This account may not be completely objective, since Phuket's beaches and palm trees constantly had me comparing it to my home in Hawaii, making me pretty homesick.)
Aside from an abundance of tropical fruits (pictured), a warm climate, and friendly people everywhere, a few of the trip's highlights were:
Massages

The best part about this trip was the massages! My friends and I got them almost every day we were there. Every massage was relaxing up until the end where, no matter whether we ordered a Thai massage or not, we were pulled and stretched out as if we were made of taffy. Yes, it was as painful as it sounds.

Food

The food during this trip was good but questionable. I honestly prefer the Thai food from back home rather than the food we had in Phuket, mostly because a lot of the meals we ate were prepared in open-air situations with lots of flies nearby. I tried hard to get into the spirit of adventure but my constant fear of food poisoning probably didn't help me enjoy the food as much as I should have. I envy Thai people's strong digestive systems and absence of germophobia. Another notable food-related incident was when we were seated at a table right next to a local family who were picking lice out of each other's hair. Yum.

Red Light District

Ah yes, Phuket's Red Light District. We stumbled across this gem by accident as we maneuvered through the crowds of Patong beach. I should have suspected that we would encounter it, for as we got closer, the voices of the ladies sitting curbside and calling us to come in for a massage got deeper and deeper. When we reached the main strip, we came upon huge crowds, walked past a seemingly never-ending string of bars and clubs, and were constantly offered the opportunity to view live 'Ping-Pong Shows', which I later found out are not at all what you'd expect. I won't even try to explain it.
Overall, Thailand was an interesting and amazing experience. My only regret was not being able to explore Bangkok, but I'm already planning on doing that the next time I visit. I can't wait!