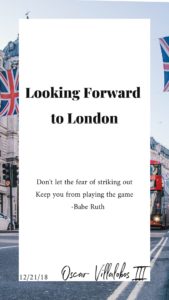 Where to start…. I dance, I sing, and I act. 
Some would call me a triple threat. But I usually just say I'm a student of the University of Alabama double majoring in Dance and Theatre. My main concentrations in my majors are concert dance and acting. Since a young age, I have had aspirations of producing my own show, working in film, writing, and establishing my own clothing line. I want to create, experiment, make mistakes, break barriers, and grow. As a member of the LGBTQ+ community and a Latino, I find myself constantly looking for representation. More often, opportunities for artists like me are hard to come by due to the lack of representation. 
I'm so thankful to be a part of the UA Theatre & Dance program and to represent them on behalf of the program. 
As I entered my junior year, I decided to extend my educational and professional experiences in a new city… or should I say country. London to be exact—the capital of England and the United Kingdom. 
When weighing my options, I looked for a program that would work with both my majors and would still allow me to graduate on time. 
I knew I wanted to continue my studies and develop a stronger level of artistic expression, and I felt that leaving Alabama for a little while would allow me to do so. On top of that, I have been wanting to travel and participate in an experience that would help me mature as both an adult and an artist. 
As I prepare and pack for my departure, I have so many things in the forefront of my mind: to stay calm, to pack light, to make connections, and lastly to take a DEEP breath.