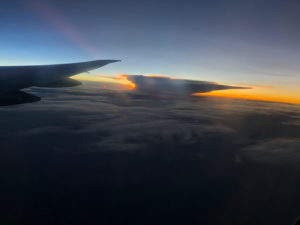 After almost a whole day of flying, I was just hours away from landing in Accra. During different times of the flight I came across others who asked me questions out of curiosity.
Where are you from?
How many times have you been to Ghana?
What are you doing here?
Was it that obvious that I was not from Ghana? Did I really stick out like a sore thumb? Either way, each time I was eager to repeat my entire explanation of how I ended up on a plane to Accra, Ghana, thousands of miles away from my home.
Later on, the same man who I made "small talk" with pointed at the window to show me a beautiful sunset, and when we were close to Ghana, I made sure to keep my little oval shaped window open so that I could see what the city looked like at night. After all, I didn't want to miss my first view of Ghana. As we descended closer to the airport, I couldn't contain the smile on my face. After a long plane ride, my journey was about to begin.
Before I was able to leave my row and get my first taste of what Ghana was all about, the same Ghanaian man who I had made friends with said "This is your first time traveling to Ghana, welcome back! Welcome home!"
I can't think of a better way to be welcomed into a country that is so caring. Before I even stepped foot outside of the plane, I knew that for three months, this place would be my home.