Going abroad gives you the opportunity to not only call a new, fascinating place home but also the opportunity to easily see a bunch of other amazing places. I was really fortunate to not have Friday class so I had extended weekends to travel. Having so many unique places to choose from, it can be difficult to decide where to go and how to get there. My friend and I decided not to book any of our trips prior to going so we could gage the weather and go on trips with friends we met abroad. We did however talk about which cities and countries we wanted to go to. I absolutely loved studying in Barcelona but most cities outside of Spain require a plane ride.  On the upside, none of our flights were over two hours.
While it may have been slightly cheaper to book our flights in advance, I would not have done it differently. We were able to meet up with other friends who were studying abroad and go on trips with friends we made in our program. I think traveling with other people is a huge part of what makes study abroad so special. Staying in hostels and airbnb's add to the experience as well. Nothing was more fun than meeting people in your hostel. I can now say that I friends all over the world.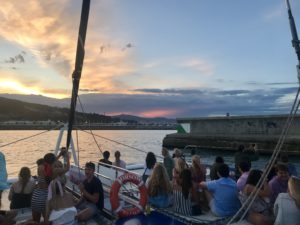 One of the coolest trips, I went on was to Morocco. We decided earlier that week with our friends in the program to go that weekend. After we searched for the cheapest flights and secured a tour guide for the weekend, we were off. Us seven girls spent over 24 hours in a car that weekend traveling to the Sahara desert and around Morocco as a whole. It was one of the best experiences of my time abroad. My advice would be to have an idea of where you want to go but also to go with the flow. Out of the eight cities, I visited I cannot say that I disliked any of them. They all have something unique to offer.