I think that I may have had the most crazy series of return flights back the United States! My initial program in Europe in May was in Serbia, and so my round-trip flight to Europe was based out of the Belgrade airport. This meant that after my second program in Madrid wrapped up in July, I had to fly back to Serbia before then making my way back to the United States.
I left Madrid on a Friday afternoon and flew to Paris. My flight was delayed, so that when I finally got to Paris, I had only 30 minutes to completely change terminals! I was the last person to board my plane, and I figured that there was no way my two checked bags had made it with me. I was frantic on the plane, which was delayed another full hour for weather before we finally took off for Belgrade.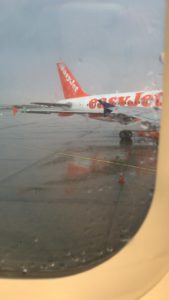 I finally landed in Belgrade. Even though I don't know Serbian, having previously spent two weeks in the country it was actually a relief to hear the language instead of French! And miraculously, my luggage had made it to Belgrade. If my luggage hadn't made it, I don't know what I would have done – I was leaving for the United States the next morning on a different flight itinerary!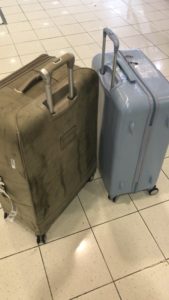 I took a taxi from the Belgrade airport to a hotel. It was already 11:30pm, but I had booked a hotel so that I wouldn't have to sleep at the airport. The airport is outside of Belgrade but my hotel was in the downtown of the city, so it was fun to go back into Belgrade and say a final goodbye.
The next morning I headed back to the Belgrade airport to begin my second day of travel. I took a flight from Belgrade to Istanbul – which was also delayed. When I arrived in Istanbul, I had about 45 minutes until boarding. I decided to head straight to my gate, which was very lucky – there was additional gate security because it was a flight to the United States. I then boarded a 13 hour flight from Istanbul to Atlanta. That is easily the longest flight I have ever been on!
I finally arrived in Atlanta at around 9:30pm that night. It was huge jolt of reverse culture shock to be back in an English-speaking country. I had heard English during my time abroad, but not at the quantity and volume of the ATL airport! It was very overwhelming. However, I had a sweet encounter. When I went through customs, my customs official asked me where I had been and what I had been doing. When I said I had been in Spain studying Spanish all summer, he started speaking to me in Spanish and going through the customs instructions in Spanish. It was actually such a relief to speak Spanish!
I made it back home to Austin, Texas at around midnight. All in all, it was a total of 42 hours of travel from the time I left Madrid to when I arrived back home.