Academics:
This trip is a little unconventional because it is more of a field-study set up. We are doing research projects that require us to snorkel. My group is observing the behaviors of one species of fish – Sergeant Majors. This is a small-scale ecological study. It gives us a basic idea of the health of the reef because if the Sergeant Majors are not behaving normally, it indicates a larger problem in the reef's ecosystem. We do have class every night where we learn about the fish we see during snorkels and other things about the reefs. We also have to keep a journal every day where we talk about things like what we learned that day. I really like this set-up because I learn better by being hands-on than just sitting in a classroom.
Belize:
Belize is such a beautiful and ecologically diverse country. From denser rainforests to picture-perfect beaches, Belize has it all. In addition to staying on islands and snorkeling, we also spent a few days on the mainland. While on the mainland, we got the opportunity to go to a cave in the rainforest, take a Kriol drumming lesson, visit two Mayan ruins, and go to a cacao farm. All of those things were totally new experiences for me. I really enjoyed the Kriol drum lesson and the cacao farm because we got to learn about the cultures of the Kriol people and the Mayan people. A lot of people think that when the Mayan empire ended the Mayan people died out. That is not true. Today, there are three different Mayan peoples that, over the centuries after the fall of the empire, split from the original Mayans. I loved learning about the Mayan traditions, such as making a hot drink out of cacao beans. It was really cool to see that the people are still so rooted to their culture in a changing and developing world. It helps a lot that everyone speaks English. The Mayan people speak Mayan dialects, but English is the official language of Belize and is taught in schools. Typical Belizean is a lot of tortillas, rice, chicken, beans, and fresh fruit and veggies. All of the ingredients are super fresh and it all tastes amazing. Everyone here is so kind and welcoming. I think that is what I'm going to miss the most about Belize.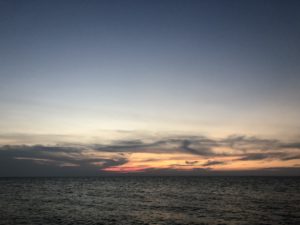 Next Steps:
I'm really excited to continue my journey by going to Prague, but at the same time I'm sad that I'm leaving Belize. I've spent 18 days with some of the most amazing people. The experiences that I've had here are things I will never forget. I feel like I have learned a lot about myself. I now know that I can adapt to any environment and be okay and that I love unplugging from my electronic devices. The memories I've made on this trip truly will last a lifetime. Now, it's time to go to Europe!