Following an exciting couple days in Dublin, the group travelled to Galway where we would stay for the next four weeks. Simply looking out the bus window, one could see the complete beauty of the place. There was green as far as the eye could see, and hand built stone walls from centuries ago ran for miles in every direction. Ancient castles and ruins dotted the landscape as well. These were sights that certainly could never be experienced back home.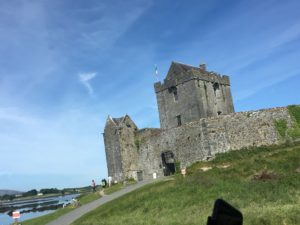 I attended two classes: a film festivals class taught by a professor from UA and a creative writing class from a professor at the National University of Ireland in Galway. Both classes and professors were engaging and the material pushed me forward as an artist and an individual. During the film festival class, we attended a week of films at an international film festival, the Galway Film Fleadh.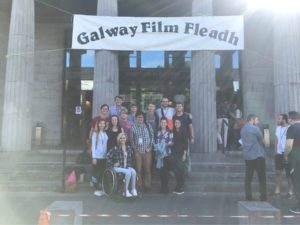 The Film Fleadh was an incredible experience full of world premieres and local films that could not be seen anywhere else as well as exclusive Q and A's with the directors and stars of huge films like American Animals.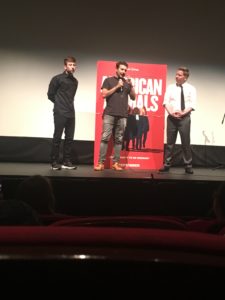 Even walking from campus into town there were beautiful vistas such as the water that flows under the town's bridges; a fisherman always seemed to be in it regardless of the time of day.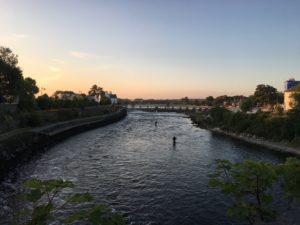 We took several excursions on the weekends which all included breathtaking sights and new experiences. The first was the trip to the Cliffs of Moher which contains a staggering view of the Atlantic ocean from high above as well as a castle. Along the way we also stopped at a cave we were able to tour.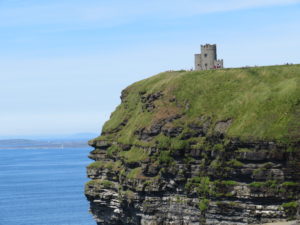 The next weekend was an extended stay at the Dingle Peninsula. On this trip we held baby lambs, saw islands where Star Wars was filmed,  and visited a beach (my personal favorite). I cannot describe the joy I felt looking across a sandy beach with magnificent cliffs behind me and never ending green fields to my left side. The combination of so many beautiful things in one place was enough to amaze.
My favorite of the excursions was a trip to the Aran Islands. We biked across the island with the coast on one side and never ending fields on the other till our arrival at a small restaurant in the middle of nowhere with the best beef stew I have ever tasted. We then walked twenty minutes to the top of a huge cliff that revealed a vista rivaling the Cliffs of Moher.
After completing our coursework and the plethora of adventures around the country we journeyed through, we returned to Dublin for our final days….