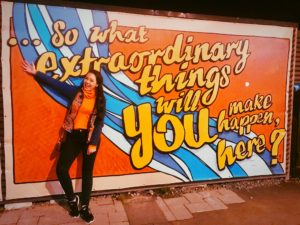 …So what extraordinary things will you make happen here? Looking through a tiny oval window on the plane I could only begin to imagine the extraordinary things but seeing the lush, green rolling mountains, I knew I was already in love. When I think of New Zealand I automatically think of The Hobbit and Lord of the Rings and I can see now why they chose to film the movie here, it is breathtakingly beautiful. I was so fascinated by the cute hobbit homes with their round doors and colorful paint. By the time we left I wanted to have a hobbit home of my own.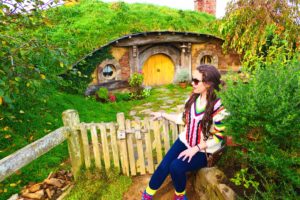 I was so excited to finally be here after the long flight and had already become friends with some of the people on our trip. As the trip progressed these people would turn into my best friends and family as we connected over poetry, hiking, and the excitement of seeing new places and doing new things like zorbing down the mountain. Yes, I'm in that hamster ball! And dancing in a museum!
One of my favorite things that we have done so far is hiking. Besides being drawn to nature, hiking has always been my place to escape from all the confusion in my life where I could truly be myself. For me, nature could comfort me as a person never could. Coming to New Zealand, I felt a kinship with the Maori people. They viewed nature as their mother who nurtured and provided for them. I realized that I felt this connection with nature too, but especially after taking a hike that was a little over eleven miles. I found myself speechless during many parts of the hike and not from the exertion but from being hypnotized by all the bright and beautiful colors. But who am I kidding, it was a very long trek uphill and I was breathless. To regain energy, we stopped at a beach where I was called to the water. I submerged myself fully clothed in the water. Usually, it would be difficult to swim clothed, but surprisingly not in New Zealand. The ocean had an abundant amount of salt that caused me to be buoyant in the water, exerting no energy. Looking around at the beautiful scenery I thought to myself that this is going to be one of my favorite memories that I have in life. From my favorite colors to the way I view the world, nature will always be my safe place and a place of inspiration for me.
My teacher must also be inspired by nature since he always teaches outdoors. I am so happy I decided to take the Adventure Literature class not only because we got to read The Hobbit and I literally got to see the town come to life in the Shire but this adventure changed how I look at everything including myself.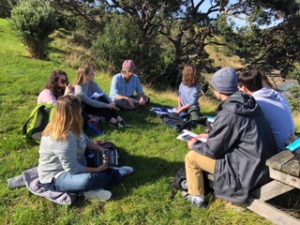 I also know I will go home saying "I'm keen on that" meaning I want to do that. Just one of the local slang expressions that I picked up from the lovely people I have met while being here. I also can't help but obsess on their accents, it is kind of like a British accent with a twist.  I even extended my trip a few days to explore Milford Sound and chase some waterfalls with a few rainbows. I know I am going to miss the people I have met when I leave and I wish I could stay here forever!! If you ever get the chance to take this trip, TAKE IT!!!!