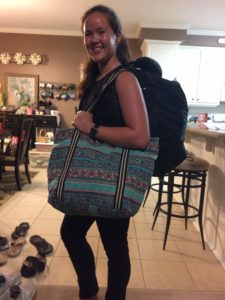 Hi my name is Marissa, and I chose to study abroad because I discovered this great opportunity through a close friend. It seemed a bit risky at first because of the expense of Study Abroad programs, but PACT helped cover a large portion of costs, and then I was lucky to have a very stable job that allowed me to work up enough money to affix the cost. It definitely helped that the program I am in is in Italy and throughout the program we would be in different cities every week while we were there, so we would get to see so much of the country.
Physically, mentally, and emotionally, I was trying to keep myself as well informed as possible. I looked up museums and restaurants, and what my hostels would look like so that I could try to alleviate as much culture shock as possible. I also made a Pinterest to give me ideas for how to  pack lightly and efficiently. Another thing that brought me peace of mind is that we have an OPC that has a lot of information on pharmacies, markets, and emergency persona. My process as I prepare to leave is to make a list of the absolute necessities that I will need to pack, so I can keep from stressing about a forgotten item(s), or over-packing.
I did not really have too much excitement or anxiety about going abroad, because I was so busy working all the time before I left. I never had time to ponder or get excited. I worked a lot for the month of June and then all of a sudden, I was boarding a plane. It wasn't until I was on the plane landing in Italy when I finally realized it was real and it was happening.
I've always dreamed of going to Europe, and one of my goals is to explore each city as much as I can and go to all the museums possible. I love art and museums, and I hope I get to learn about this history-rich culture.