In my last post I chronicled the events and mentalities that led me to arrive at the Dublin Airport the morning of June 15th. The moment the wheels landed, a new world was ready to be seen and experienced. The signs even had instructions in Gaelic as well as English. After a short wait to get through customs, we explained as a group our intent to study in the country and were happily given permission to enter the beautiful country of Ireland.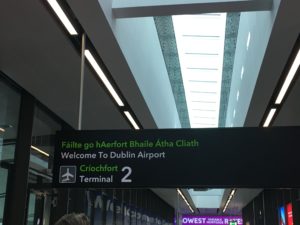 After retrieving our luggage, the first step was to catch a bus to Trinity College where we would meet up with the rest of the group. At this point there were six of us. Getting a bus ticket was easy enough and could even have been bought online ahead of time. The bus drove past rows of flags and went across the busy city.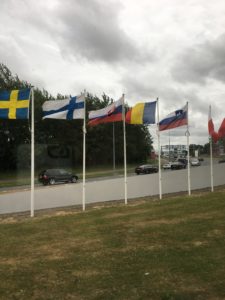 When we were dropped off we made the mistake of walking the wrong direction which is pretty humorous in retrospect. We looked rather odd in our group of six walking down the stone sidewalks of Dublin with our overweight suitcases in tow, and after quickly asking some very kind locals for help, we were only a short block away from the entrance to the grand Trinity College. Trinity College is immediately striking with its stone architecture and statues. When we arrived there was even a graduation going on. Students were taking photos across the cobblestone steps while we once again walked among them with our suitcases. It was quite a funny picture. We ate at the Buttery which is essentially the cafeteria for for the college, and I ate chicken goujons and chips (chicken fingers and french fries). I flew thousands of miles from Alabama, and my first meal in a foreign country was fried chicken and french fries. It is really pretty wonderful when you think about it. This is the first example of how Ireland sort of feels like an alternate reality of home. So much of what I see is so familiar yet there are subtle differences. There are awe inspiring sights and atmospheres unlike anything back home, yet there is oddly not much culture shock particularly concerning the food.
Following this we went to a cemetery in Dublin and received a tour. Despite how that may sound, this was actually a fascinating venture. The tour guide was knowledgeable, and shared expertise on many of the people buried there including their significance to Irish history. The depth of the history of Ireland and their independence is fascinating, and the way it manifests itself along with their cultural traditions was very interesting.
The memorials themselves were sometimes extravagantly beautiful as well such as the large circular tower. One of the two groups of students on this Ireland trip is studying the book Ulysses by famous Irish author James Joyce, and the main character in that novel actually walks through this exact graveyard, so the trip served multiple functions as well.
The next day we began class by getting to another classmate and introducing them to the class as a whole. It quickly became clear that the group was full of unique personalities and wonderfully kind people. I could not have asked for better people to share these five weeks with. I did not know a single one of them before this trip, and we have all grown quite close. My first lunch with some of them was at a restaurant we walked into in Dublin that happens to be called Captain America's. It was amazing. The prices might not have been amazing, but the atmosphere of Captain America and 80s rock and roll memorabilia was an incredibly surreal way to start our venture into the world of Dublin and I will always look back on it fondly.
We also visited a modern art museum with some intriguing paintings and saw some wonderful classic films at an artsy movie theater in the city.
To cap it all off we had a group dinner at a delicious Indian restaurant called Diwali where we took our first picture as a group our first night.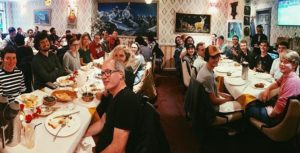 Dublin was a remarkable experience. After a few short days getting to know each other and the city, we departed for the scenic world of Galway….