I went into my study abroad ready to take everything as a learning moment. I triple checked my flight information, the syllabus, the course schedule, and then checked again. Everything will work out. A three-hour flight delay, an impromptu trip to London, and a few quick sprints later and I find myself sitting outside my hotel. Take a breath. Like I said, anything can happen, roll with the punches and learn from it.
A Study Abroad trip is a very unique opportunity in life. For the most part, the trip and a majority of the structure of your life is set in stone a year ahead of time. Insurance and bountiful resources are given to you in case you find yourself in need overseas. Once there, coursework and classes are planned for you to undergo every day. I can speak for a traveling instructor-led trip that you are going every single day. Only on a cruise would you get this amount of work and organization prepared for your day-to-day. And only on a study abroad like this would you also get the balance of freedom to forge your own adventures.
While it is fun, that doesn't mean you don't get in a rut. If I were to give one piece of advice, it would be to take the freedom to make unique memories. One of my happiest memories would be a small group of us simply going for a walk into town, all while it was pouring down. Locals looked at us like we were crazy Americans, but the smiles were contagious across our faces, the faces of drivers, even the face of shop-owners as they looked from their dry shops. The little things can matter most.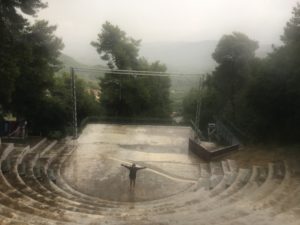 Being foremost a student, finding joy in your work can be the most rewarding way to keep going when you're tired. That is why we chose our majors in schools, that is why we each one of us chose our study abroad program. Find a way to enjoy the work and you'll never work a day in your life. This can take you through to the end of your program without missing a smile or a memory.