I will soon be heading across the pond to study for a month in Oxford, England. I will be studying at Worcester College, which is one of Oxford University's 38 colleges. Since I was a young girl, traveling to England has always been a dream of mine. One of the reasons I chose to attend the University of Alabama was because of its extensive study abroad programs, and choosing to study in Oxford was one of the easiest decisions I have ever made. I knew that the summer before my senior year was going to be the perfect time to study abroad…It is the perfect beginning to the end of my time at UA. Once I met with my advisor and worked through the logistics of scholarships and academic requirements, my decision was finalized to take part in the UA in Oxford program.
While I am in Oxford, I will be taking two classes led by UA professors: Honors Fine Arts of Oxford and The Real Pirates of the Caribbean. We will also go on countless excursions, visiting historical sites, museums, and cities around England. Oxford is about an hour from London, so we will be spending a fair amount of time in the nation's center as well. To prepare for this month abroad, I have been keeping up to date with the news throughout the United Kingdom and reading articles about Oxford. We were also assigned a pre-departure reading for our Honors course, which has been an interesting and informative read. I feel very prepared to go abroad–– it is also very comforting to know that I will be somewhere in which I already know the language. I plan on packing lightly, mainly because I cannot wait to immerse myself in the European style and bring home some cool memoirs. I have spent the summer at home with my family, which has been a special time of preparing for the trip and spending time with my loved ones before I embark on such an exciting adventure!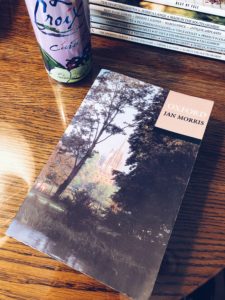 Because I have been home with my family for the past two months, I feel like I am well-rested and ready for what is to come. I am so eager to fly out of Atlanta so soon and head to Heathrow airport in London! Knowing that I will soon be living out my lifelong dream is both exciting and overwhelming. I am anxious to settle into my dorm at Oxford and begin learning about the historic culture that flows throughout the city streets. I am lucky to know some friends on this trip, and I look forward to meeting more as we take part in this program. I know there will be some adjusting to the change in time zone, climate, and society, but I know it will be such a transformational experience that I will always remember.
I am attempting to go into this month abroad with an open mind, but I also have such high expectations that this month is going to be one of the greatest. I have several friends who have taken part in the UA in Oxford program, and all of them have nothing but wonderful things to say about it. I hope that I will be able to enjoy every aspect of Oxford and England, and I am so excited for the new experiences I will have. I am going to use this month as an opportunity to take a break from social media and the constant connection to my phone, focusing solely on the new world around me. There is SO much to see and do in Oxford, and though I will not be able to do it all, I want to do as much as I can. I cannot wait to take in the beautiful architecture and landscape, visit local cafes, and interact with members of British society. On our trips to London, I look forward to visiting the museums and galleries… especially the Tate Modern (it seems only fitting for me to visit)! How exciting it will be to explore all that the United Kingdom has to offer.
As I prepare to leave America behind for the month, I know that I will miss home, but I am overjoyed with the thought of being somewhere new…somewhere that I have been dreaming of since I was a young girl. I know that Oxford will be everything that I have imagined and more, and I cannot wait to allow this experience to transform my perspective. Here's to my adventures across the pond!!