We made it!
We have arrived in Mumbwa, Zambia and today was our first day setting up a mobile clinic. My heart broke today as people lined the streets waiting for us to arrive to receive medical attention. We got to the local school, unloaded our supplies, and arranged our clinic as quick as possible in order to be able to see as many people as we could. As our patients began coming in the door and I was heartbroken at the great need these people have for healthcare. We saw patients with back aches, cuts, stomach pains, and many other things. You name it and we probably treated someone with that issue.
Though it was so sad to see all of the health issues that these people had, we were able to help so many of them! Many of them received pain medicines and antibiotics for back aches and infections, respectively, and were so excited knowing they would feel some relief soon. One of the biggest needs, and an easily fixable one, was reading glasses. Today, we had so many patients come in who stated over and over that they had so much trouble reading their Bibles at night. We were able to fit so many people for glasses and to see the smiles on their faces when they could read the smallest line on our eye chart was PRICELESS!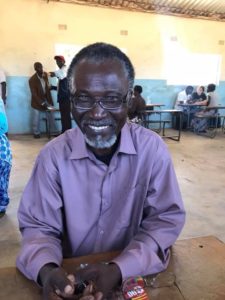 Participating in our eye clinic was my absolute favorite part of the day! Though I know that the pain medicines and the antibiotics and all of the other medicines we gave out will be of great benefit to those patients in the coming days or weeks, providing eye glasses to patients showed immediate results! Seeing these immediate results reminded me of exactly why we are here. Today we were able to see around 260 people over about 5-6 hours. Over the next few days, we have three clinics at three different schools around Mumbwa. I cannot wait to see what the rest of this week holds and how many people we are able to help!