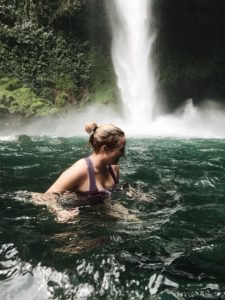 As a writer for VIDA Magazine at UA, I somehow found myself flying solo to Costa Rica less than 48 hours ago.
Upon landing among the surrounding Costa Rican mountains and volcanoes, I hopped aboard a bus with a local bus driver, and we began our trek through the busy streets to Arenal, where the rest of the VIDA team awaited my arrival.
Considering my driver was native to the country, I quickly discovered he only spoke Spanish.
Thus, I tested my limits oncemore and gave my Spanish a shot, and it seemed to work with a little help from Google translate. Regardless, I was doing it. I was embracing a foreign environment, a foreign language, a foreign form of solo travel, and it was working.
I greeted the rest of the team as I set foot into Arenal, gave my driver a bittersweet goodbye as I thanked him for safely transporting me close to three hours through the Costa Rican mountains and communities, and spontaneously found myself touring a nearby waterfall with one of the other VIDA team members.
As we sat a the foot of the waterfall, one of the most spectacular sights I've had the opportunity to see, a million things ran through my head.
I wondered how things would be when I got back to Tuscaloosa, where I'd be interning this summer, whether or not I was graduating early, and if so where I would be working, or possibly studying abroad instead.
I found myself overwhelmed, overthinking, and absurdly stressed in one of the most peaceful environments in the world.
It was then, I took off my shoes and suddenly plunged into the waterfall alongside my VIDA partner–looking for clarity of mind and body.
It was then, everything disappeared.
I wasn't thinking, I was laughing. I wasn't stressed, I was refreshed. I wasn't anxious, I was at ease.
This was the first moment I realized my opportunity in Costa Rica was an opportunity for complete mental and emotional freedom–to be exactly where my feet are.
As time has carried on, I have embraced the "pura vida" or "pure life" mantra of the Costa Ricans. I have restored control of my mind, of my future anxieties as a 21-year-old student, and I have found freedom in just 24 hours.
Embracing this environment, embracing these relationships with the other study abroad VIDA members, embracing these people and this language, at least for now, this is pura vida.
This is my life, and it is a pure life.
It is a pura vida.