I knew early on in high school that, whatever academic discipline or disciplines I chose to pursue in college, I was going to study abroad.  As I reach the one-month mark in my semester in Galway, Ireland, I know it was one of the best decisions I have ever made.  Each day brings a new adventure and challenges my prior preconceptions of this wonderful country and the world.  Now, I am looking back on three of my expectations of Ireland and how I think they measure up to the real thing:
1. The Rain
It is a well-known fact that it rains frequently in Ireland.  How else would it stay so green?  But I confess that—coming off from two-and-a-half years studying in sunny Alabama—I was not prepared for the reality of the West of Ireland's daily rainfall.  Even on the occasional sunny days, you can still expect an afternoon shower!  This took some getting used to, but now I have a greater appreciation for drizzly walks through the city and warm evenings in a pub.
2. The Sheep
We all know the stereotype that sheep outnumber people in Ireland.  If you find yourself in the countryside, this does seem to ring true!  You cannot go more than a few minutes without seeing them litter the green pastures and grassy hillsides; they even (occasionally) cause a small delay by obstructing the road.  Yet dwelling on the sheep population grossly underestimates the vibrancy of Irish cities.  Whether you are mastering public transportation around Dublin or just admiring the incredible variety of businesses on Galway's Shop Street, there is no shortage of places to go or explore.  The Irish have a much better marriage between tradition and modernization than I (and perhaps other Americans as well) gave them credit for!
3. The Tea
I knew before coming to Ireland that drinking tea was popular, but tea truly is a way of life here.  Whether grabbing a simple Barry's Gold to start your morning, indulging in the specialty varieties of the lovely Cupán Tae, or just enjoying an afternoon "cuppa" at home with your Irish housemates, tea is a great way to keep you warm on those cold winter days.  But don't worry coffee drinkers: there are still plenty of places that offer your caffeine fix too!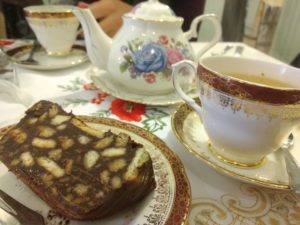 I learn something new every day that I spend here, and my wonder never seems to cease.  Galway is starting to really feel like another home, and I cannot wait to see how the rest of the semester unfolds!